ATLANTA — The Atlantic Hurricane Season may still be more than six weeks away, but it's never too early to prepare for what can be a series of turbulent months in the tropics.
Colorado State University's hurricane researchers released the 2023 seasonal outlook this week, calling for slightly below-average activity in the Atlantic.
They are predicting a total of 13 named storms, six of which are anticipated to become hurricanes and two of those to become major hurricanes. This is slightly below climatological averages of 14, 7, and 3, respectively.
But before you think that means a dud of a season, wait one minute. It only takes one storm to make it a bad year.

What drives CSU's tropical seasonal outlook is a combination of recent ocean surface temperatures and wind shear, plus predictions of the upcoming state of the El Niño Southern Oscillation during the summer months.
The El Niño Southern Oscillation, or ENSO for short, is a climate pattern driven by ocean surface temperatures in the tropical Pacific Ocean. There are two phases: El Niño, when the ocean temperatures are warmer than average, and La Niña, when the ocean temperatures are cooler than average. When we have near-normal ocean surface temperatures, we call this ENSO-Neutral.
Currently, we have ENSO-neutral conditions, but an El Niño is expected to develop this summer or early fall. When El Niño is present during hurricane season, it can create more vertical wind shear in the tropical Atlantic. This tears apart hurricanes as they try to form, and limit storm growth. Ultimately, the presence of El Niño can mean a less active hurricane season.

In the report, the team, led by Dr. Philip Klotzbach, said there is higher-than-normal uncertainty with the forecast this year. Part of this reason is because Sea Surface Temperatures in the tropical Atlantic are very warm early this year.
In the summary, CSU researchers explain, "When waters in the eastern and central tropical and subtropical Atlantic are warmer than normal, this tends to force a weaker subtropical high and associated weaker winds blowing across the tropical Atlantic. These conditions lead to warmer waters in the tropical Atlantic for the peak of the Atlantic hurricane season." For this reason, if a robust El Niño does not develop, the potential still exists for an active season.
Hurricane season officially begins on June 1 but in seven of the last eight years, there have been named storms before the official start. Last year was the first year since 2014 that this was not the case with Alex not forming until June 5.
The first named storm of the 2023 season will be Arlene. Of the 2023 names, four are new. Harvey, Irma, Maria and Nate were retired after the 2017 season, having caused immense devastation and loss of life.

The climatological 'peak' of hurricane season is Sept.10. It officially ends on Nov. 30.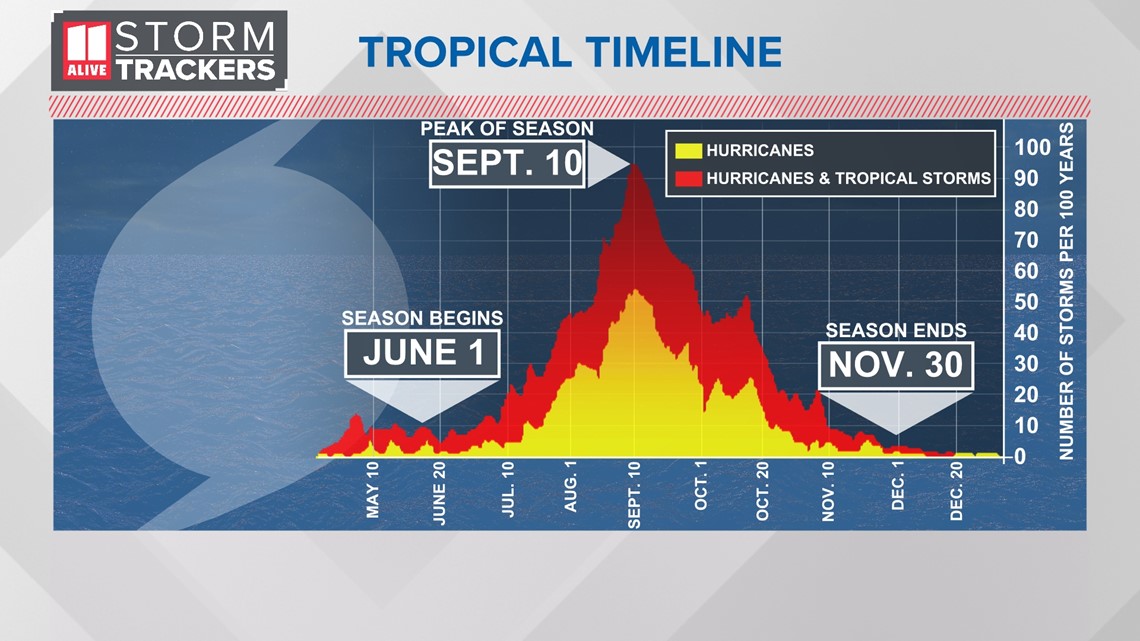 Although Atlanta may be more than 200 miles away from any coastline, the area is often impacted by landfalling tropical systems with tropical rains, flooding, strong winds, and tornadoes.