ATLANTA — Ian made its final landfall at 2:05 p.m. near Georgetown, South Carolina as a Category 1 hurricane with maximum sustained winds of 85 mph and gusts to 105.
This comes less than 48 hours after making landfall as a high-end Category 4 hurricane with maximum winds of 150 mph near Cayo Costa, FL. Devastation was widespread. Projected storm surge in some areas near Fort Meyers was over 10 feet.
The storm will next move inland and dump heavy rain and gusty winds across the Carolinas and up into the Mid-Atlantic.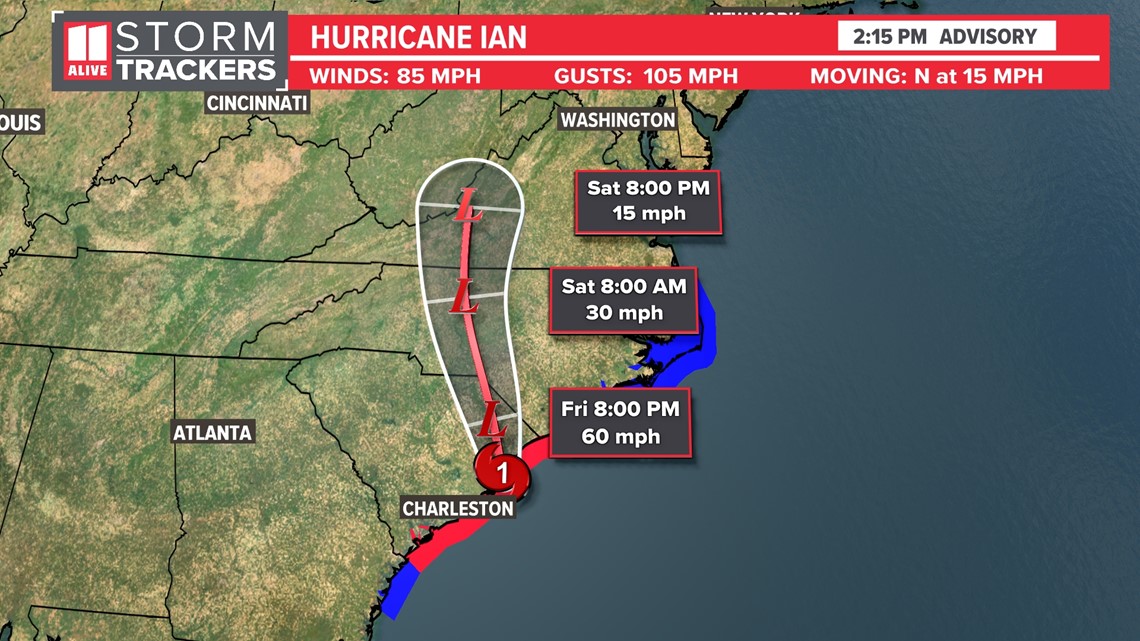 North Georgia's impacts from Ian will be limited to gusty winds and a slight chance for showers, mainly in our far eastern counties.
Meanwhile, part of the Georgia coastline are still under a Tropical Storm Warning, being closer to where landfall is expected. 1 to 2 feet of storm surge is possible still, but offshore winds should limit this.
MORE FROM THE 11ALIVE STORMTRACKERS
DOWNLOAD THE 11ALIVE APP:
Set up weather notifications by clicking the Gear icon in the upper right corner of the app. Select Notification -> Notification Settings -> Severe Weather Alerts -> Toggle the Severe Weather Alerts button to the right to turn alerts on.
Send photos and videos through the app by selecting the Near Me feature on the bottom right task bar of the app and entering your information.
TEXT YOUR WEATHER PHOTOS TO US: 404-885-7600
JOIN THE 11ALIVE STORMTRACKERS FACEBOOK GROUP: Nearly 10,000 metro Atlanta and north Georgia weather enthusiasts share their weather photos every day. Click here to join the group!