CUMMING, Ga. — When massive storms like Hurricane Ian make their way along Florida and Georgia, Dan Francis always asks himself, 'how can I reach the rural, devastated areas?'
So, it's no surprise to find Francis at his laptop Wednesday, as Ian finally made U.S. landfall. He's keeping track of the radar, a seemingly ordinary sight.
But what he's planning is actually extraordinary.
"Cape Coral is right here and Fort Myers is also right here," Francis said, pointing at the radar map.
All the way in Cumming, Francis is figuring out how to get food to people in Florida, once Ian passes.
"What cities are intact, whether or not there's going to be food supplies, how long's the drive, what kind of vehicles do we need? And we'll be thinking about those things over the next 24 hours and trying to put that into motion," he said.
As the founder of the non-profit, D911, Francis will utilize volunteers, donations, and restaurants still standing to set up shop and help feed hungry people.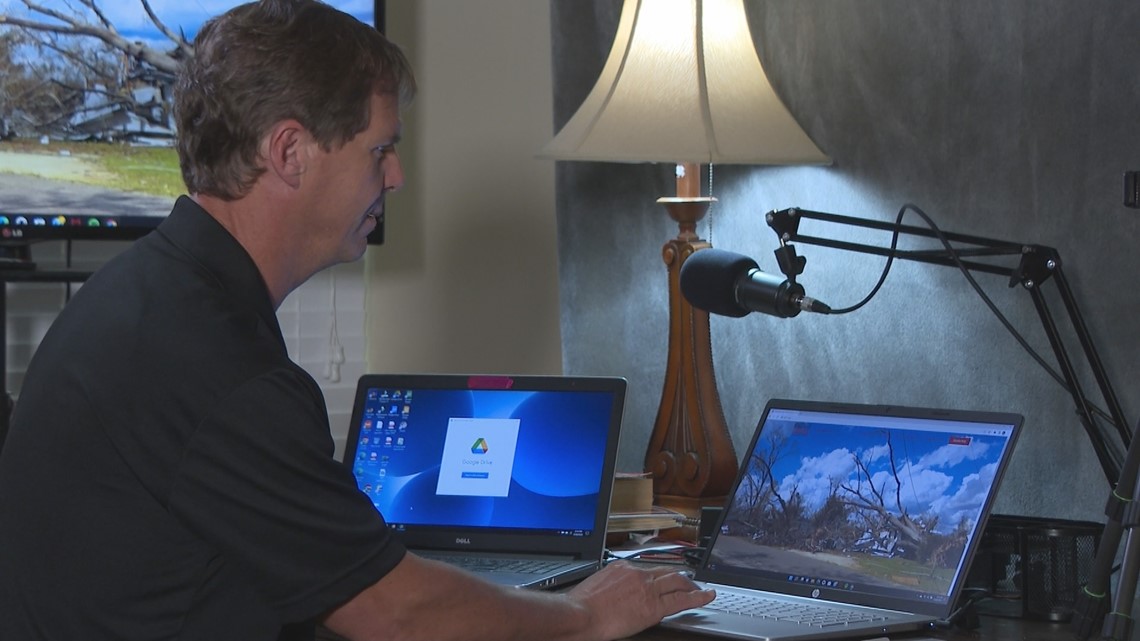 "Imagine about a day after a storm and you have not had a hot meal," Francis explained. "If we can set up at a restaurant if we can set up at a place where they would normally eat, if we can get that proprietor (to) come out to help us and let those donations go to that proprietor, it's a community thing. Familiar food, familiar faces, familiar places."
Francis himself is a familiar face, at least in terms of visiting hurricane-devastated Florida, Louisiana, and Georgia. First, it was Hurricane Michael in 2018. Then, Hurricane Dorian in 2019. Hurricane Laura in 2020.
He estimates he's helped feed thousands after storms, giving live updates on social media. Those updates often lead to more people coming to volunteer and bringing extra money, food, and bringing appreciation.
"It's amazing when you get into a disaster area and you gave someone a plate of food and it costs a dollar, maybe a $1.50, $1.75 with inflation and you watch their face move from fear and despair to gratitude," he said.
He hopes to head to Cape Coral, Florida about 24 hours after the danger is over. One of his volunteers, who helped with many missions, is already down there. But this time, she's riding out the storm herself.
"Her name is Kelly, and she is frightened and it's so loud and that she is scared for her life," said Francis, checking his phone for the latest message from her.
At that exact moment, she sent him a picture.
"That's at her house, that's right now," Francis said, showing a photo of water several feet deep outside Kelly's door. "You see the canal is full and just so you know that canal is about five feet down."
But Kelly, like Francis, isn't too worried about themselves now. They're still planning, waiting, to bring Floridians relief through food.
"(It's a) key ingredient in bringing some sort of calm and a sense that everything is going to be OK here," he said. "Tomorrow morning, people will be walking around with just blank faces. They're scared; their children and pets are scared. They're physically OK, but they're just in shock."
One could say Francis plans to help them, but he'll make a different claim.
"They help me," he said. "I get a thousand stories of survival. I get to see all these faces change. It's the most amazing thing."
For those who want to help Francis' mission, there's a link for volunteers and donations on his website. Each donation equals a cost of a meal, including food, supplies, and delivery vehicles.