ATLANTA — Most people are familiar with the calm center of a hurricane called the eye, but that calm area is surrounded by the dangerous eyewall, where the most intense conditions are present.
Why is this the case? It's because of the structure and dynamics of tropical cyclones.
Hurricanes are like giant heat engines in the atmosphere, using warm, unstable air as fuel.
As the air is pulled into the hurricane, it spirals toward the center, getting faster and faster, eventually rising to create the giant cumulonimbus clouds that encircle the calm eye.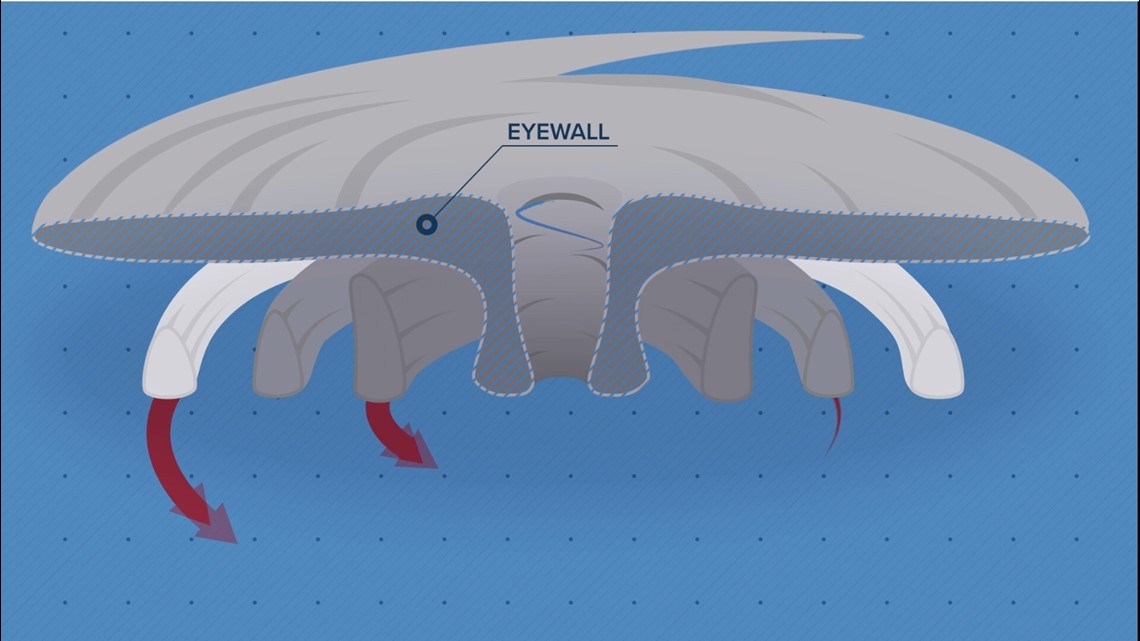 This unbroken, vertical wall of clouds is the eyewall.
The convergence of winds here is so strong that the air rises faster, and with more force, than anywhere else in a hurricane, producing intense rain and damaging winds.
In the strongest storms, this can translate to surface winds over 150 miles per hour.
MORE FROM THE 11ALIVE STORMTRACKERS
DOWNLOAD THE 11ALIVE APP:
Set up weather notifications by clicking the Gear icon in the upper right corner of the app. Select Notification -> Notification Settings -> Severe Weather Alerts -> Toggle the Severe Weather Alerts button to the right to turn alerts on.
Send photos and videos through the app by selecting the Near Me feature on the bottom right task bar of the app and entering your information.
TEXT YOUR WEATHER PHOTOS TO US: 404-885-7600
JOIN THE 11ALIVE STORMTRACKERS FACEBOOK GROUP: Nearly 10,000 metro Atlanta and north Georgia weather enthusiasts share their weather photos every day. Click here to join the group!