ATLANTA — A tropical storm warning has been issued for coastal Georgia hours before a mandatory evacuation begins.
All eyes are on the Atlantic as Dorian continues to batter the Bahamas before taking aim at the East Coast of the US.
The forecast continues to be uncertain with a couple of scenarios possible. It comes down to when the storm turns north. The current track keeps the center of the storm just off the US coast. But it will travel northward along the coast and bring wind and rain with it.
No matter where the storm ends up, the big problem, as it is with most hurricanes is flooding.
Where the storm is headed
There is still a possibility that the storm moves further inland but there is a better chance it stays out at sea.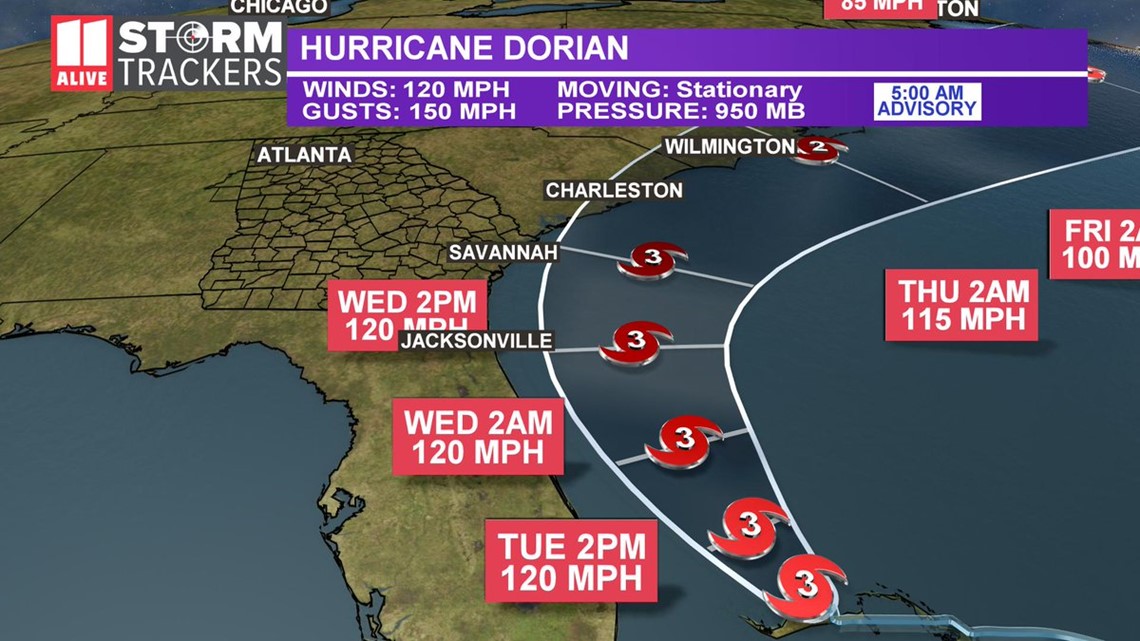 A hurricane watch is in effect for extreme southeast Georgia. Wind speeds of 30-40 mph possible with gusts up to 50 mph inland. A tropical storm warning is in effect for locations just south of the hurricane watch. A few tropical storm watches are also still in effect.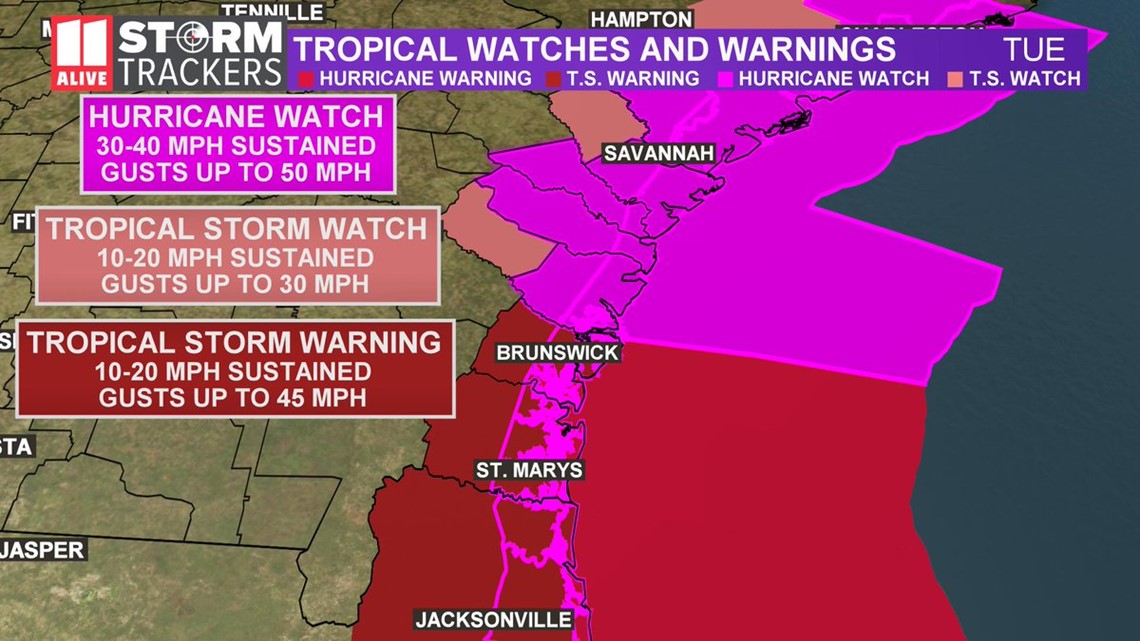 Life-threatening storm surge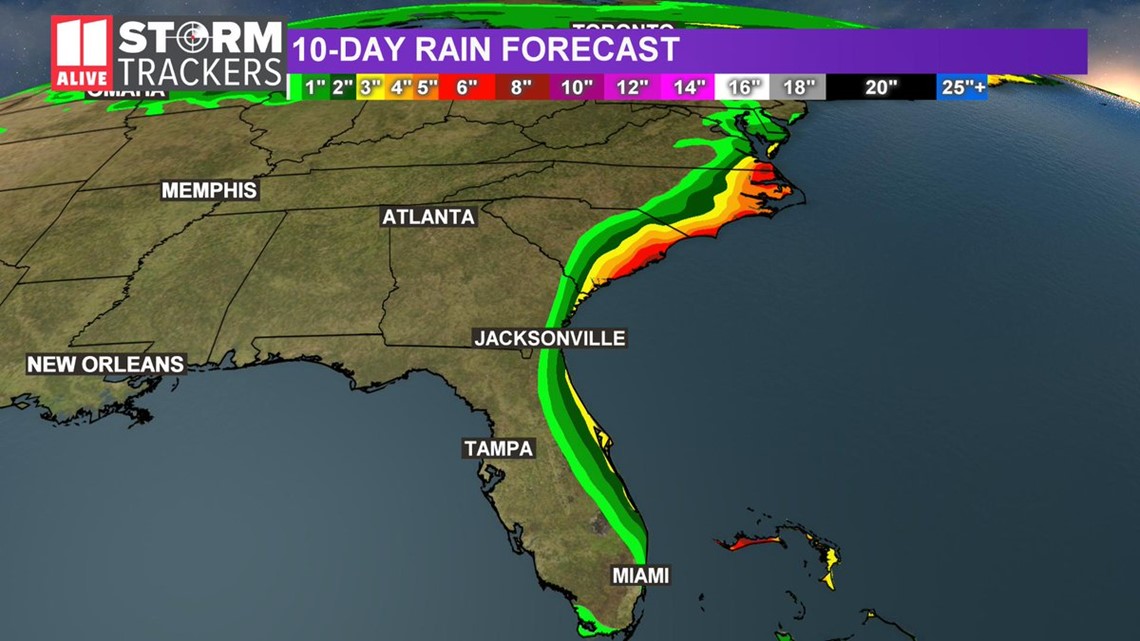 1-3" of rainfall is possible along coastal Georgia over the next few days.
The other, much bigger problem is storm surge. Storm surge is caused by strong hurricane winds pushed water ashore.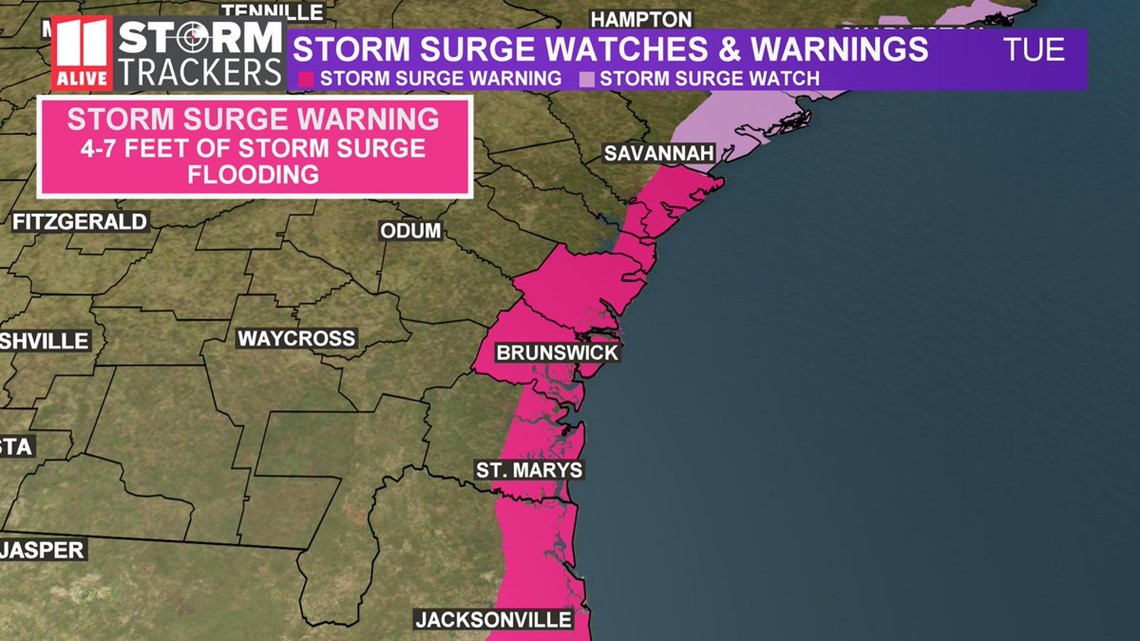 A storm surge warning is in effect for all of coastal Georgia, 4-7 feet of storm surge flooding above ground is possible in the warning area.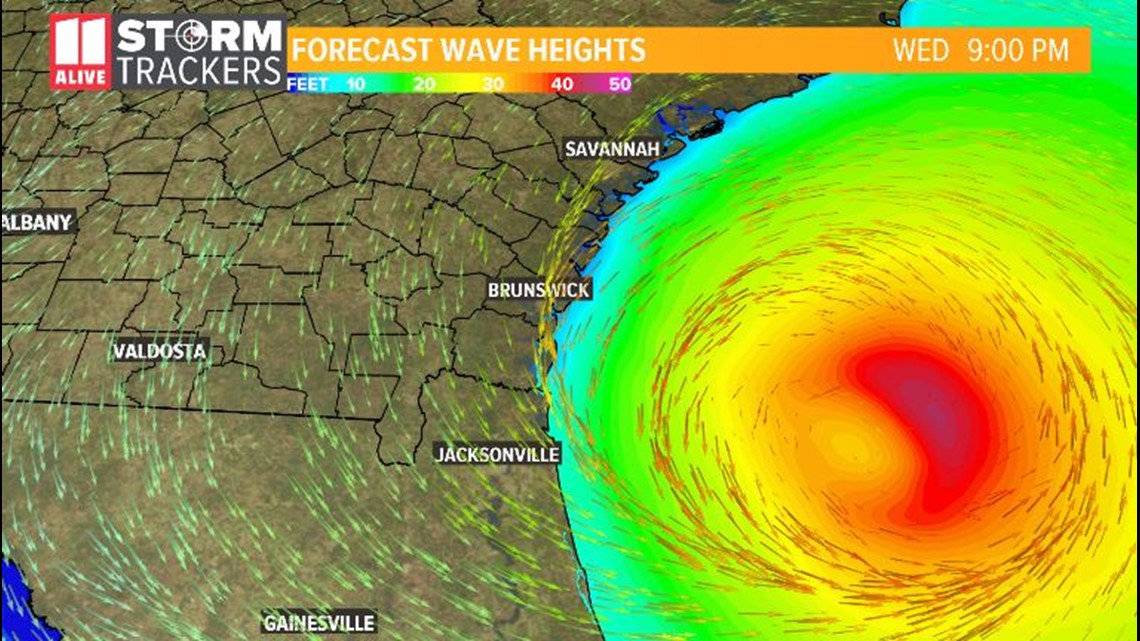 Some waves offshore may reach up to 28 feet.
Coastal Georgia is already very low lying and susceptible to flooding even without a hurricane. Depending on the storm track, damage along the coast could be considerable or devastating.
Storm surge and flood watches/warnings will be issued in the coming days and people east of I-95 have been evacuated
Victims of Michael hit again?
The last hurricane to impact Georgia was Michael in 2018. It remained a category 3 hurricane as it entered Georgia and weakened on its northeast path through the state.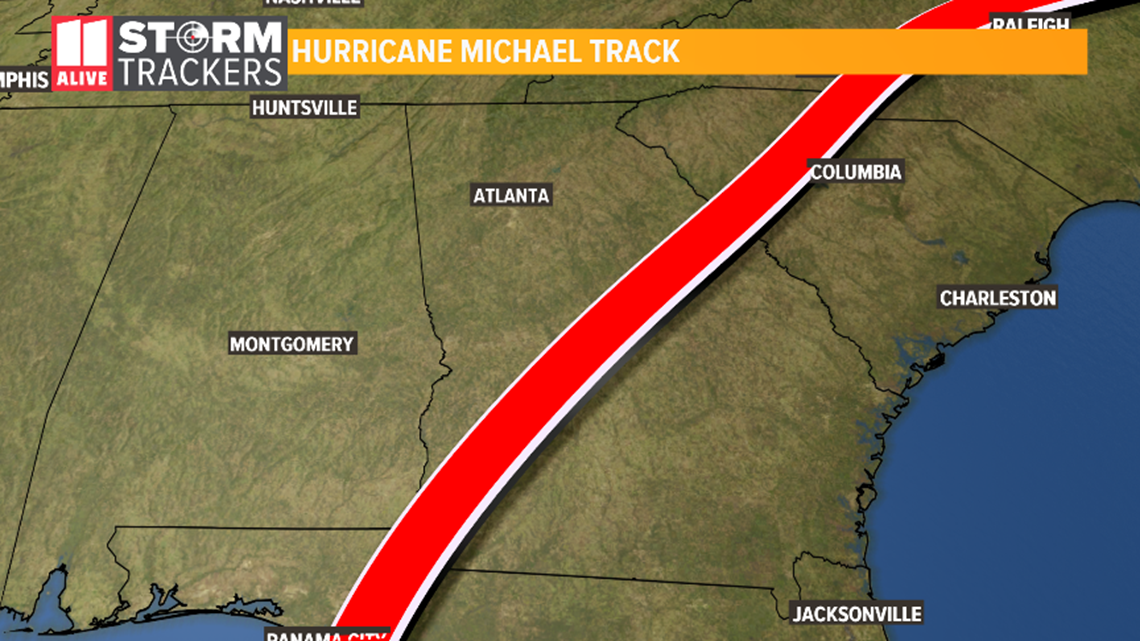 Satellite imagery reveals the damage the storm did, scarring the earth. Whether or not the same areas are damaged again from Dorian depends on what happens after Monday.
The quicker the northerly turn, the better the chance that areas hardest hit by Michael are spared.
Atlanta Impacts
Dorian will have some impacts on metro Atlanta, mainly in the form of wind.
Wind speeds will begin getting stronger on Thursday and Friday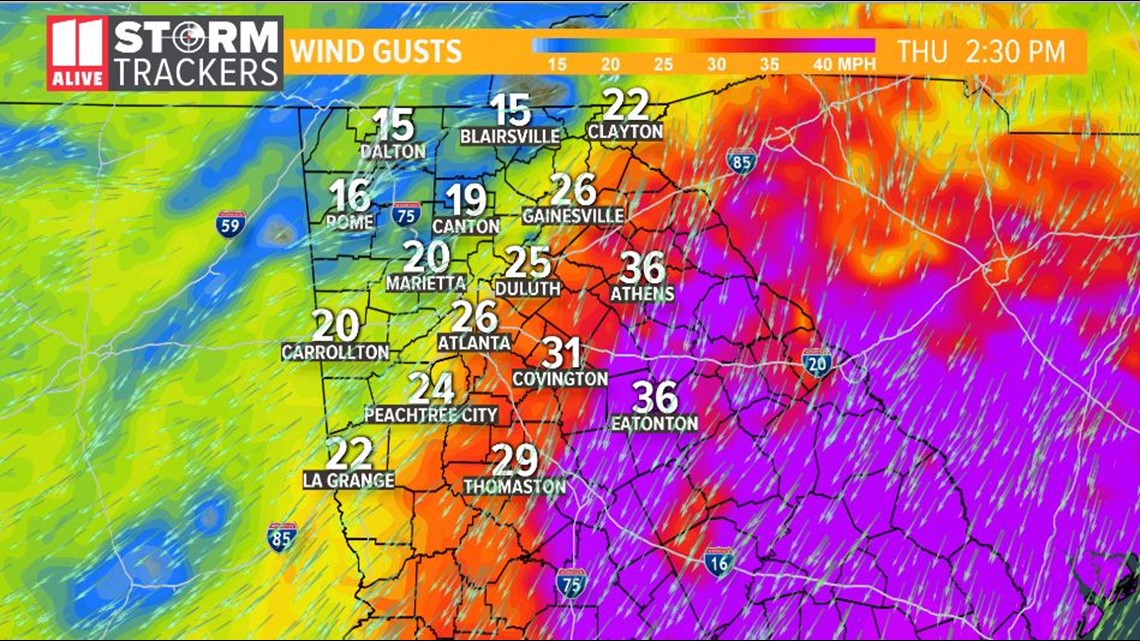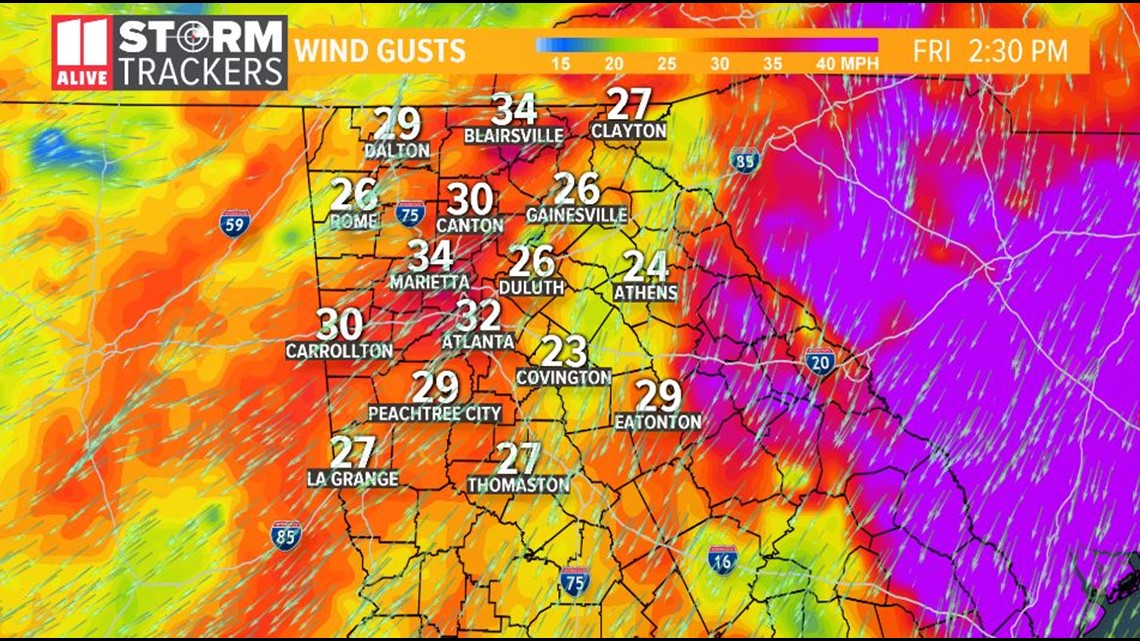 Temperatures may also be very warm if the storm follows the current forecast, possible in the middle to upper 90s in at Atlanta Wednesday and Thursday.
Officials urge Georgians to prepare for Dorian
Georgia's U.S. senators Johnny Isakson and David Perdue on Friday urged Georgia residents to and remain aware of all warnings and advisories and follow safety precautions ahead of the arrival of Hurricane Dorian.
On Thursday, Gov. Brian Kemp issued an emergency declaration for 12 south and southeast Georgia counties which are most likely to see direct effects from the storm: Brantley, Bryan, Camden, Charlton, Chatham, Effingham, Glynn, Liberty, Long, McIntosh, Pierce and Wayne.
He followed up that emergency declaration by issuing a mandatory evacuation for the six coastal counties.
"I urge Georgians to take precautions early and follow the advice of state and local officials as Hurricane Dorian's path becomes clearer in the days and hours ahead," Isakson said. "Senator Perdue and I pledge to work with federal, state and local officials to ensure that Georgia has the resources needed should Hurricane Dorian impact our state."
State of Georgia Resources
View up-to-date emergency declarations from Governor Kemp here.
View updates from Georgia Emergency Management and Homeland Security Agency here.
Visit Ready Georgia for weather alerts and emergency preparedness tips.
Follow Georgia 511 for real-time traffic information.
Learn what to do before, during, and after a flood here.
Report power outages by contacting your power provider. The two main providers in Georgia are:
Call your local non-emergency police line to report a downed tree on a main road.
Please stay aware of any forecast changes as there are still many questions that remain about where Dorian goes after impacting Florida.