We are watching Hurricane Michael as it bears down on the northeastern Gulf Coast and the southeastern United States. Keep up with all of the latest information here.
Oct. 9
11 p.m. - Hurricane Michael's winds have intensified yet again, topping out at 125 mph. However, the storm is expected to continue strengthening to just above category 4 levels before making landfall sometime Tuesday.
New advisories issued put more of south Georgia under hurricane watches and warnings.
8:10 p.m. - There's barely any traffic on the roads in Panama City.
8:08 p.m. - A lady finds a pizzeria still open in Panama City Beach.
8:00 p.m. - The calm before the storm.
6:53 p.m. - No beachgoers present in this video from Panama City Beach
5 p.m. - Hurricane Michael is upgraded to Category 3 storm
3:47 p.m. - 11Alive Meteorologist Chris Holcomb gives a live report from the Florida panhandle as Michael:
2:40 p.m. - Monroe County Schools announced they are closing for students and staff on Thursday, October 11 due to Hurricane Michael.
2 p.m. UPDATE - Maximum sustained winds remain at 110 mph.
Hurricane Michael is still a strong Category 2 storm. Life-threatening storm surges, hurricane force winds and heavy rainfalls are expected along the northeastern Gulf Coast within hours.
1 p.m. -
12:30 p.m. - Hurricane Michael images reveal creepy skull
12:05 p.m. - Atlanta Motor Speedway reopens for Hurricane Michael evacuees
Brock, Savannah
11:30 a.m. - National Weather Service extends inland Tropical Storm Watch to include all of central Georgia south of a Warrenton-to Macon to Columbus line.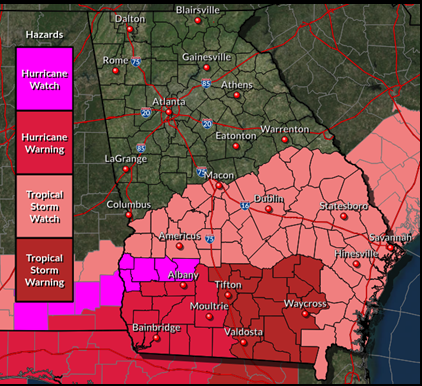 11:15 a.m. - Fla. sheriff's office issues tongue-in-cheek 'trespass warning' for Weather Channel's Jim Cantore ahead of Hurricane Michael
11 a.m. - Max. sustained winds increase to 110 mph; Michael is just shy of becoming a major hurricane
10 a.m. - Gov. Nathan Deal declares State of Emergency for 92 counties in central and south Ga.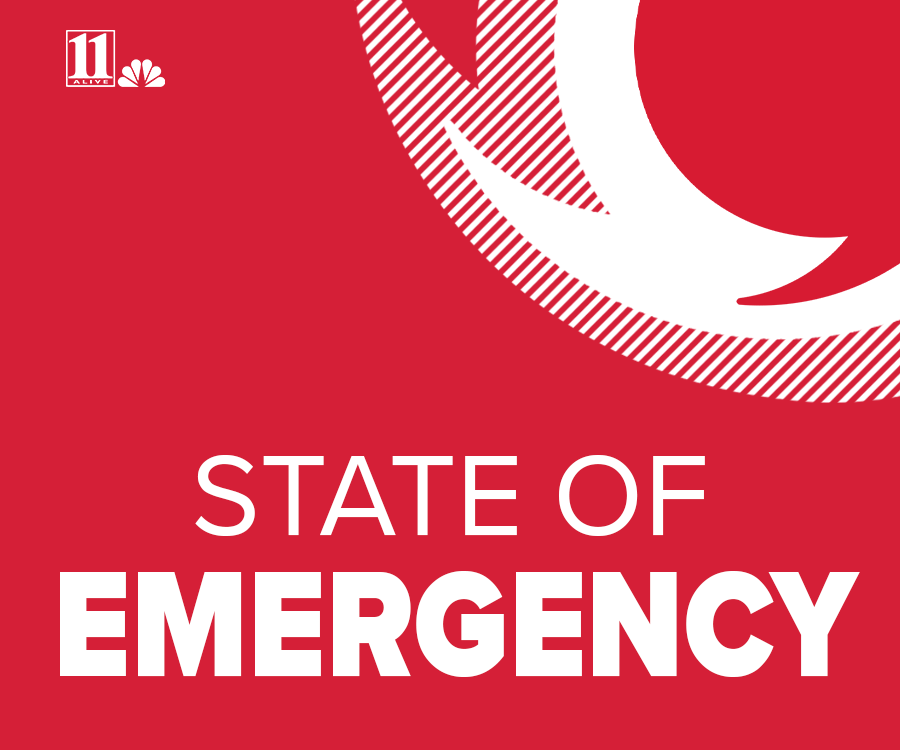 9:17 a.m. -
8:19 a.m. - Airlines prepare for changes at ATL Airport ahead of Hurricane Michael
Thinkstock
8 a.m. - Hurricane Michael becomes Category 2 hurricane with winds of 100 mph
Oct 8 - Hurricane and Tropical Storm Watches were issued for portions of the northeastern coastline of the Gulf of Mexico, including portions of the Florida panhandle and Alabama coastlines. Inland tropical weather watches were extended into areas of Alabama and Georgia.
Oct 8 - On Monday, hurricane hunter aircraft found evidence of a central air pressure of 983 mb and maximum sustained winds of 75 mph, which indicated a strengthening to a Category 1 hurricane.
Oct 7 - The depression quickly strengthened into Tropical Storm Michael.
Oct 6 - Hurricane Michael began as Tropical Depression 14 in the southwestern Caribbean Sea before drifting northward then eastward toward the Yucatan Channel.
► RELATED | Understanding Severe Weather: What's Moderate Risk, What's High Risk?
► Check the latest Atlanta Weather Forecast here
► UPLOAD | Send us your weather pictures here
► Download the FREE 11Alive News app now in the iTunes store or on Google Play.
► POWER OUTAGES CHECK | Georgia Power customers, check here. Georgia EMC customers check here.
► Have a news tip? Email news@11alive.com, visit our Facebook page or Twitter feed.