ALBANY, Ga. – Vice President Mike Pence is touring southwest Georgia, Tuesday, to survey damage after Hurricane Michael.
He landed in Albany, Georgia at about 11:49 a.m. Tuesday morning and then took Marine One to Moultrie where he spoke at the Sunbelt Agriculture Exposition.
The annual event serves as an annual gathering for farmers across the Southeast. But, this year, many farmers in Georgia are trying to figure out how to move forward with many of their crops devastated by Hurricane Michael.
Introduced by U.S. Agriculture Secretary and former Georgia Governor Sonny Perdue, Pence reassured Georgia farmers that the best is yet to come for the state. But he also acknowledged the hard road ahead.
"We gather today in the wake of Hurricane Michael, a once in a generation storm that dealt a direct and devastating blow to Florida's Panhandle and to the Sunbelt's farm country," he said. "We always begin with grieving with those who grieve and mourning with those who mourn, so I know I speak on behalf of all of you here when we extend our condolences and our prayers to the families that lost loved ones."
But he also pointed out that the impact goes far beyond the businesses and homes damaged by the wind and rain.
"Later today, my wife Karen and I will travel to Decatur County," Pence said. "I'm told there that the Flint River Mills, been around for about 90 years and I'm told that actually this mill that provides feed for about eight states across the region had never been closed in those 90 years."
But, he said that changed with Hurricane Michael.
"We'll also be visiting a pecan farm and we'll talk with local farmers, many of whom have literally lost everything," he said.
The numbers he recited afterward showed that this was no exaggeration.
"In Decatur County alone, Georgia farmers and producers lost up to 70 percent of their fall vegetables, 90 percent of the sweet corn, 95 percent of the unharvested cotton crop, 95 percent of poultry and 100 percent of the pecan crop," he said.
He described the damage as monumental saying that Michael had caused $2 billion worth of damage to Georgia's cotton, pecan and peanut crop.
This comes one day after President Donald Trump and First Lady Melania Trump surveyed the damage in Florida and Georgia on Monday.
On Sunday, the president approved Georgia's disaster declaration request, allowing federal aid to move into the state after Hurricane Michael battered the southeast.
Photos: President Trump, First Lady Melania tour Macon, Georgia after Hurricane Michael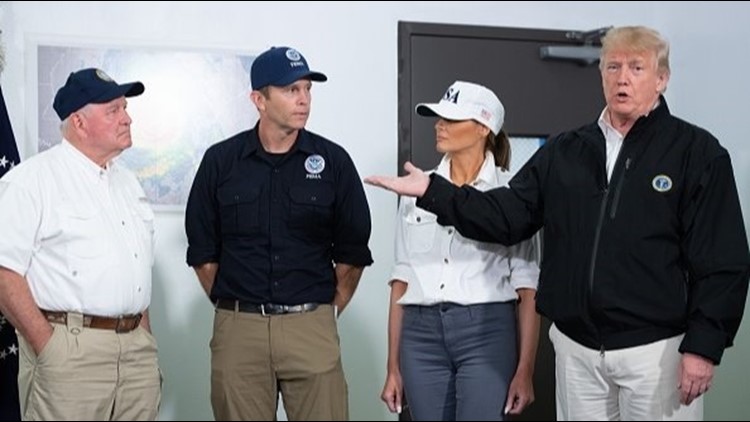 Federal funding will be made available to state, tribal, and eligible local governments for emergency work in the counties of Baker, Bleckley, Burke, Calhoun, Colquitt, Crisp, Decatur, Dodge, Dooly, Dougherty, Early, Emanuel, Grady, Houston, Jefferson, Jenkins, Johnson, Laurens, Lee, Macon, Miller, Mitchell, Pulaski, Seminole, Sumter, Terrell, Thomas, Treutlen, Turner, Wilcox, and Worth.
Additional designations may be made at a later date if requested by the state and warranted by the results of further damage assessments.
Residents and business owners who sustained losses in these counties could begin applying for assistance Monday by registering online or by calling 1-800-621-FEMA(3362) or 1-800-462-7585 (TTY) for the hearing and speech impaired.