ATLANTA -- Georgia's farming and agricultural industry took a severe hit when Michael rolled through the southern and central part of the state.
"Our worst dreams are being realized," Gary Black, Georgia's commissioner of agriculture, said during a press conference with Governor Nathan Deal on Thursday. "It's a very serious day for agriculture."
Stevie Akins, a cotton farmer in Warwick, is still taking in the damage.
"It just became a rough year last night," Akins said. "It was about to be the best crop I think we've ever seen."
Akins estimated that the winds that hit his 2,200-acre farm reached up to 100 mph. Now, he said he won't be able to harvest any of it, because the rain destroyed his entire crop.
"It just about destroyed everything on our farm," he said.
Pecan, cotton and peanut harvests took the hardest hit according to the Georgia Department of Agriculture. Only 5 percent of pecan, 15 percent of cotton, 30 percent of vegetables and 50 percent of peanut harvests were complete when the storm hit.
Cotton crops destroyed in Hurricane Michael when the storm hit Georgia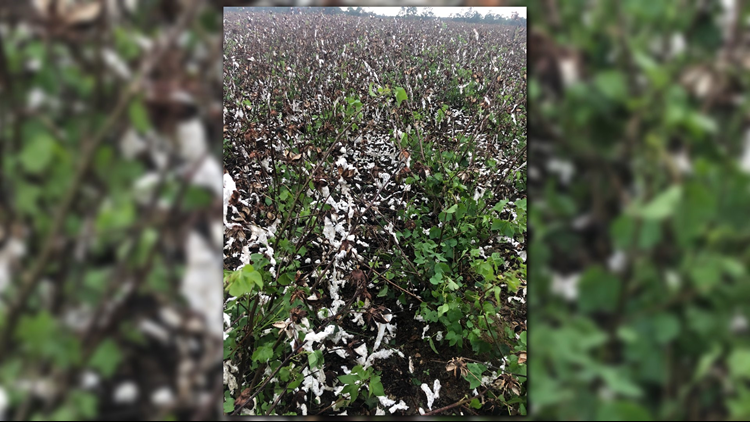 A few miles down the road from Akins' farm, winds toppled over dozens of 50-year-old pecan trees.
"This area depends on crops greatly. The pecans have been blown out of the trees," said Joe McCollum, a former pecan farmer.
"For me, the cotton crop is as bad as it gets. I was picking three-bale cotton yesterday, today it is gone," said State Rep. Clay Pirkle.
He is a cotton farmer and represents District 155, which encompasses Ashburn, Fitzgerald and Ocilla.
"Can't tell the difference between what I've picked and what I haven't," he said.
Cotton is the state's top crop, and ranks second in the nation. Damaging winds drove much of the fiber to the ground, either tangling the cotton or making it a total loss altogether.
At least 84 poultry houses, holding an estimated 2 million chickens, have also been destroyed in Coffee, Houston, Mitchell, Wilcox and Decatur counties.
Assessment for peanuts and pecans are still ongoing. This is the second year in a row that the pecan industry has been affected by a major hurricane.
Michael damage in metro Atlanta