NEWNAN, Ga. —
Officials are touring areas for widespread storm damage in Newnan and Coweta County early Saturday morning following a tornado that left one person dead.
The National Weather Service reported preliminary results of the storm survey, which showed that an EF-4 tornado ripped through Newnan overnight Friday. Wind speeds up to 170 miles per hour were observed in the hardest-hit areas around LaGrange Street and Smokey Road.
"It's clear it was a tornado that went through here last night," said Keith Stellman of the National Weather Service.

The damage in Coweta was so extensive that the school district made the early-morning decision to cancel classes for Friday. The storm caused power outages that many residents were still experiencing Friday afternoon.
During a 3 p.m. update Friday, Coweta County EMA Director Michael Terrell said three families, about 15 people total, were at Evans Middle School where a temporary shelter had been opened. The shelter has since closed but other shelter options are being made available through the American Red Cross.
The Newnan City Council was also feeding residents impacted by the storm at the Newnan Centre on Lower Fayetteville Road. Newnan Police Deputy Chief Mark Cooper said there is also a temporary supply collection site there as well though the location had reached capacity by Saturday evening. Donations are now being redirected to the Coweta County Fairgrounds.
Gov. Brian Kemp also toured the location on Saturday along with other officials in Newnan.
Here is a look at damage throughout Newnan.
Downtown Newnan tornado damage
Large parts of downtown Newnan were without power before sunrise. Police were in the area blocking off sections of roads that were impassable. The west side of the city is where much of the damage is concentrated, according to Coweta County EMA Director Michael Terrell. He told 11Alive people were driving through and taking pictures and wants to discourage them from doing so.
"Stay off the roads because the roads are not passable. We're still in the recovery mode and we definitely have live power lines down and we don't want people to get injured," Terrell said.
By Friday afternoon, Cooper said most of the roadways - except East Broad Street and Smokey Road/LaGrange Street - are now passable.
"Those still have high transmission power lines down that Georgia power is working on," he said.


Newnan High School area damage
In-person learning will not begin on Monday for the students and staff at Newnan High School due to the damage.
Extensive damage was reported in the area of Newnan High School on LaGrange Street. No commuters were allowed in the high school area Friday as officials worked to clear and repair the damage of the high school.
11Alive SkyTracker flew over the scene, where you could see the roofs of multiple buildings at the high school were torn off. Debris littered the school grounds and bricks were scattered on the ground.
Coweta County School System Superintendent Evan Horton said they just finished repairing damage last week from another tornado that hit in October. Horton said the community is strong and they would get through this.
As for others in the area, Newnan Fire Chief Stephen Brown told 11Alive his crews were going door to door to check on residents. He described the amount of damage as "overwhelming."
He said about 95 percent of door-knocks and rescue operations were completed by Friday afternoon. The high school also had a reported gas leak that fire crews responded to.
"We currently are beginning to draw down and get ready for security at our Newnan High School campus along with some other partner agencies and neighborhood security as well," Cooper said Friday afternoon as they prepare for nightfall.
He said they believe they have a good plan in place to keep security heightened in the impacted areas. They are hoping to prevent potential thefts.
Smokey Road Area
In the Smokey Road area, large trees came down on houses and in yards. Crews in neighborhoods had already begun clearing some trees in the early-morning hours. Several households are without power and power crews are already working to restore them.
The fatality that happened in the county was also at a home in the Smokey Road area, according to Fire Chief Pat Wilson.
"It was a medical emergency," Wilson said.
He added that the person was "trapped by trees and other debris" so it was hard to get to them.
Trees have also uprooted and blocked parts of the roads in the Smokey Road area. Power lines and downed trees make for a dangerous mix, and officials are urging people to stay off the road.
Earlier this morning, 11Alive's crew on the ground saw two families escorted out of the area through the debris, after a tree was partially cleared.


Dunbar Place
Dunbar Place is a small street that sustained big damage. Building debris are scattered across the street and are hanging from the trees. Calvary Chapel church sustained some damage, as well.
The metal roof of the church is hanging on power lines.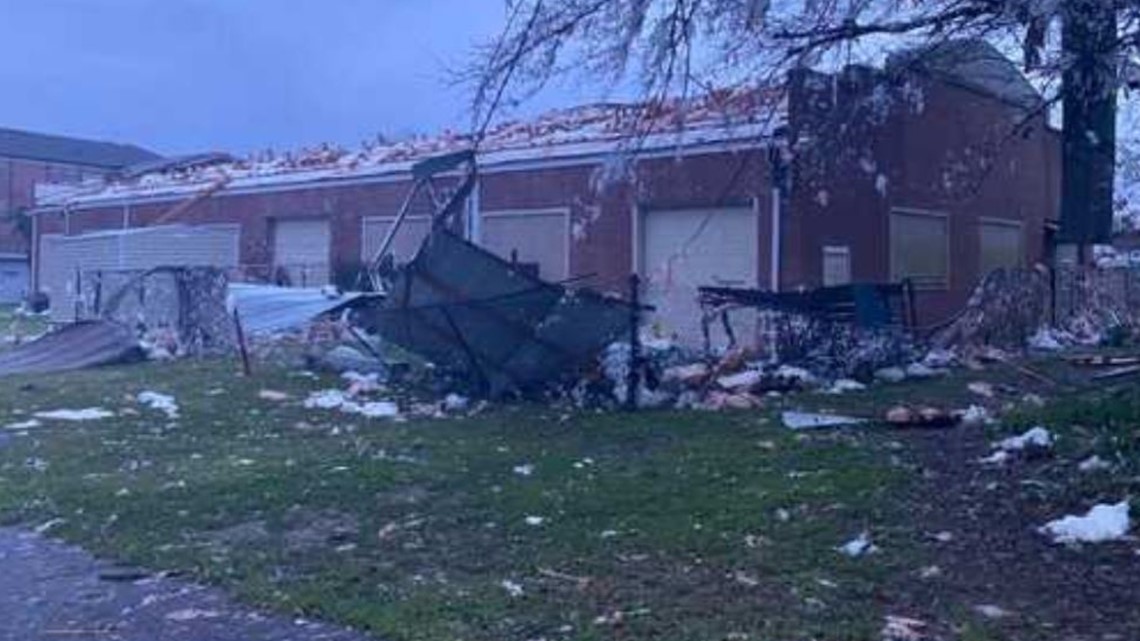 Newnan storm damage from severe weather