ATLANTA — The 11Alive StormTrackers are closely monitoring a storm system developing out west that poses a threat of strong to severe storms for all of Georgia on Saturday.
A tornado watch is in effect for metro Atlanta and much of north Georgia and west Georgia until 9 pm. An additional tornado watch has been issued for areas to the east of Atlanta through midnight.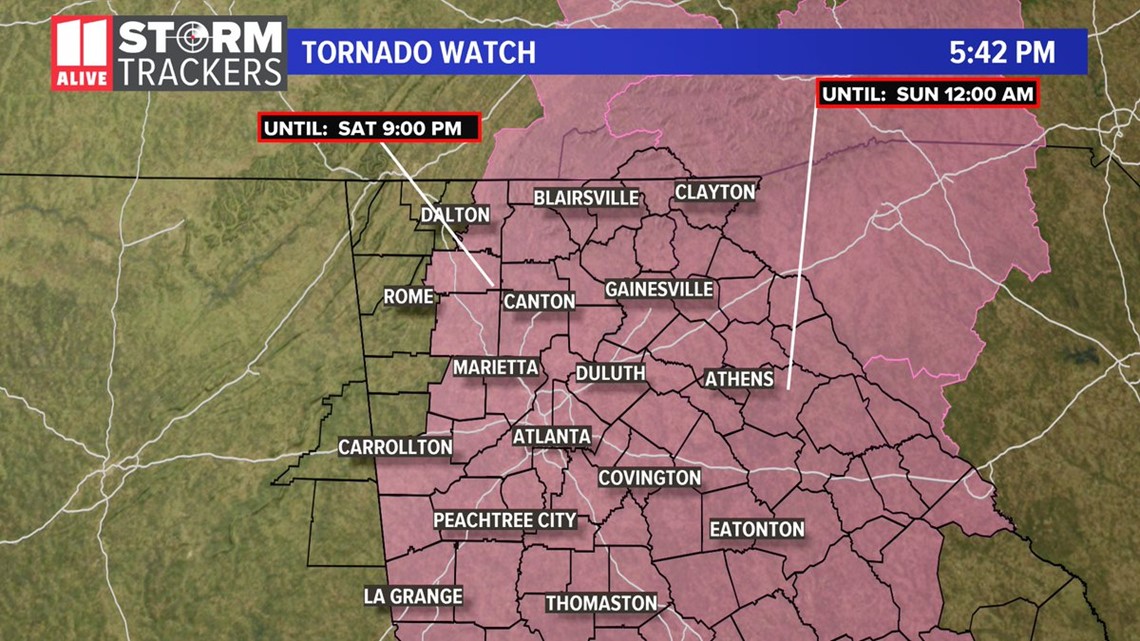 Overall, the best chance for severe weather will be across Mississippi and Alabama. Much of Western Georgia and parts of metro Atlanta are under a level 3 out of 5 threat. Much of the rest of north Georgia is now under a level 2 threat.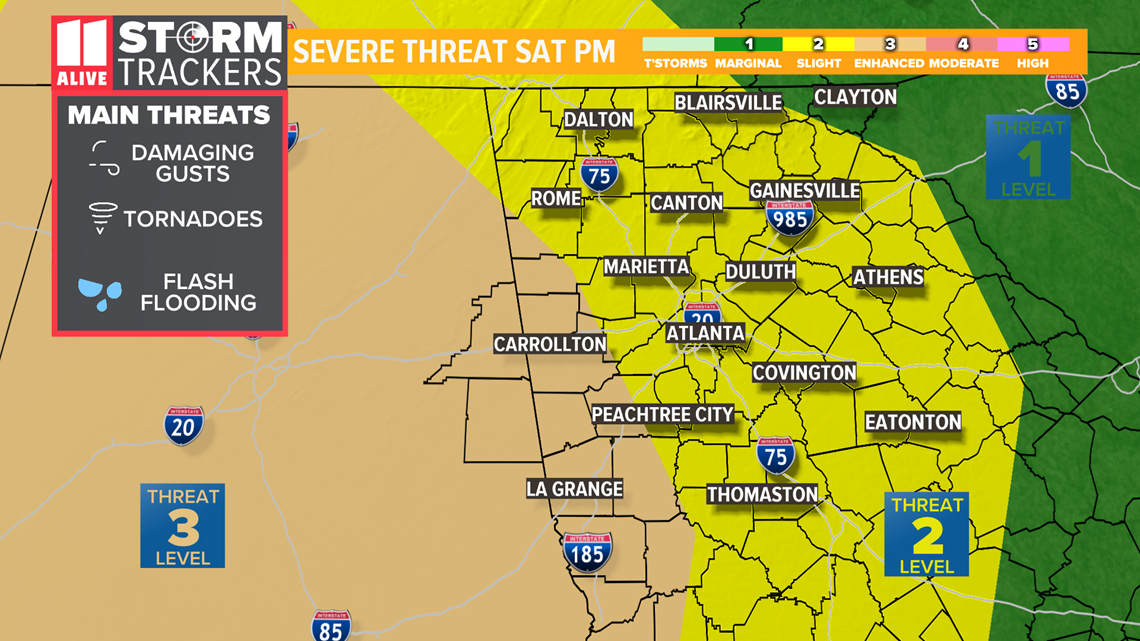 Watch live coverage:
What will likely happen
A large line of thunderstorms will move out of Alabama and into Georgia by late Saturday afternoon into the evening. This line will be capable of causing damage with strong wind gusts, brief tornadoes, and heavy rainfall.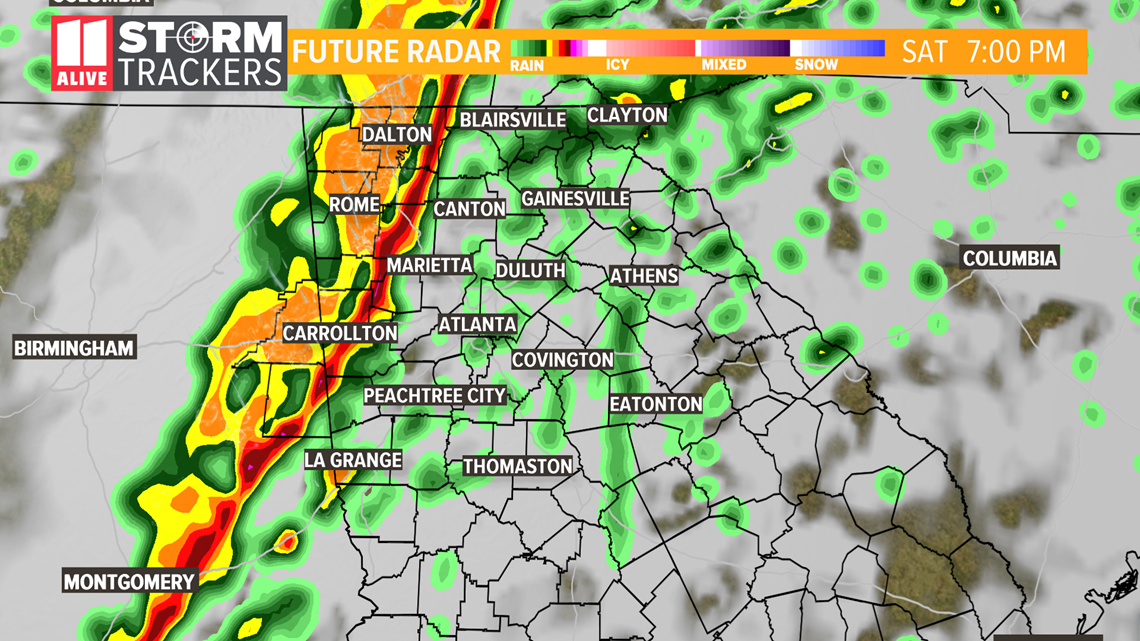 The line of storms will weaken as it moves across Georgia from the level 3 threat area in tan into the level 2 area in yellow, and finally eastward into the level 1 area in green as it exits the state.
There is also a low chance that small individual storms develop ahead of the main line, which, too, may produce damaging wind gusts or tornadoes.
Keep in mind, timing and threat levels are subject to change.
Impacts
Strong wind gusts from these storms can bring down trees, damaging property and causing power outages. Very heavy rainfall may also cause flash flooding Saturday evening.
If you have dead trees on your property, it is advised you remove those by Saturday afternoon to avoid damage.
It is also a good idea to review your tornado safety plan with your family.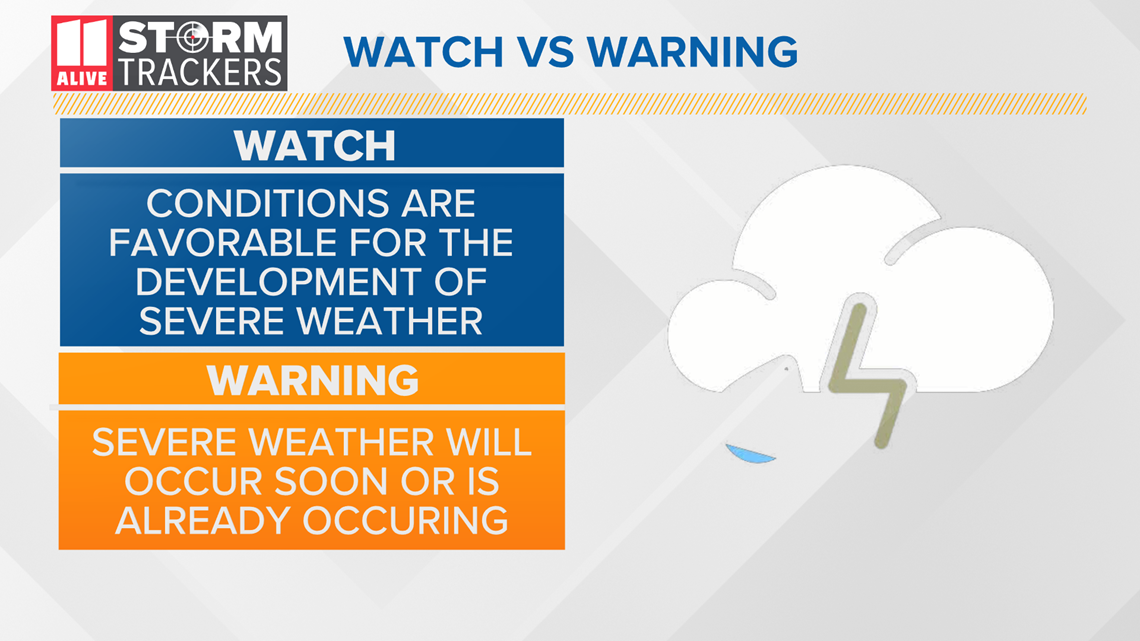 Severe weather coverage during NFL playoff game
Severe weather may enter the 11Alive viewing area during the NFC divisional playoff game.
We will provide coverage for severe storms to keep viewers safe in the impacted areas and air the football, too. In the event this happens, we will simultaneously broadcast the football game and severe weather coverage with double boxes on 11Alive. We will also utilize WATL with continuous severe weather coverage.
If you are not able to watch WATL, we will stream weather coverage on Facebook and the 11Alive app.