ATLANTA — A line of severe storms moved through the Southeast US, Sunday, setting off a series of tornado warnings, including right here in the south metro Atlanta area.
The National Weather Service confirmed late Sunday a tornado with at least an F3 rating and a track at least half a mile (.8 kilometers) wide caused the deadly destruction in Alabama. Although the statement did not give exact wind estimates, F3 storms typically are gauged at wind speeds of between 158-206 mph (254-331 kilometers per hour).
Radar and video evidence showed what looked like a large tornado crossing the area near Beauregard shortly after 2 p.m. on Sunday, said meteorologist Meredith Wyatt with the Birmingham office of the National Weather Service.
GRADY COUNTY, GEORGIA
11Alive StormTracker meteorologist Wes Peery reports the small town of Cairo, Georgia - just north of the Florida state line, and hard hit by Hurricane Michael last fall - just took a direct hit from a tornado.
PEACH COUNTY, GEORGIA
Video from Byron, Georgia shows the moments when tornado sirens went off.
Video taken from Centerville, Georgia shows ominous-looking clouds spinning, possibly forming a funnel.
One resident, Gene Pritchett, said he believes that same storm blew off portions of a relative's home about five miles away. The top level of the home, another structure, and the pool were all destroyed. Luckily, he said no one was home at the time.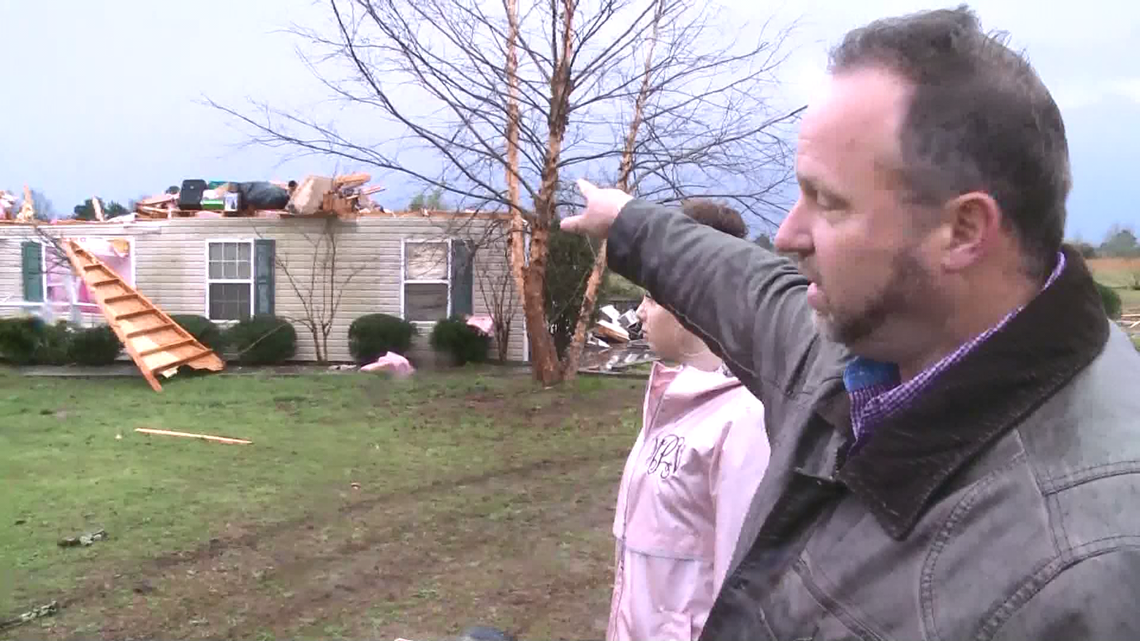 "I wouldn't have wanted to be here during this," he said.
Photos: Peach County storm damage on March 3, 2019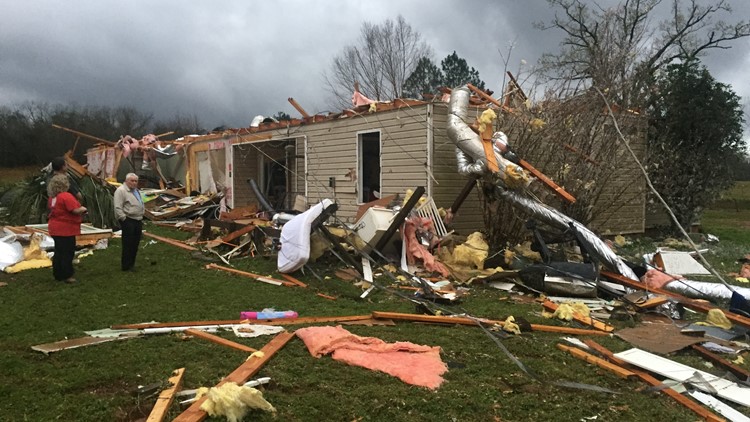 TALBOT COUNTY, GEORGIA
Another strong storm caused severe damage in Talbotton, near Columbus, Georgia.
One resident said he had to run inside and take shelter in his bathroom.
"It hit so fast," he said.
The destruction "looks like a war zone," he continued. He came outside after the storm to see debris, but "didn't think it was this bad."
LEE COUNTY, ALABAMA
The majority of the nearly 23 fatalities happened near Beauregard, Alabama in Lee County, just across the state line from Columbus, Georgia. Family members told WSFA among the dead is an 8-year-old girl.
Emergency officials are still assessing the damage, according to WSFA. Video from the same area along Lee Road showed whole swaths of trees snapped.
The Associated Press contributed to this report.