The 11Alive StormTrackers are watching an area of winter weather that has moved into far north Georgia for Thursday.
A winter weather advisory has been issued for parts of the northeast Georgia mountain areas until 1 a.m. on Friday, as a result. Closer to the city of Atlanta, we should only see a cold rain.
Precipitation began freezing and turning into snow late Thursday morning in far north Georgia, including Sky Valley, Blue Ridge and Brasstown Bald.
WHERE ATLANTA SPEAKS: Text us your snow pics and video at 404-873-9114!
Updates below:
9:30 pm | Take a look at this video 11Alive's Wes Peery captured of a waterfall in north Georgia from earlier today.
RELATED: Snow falling over waterfall in north Georgia is magical!
4:30 pm | Several school districts both here in the metro area, as well as in north Georgia have announced closings or delays.
4:18 pm | Everyone in these highlighted counties needs to watch for patchy black ice to develop overnight.
3:50 pm | Cobb County is warning commuters to take care overnight into Friday morning over concerns of possible black ice.
3:01 pm | Due to possible overnight ice, the Cobb County School District has canceled all school-related activities before noon on Friday, Feb. 21. All activities scheduled for after noon will occur as planned. Staff should not report prior to noon.
Snow falls in north Georgia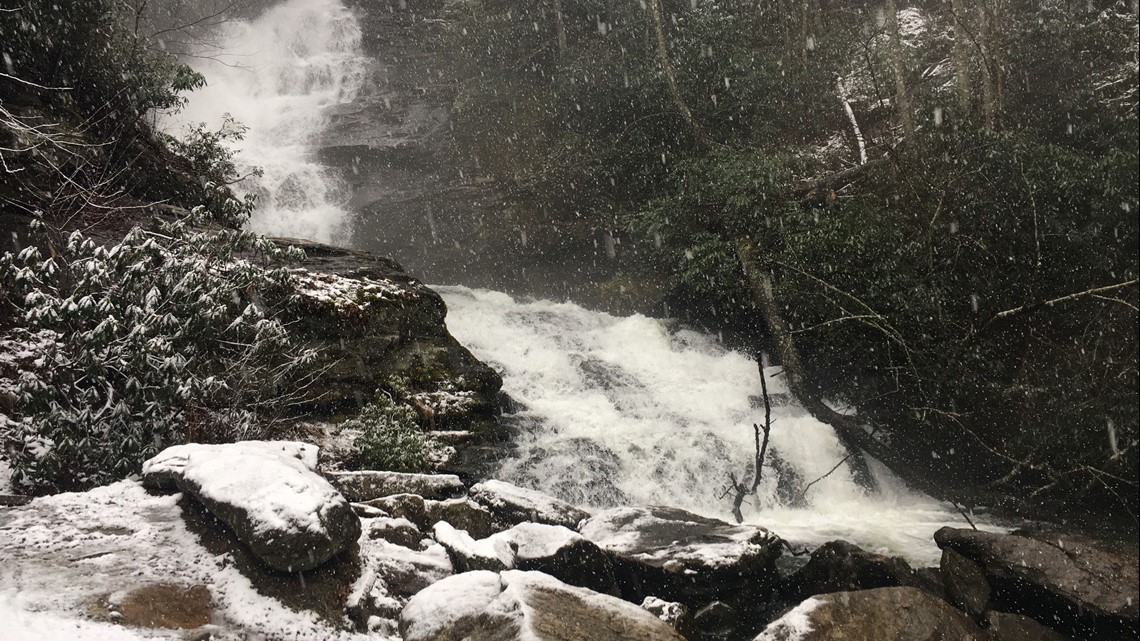 2:15 pm | Here's another angle of the snow, courtesy 11Alive meteorologist Wes Peery.
1:45 pm | The snow is coming down nicely in Sky Valley, but we're a bit surprised it isn't sticking more than it is. But there was enough snow for a young viewer to hit Meteorologist Wes Peery in the face with a snowball.
1:00 pm | Good snow coming down now in the north Georgia mountains. You can watch it as it falls live on our YouTube page:
11:30 am | Just rain and sleet right now in York, Georgia, 11Alive meteorologist Wes Peery reports.
10:50 am | Rhonda Thomas tells us in the 11Alive StormTrackers group that there's snow on Bush Head Mountain in Gilmer County.
10:20 am | Aaaaaaand there it is!
10:10 am | Here's 11Alive meteorologist Wes Peery with a look at how things are developing up there:
10:00 am | We're seeing sleet-like drops from our camera in Blue Ridge.
9:25 a.m | While winter weather is on everyone's minds north of the metro area, there is a continued threat for flooding and rain on the south side. In Spalding County, the sheriff's office reports there are several roads closed, including:
Chuli Road
Cook Road
SB lane of Buckcreek Road Bethany at Rawls Road
Bethany at Williamson Road (SB)
New Salem Road SB at W. McIntosh Road bridge
Lindsey Road
9:10 am | Just as a reminder, farther to north a series of winter weather advisories are in effect until midnight-1 a.m. for the following counties: Habersham, Rabun (which were both placed under the advisory shortly before 7 a.m. this morning), Murray, Dawson, Fannin, Gilmer, Lumpkin, Pickens, Towns, Union and White.
9:00 am | If you are tracking the conditions around metro Atlanta, don't expect any break in the overcast, lightly rainy conditions anytime soon. See the 11Alive Radar for the latest.
8:30 am | As 11Alive has a crew on the way to chase the snow up in the northern counties, 11Alive meteorologist Chesley McNeil says it will mostly just continue to rain around Atlanta. There may be fleeting sleet-like conditions much later in the night as the temperatures drop, but if you're around the metro don't expect anything like two weekends ago.
8:00 am | 11Alive meteorologist Wes Peery reports we can expect more rain around Atlanta, while he's headed up north to chase the wintry mix starting to form in the mountains.
6:30 am | The rain is still pushing in, folks!
6 am | Don't expect the rain to taper off until the average commuters drive home.
5:30 am | Take your coat before you leave the house. Chesley McNeil says the winds will be gusty.
5 am |
4:28 am | 1-2 inches of snow in the higher amounts of elevation alongside
4 am | Rain is moving back into the forecast throughout the morning. Winter Weather Advisory includes Murray, Dawson, Fannin, Gilmer, Lumpkin, Pickens, Towns Union and White until Feb. 21 until 1:00 a.m.
THURSDAY
Check here for updates:
9 pm: 11Alive Chief Meteorologist Chris Holcomb gives an update on the conditions expected for the morning.
8:25 pm: North Georgia Technical College has announced they are closing for Thursday, Feb. 20, due to the winter weather advisories.
8:15 pm: Fannin County school officials said they have closed school for Thursday, Feb. 20.
8:05 pm: Pickens County road crews pre-treating roads earlier on Wednesday.
7:45 pm: Dawson County Schools has announced that school will be closed on Thursday. The school system will have an online learning day.
6:40 pm: Towns County Schools says schools will be closed on Thursday, and the school system will be implementing an online learning day.
6:15 pm: White County Schools has closed school for Thursday, February 20.
6 p.m.: Lumpkin County Schools says they will be closing school for Thursday. 12-month staff should report if is safe to do so.
5:55 p.m.: Habersham County Schools says they will be closed on Thursday.
5:20 p.m.: Union County Schools says they are opening schools on a two-hour delay on Thursday.
5 p.m.: Rabun County Schools says they are canceling classes for Thursday.
POWER OUTAGES CHECK | Georgia Power customers, check here. Georgia EMC customers check here.
Be prepared for severe weather in your area