WEST POINT, Ga. — An EF-3 tornado wreaked devastation in Troup County and tracked into Meriwether County, surveyors said Monday.
In its preliminary report, the National Weather Service said Sunday's storms produced a tornado that reached peak winds of 150 mph. Surveyors said the tornado's path stretched 20.65 miles, starting in Troup County and ending in the Pine Mountain area of Meriwether County.
NWS said the tornado formed around 6:49 a.m. Sunday and spun until 7:19 a.m. meaning the storm lasted around 30 minutes.
No one died, the NWS reports, but five people were hurt in relation to the storms.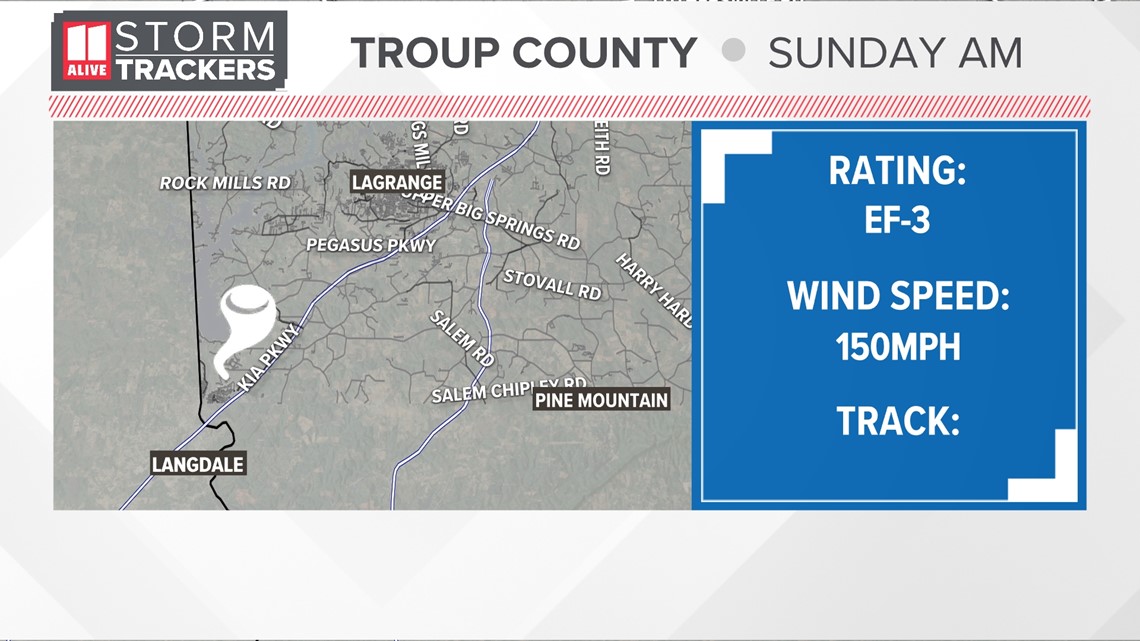 As the NWS works on its full report, the damage from the twister was clear.
Neighbors in Troup and Meriwether counties woke up Monday to homes destroyed by powerful winds, flooding and what seemed to be endless storm debris.
West Point, Pine Mountain and LaGrange seem to be the hardest-hit areas with roofs of buildings ripped off and structures and homes torn down. Trees were left bare in the wake of the storms.
Photos | Severe weather damage in Troup County
In a Monday evening update, Gov. Kemp said the state's goal is to assess the damage and clear the roadways. He toured the damage in Troup County and much of west Georgia Monday. He intended to also visit the Milledgeville area and assess the devastation in Baldwin County but was unable to due to the weather.
The governor is planning to make another attempt to visit central Georgia Tuesday. The NWS is also planning on conducting additional surveys in Baldwin and Hancock Counties.