ATLANTA — Severe weather swept across the metro Atlanta region on Friday night, with at least one confirmed tornado in the region. Here's a rundown of how things developed in real time:
UPDATES:
10:00 p.m. | Multiple trees and power lines are down in Newnan County after severe storms and the tornado confirmed by the National Weather Service moved through the area. The Newnan County Fire Chief also said so far, five people were injured during the storms; three adults, a teenager, and a child. He added two of those individuals had to go to the hospital.
8:36 p.m. | The Carroll County Sheriff's Office reported damage along Cowan Road, Old Villa Rica Road, New Brooklyn Church Road, Miller Agan Road, and Long Branch Road. No injuries have been reported but motorists are being asked to avoid these areas. In addition Cowan Road is closed until further notice.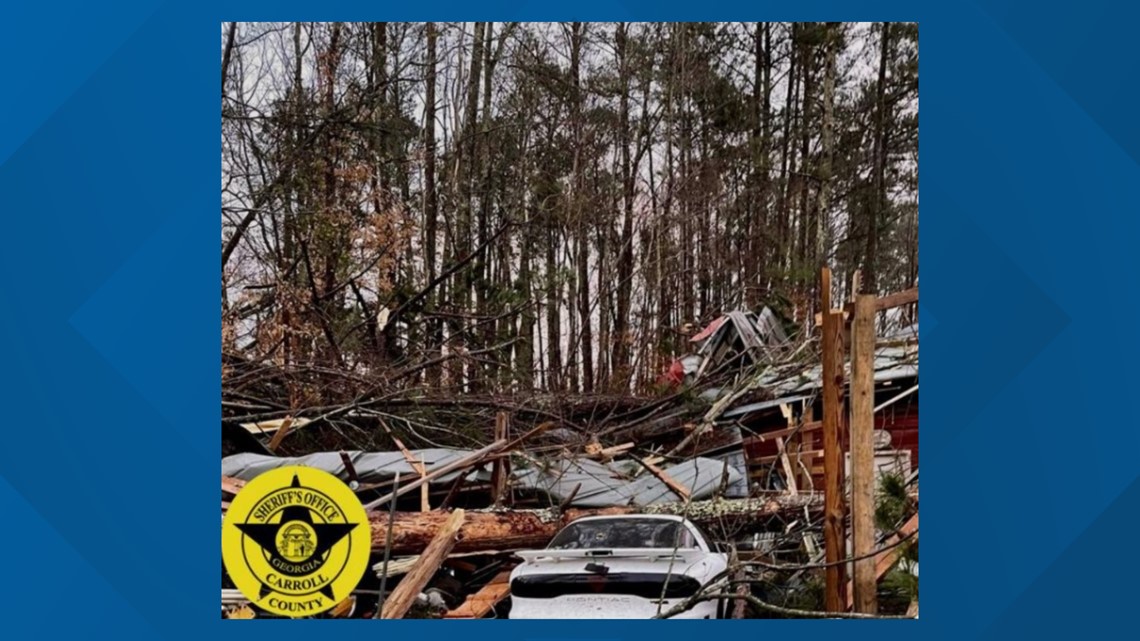 8:26 p.m. | The National Weather Service confirmed that a tornado touched down near Salem/Brown Bridge Road.
7:31 p.m. | Photos show storm damage in Covington.
6:26 p.m. | A tornado warning is now in effect for Morgan, Oconee, and Walton Counties until 7 p.m.
6:20 p.m. | A tornado warning has been issued for Cobb and Paulding counties. This is in effect until 6:45 p.m.
6:16 p.m. | Video posted on social media shows cars flipped over in a parking lot near a Chick-fil-A location on Salem Bridge Road in Newton County.
6 p.m. | The tornado warning issued for Gordon and Pickens counties has expired.
5:47 p.m. | A tornado warning is in effect for Newton, Walton and Morgan counties until 6:30 p.m.
5:40 PM | A tornado warning is in effect for Pickens, Gordon counties until 6 p.m.