ATLANTA — The 11Alive StormTrackers are closely monitoring a severe weather outbreak across the South and Southeast that will push dangerous storms across the region on Sunday and Sunday night.
This a storm system that will bring strong tornadoes, widespread damaging winds, large hail, heavy rainfall and vivid lightning throughout the region.
Falling trees and downed power lines are likely over many parts of north Georgia and metro Atlanta as a result of this storm system.
Some of the strongest storms expected with this storm system may come in the overnight hours, which has the potential to bring an added danger to this storm system.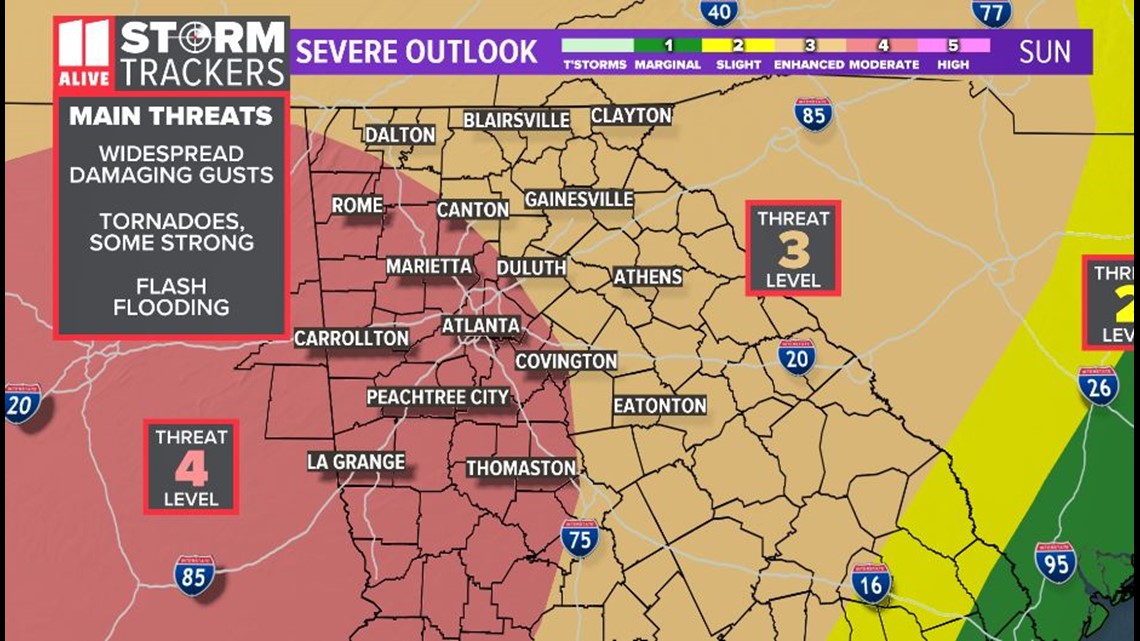 Severe storms and tornadoes that occur during the overnight hours are twice as likely to bring death and injury than during the daylight hours, due to the fact that many people do not hear warnings until it is too late -- if at all.
Threat level
The "moderate" risk (level 4 of 5) now includes all of Atlanta and areas just to the east. The black lines indicate a "hatched" area highlighted by SPC where the storms could be "significant." The strongest storms will move into Georgia later tonight and overnight. The remainder of north Georgia is under a level 3 of 5 threat for severe weather.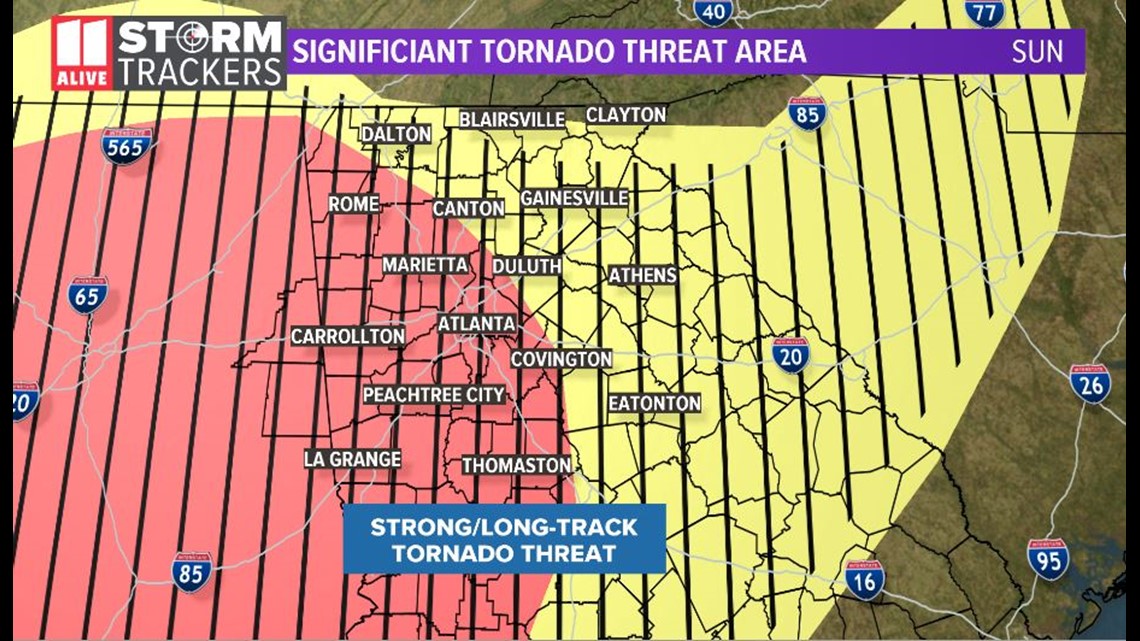 Under a level 4 -- or Moderate Risk -- area, widespread severe storms are likely with long-lived and intense storms are expected. Tornadoes are expected to develop in this area and may become long-lived and more intense.
Under a level 3 -- or Enhanced Risk -- area, numerous severe storms are possible with large hail and damaging wind gusts. The threat for the development of tornadoes is also enhanced in this area.
An extended significant tornado threat area extends eastward through the metro Atlanta area and all of north Georgia for Sunday.
A tornado watch is in effect for Bartow, Catoosa, Chatooga, Cherokee, Dawson, Gilmer, Fannin, Cherokee, Gordon, Murray, Pickens, Polk, Walker and Whitfield counties until 11PM.
The level 4 area extends westward from Georgia through much of Alabama and Mississippi and into parts of Louisiana and Arkansas.
Timing
The first part is this strong storm system is working its way through this evening.
As the evening progresses, expect the storms to become more widespread and more intense.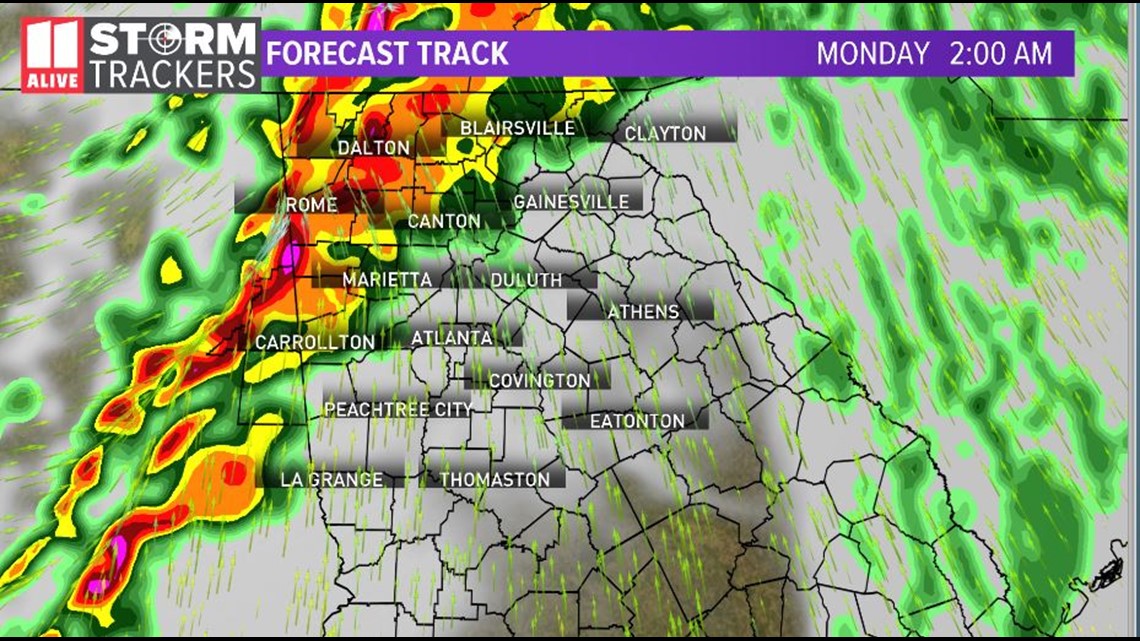 After midnight, stronger, more active storms are anticipated to begin to move into Georgia. These storms are likely to include damaging winds and tornadoes, along with possible tornadoes.
Any tornadoes that develop may be long-lived and develop long tracks, which means they may stay on the ground for a longer period of time.
Threats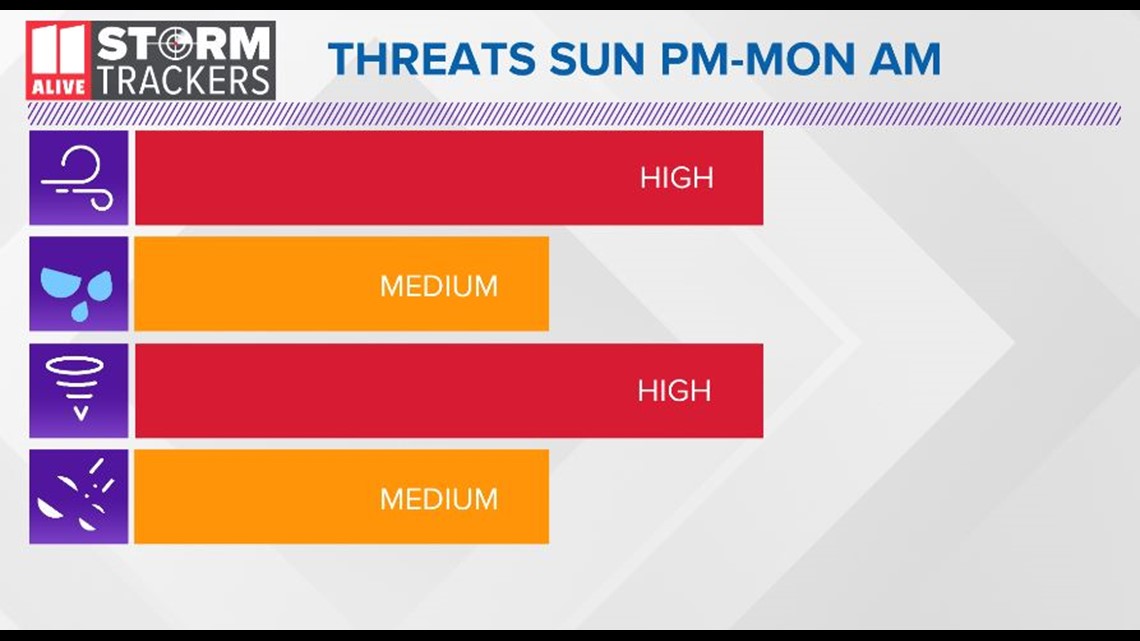 These storms may last into the overnight hours. Overnight timing is especially dangerous, as tornadoes that occur after midnight are more than twice as deadly than at other times of the day.
The primary threats include strong, damaging winds, the development of dangerous, long-tracked tornadoes, heavy rainfall, bringing with it the possibility of flash flooding, vivid and frequent lightning and large hail.
Trees and power lines are anticipated to fall through parts of north Georgia, including much of metro Atlanta.
Any tornadoes that develop have the possibility of being extremely dangerous, long-lived and destructive.
Prepare now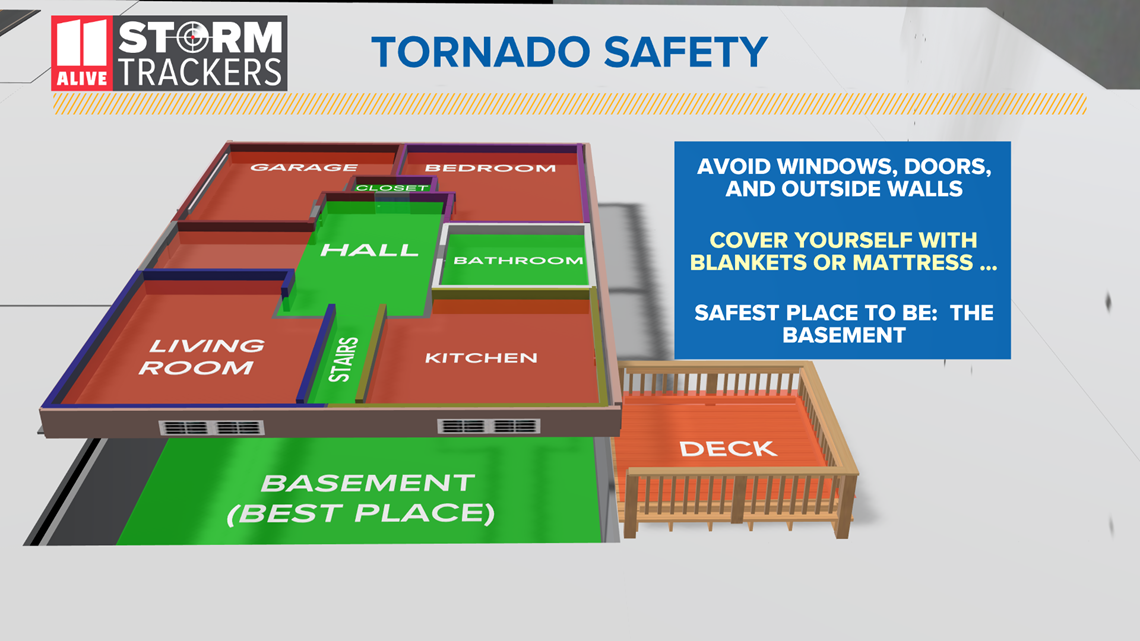 Make sure you have your tornado safe place ready and a severe weather plan in place.
Remember to disable "Do Not Disturb" mode on your phone so wireless weather alerts can wake you up in case a warning is issued for your area.
Please continue to check for forecast updates regularly on 11Alive and 11alive.com.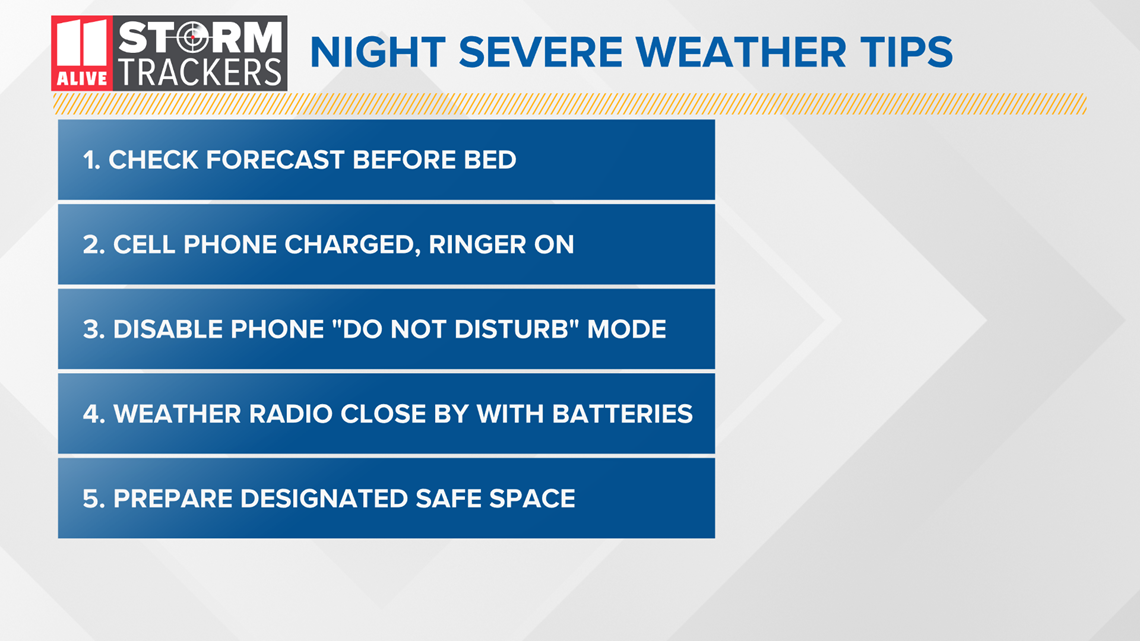 Severe weather preparations