ATLANTA — Note: This was a live blog on Wednesday Oct. 29. For the latest updates for Thursday, click here.
The storm made landfall as a category 2 hurricane in Louisiana on Wednesday afternoon. As it moved over Alabama overnight it weakened to a tropical storm.
The primary risk as it moves over the metro Atlanta area will include strong, gusty winds, heavy rainfall, and the possibility of spin-up tornadoes as the rain bands from the tropical storm system move in.
A Tropical Storm Warning has been issued for much of north Georgia.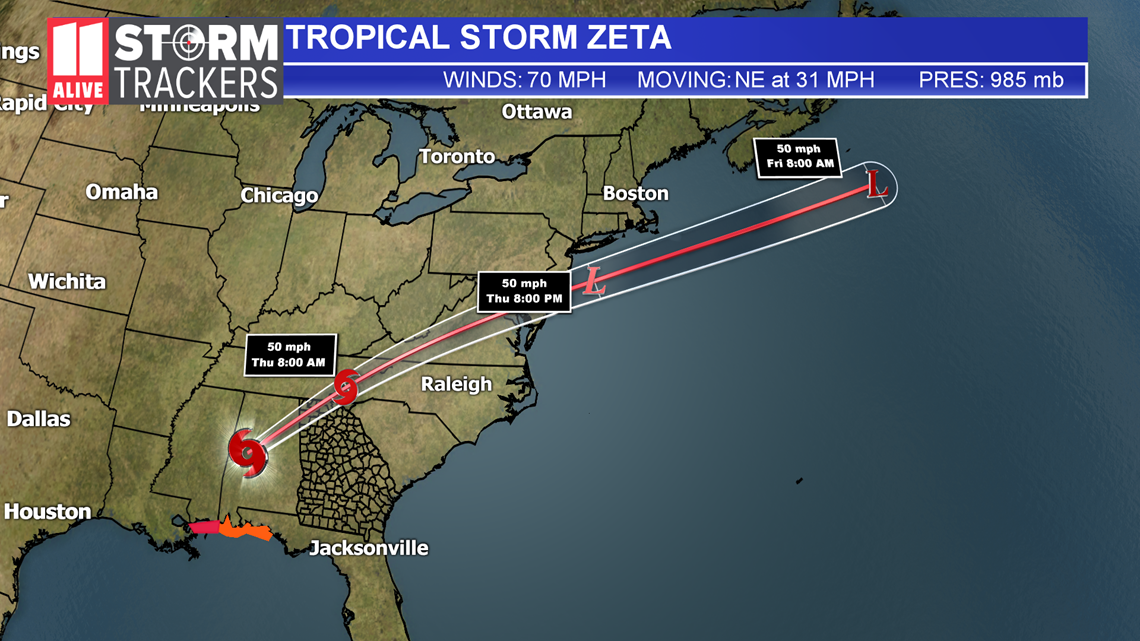 With the rain-softened soil from last week's heavy rainfall, the possibility of falling trees is a real danger in many areas around metro Atlanta and north Georgia, bringing with it potential power outages in and around north Georgia.
Refresh this story for updates:
5:10 a.m. | 11Alive Meteorologist Chesley McNeil notes that as the heavy rains move out of the area, they're going to be tailed by the center of the storm which will bring the strongest winds we've seen yet. That's what you can expect to see over the next little while.
5:10 a.m. | 11Alive's Maura Sirianni is out in the field reporting, seeing some of those downed trees and wires:
5:05 a.m. | Here are some of the issues we've seen reported in Atlanta: Trees down at 1208 Virginia Ave. NE, 1282 Greenwich St. SW, 2940 Benjamin E Mays Dr. SW, 72 Hardwick St. SE, 2850 Springdale Rd. SW, Katomarick Dr. SE/Hutchens Rd. SE, 471 Harold Ave. NE, 195 Eureka Dr. NE, 2451 Donald Lee Hollowell Pkwy. NW, I-20 WB Expwy. NW / Martin L King Jr. Dr. NW, as well as wires down at 881 Forrest Cir., 142 Blackland Rd. NW, and Valley Rd. NW / Tuxedo Rd. NW
5 a.m. | The most recent advisory which just came out places the storm about 65 miles north-northwest of Atlanta.
5 a.m.: | The National Hurricane Center's latest advisory notes: "Strong, damaging wind gusts, which could cause tree damage and power outages, will continue to spread well inland across portions of northeastern Alabama, northern Georgia, the Carolinas, and southeastern Virginia today due to Zeta's fast forward speed. Wind gusts could be especially severe across the southern Appalachian Mountains."
4:50 a.m. | Outages coming in waves now - Georgia Power now reporting 183,580 total customers affected.
4:45 a.m. | Georgia EMC is reporting 45,804 for their customers statewide, including nearly 20,000 in metro Atlanta.
4:40 a.m. | Already a lot of reports of trees and wires down, with the strongest winds still on their way from Alabama.
4:21 a.m. | Georgia Power is reporting about 65,000 customers are affected by power outages in North Georgia and metro Atlanta.
4:00 a.m. | Wind gusts of 40 to 50 mph are reported in West Georgia and metro Atlanta.
4 a.m. | Zeta is now moving over west Georgia and toward the metro Atlanta area, with people reporting heavy winds and rains to our 11Alive StormTrackers group.
11 p.m. | Zeta is moving rapidly through Mississippi and Alabama with a dangerous storm surge.
5 p.m. | Hurricane Zeta is making landfall near Cocodrie, La., as a strong category 2 storm with sustained winds of 110 mph. As of 5 p.m., it is located 65 south-southwest of New Orleans, moving NNE at 24 mph.
2 p.m. | Hurricane Zeta has become a category 2 storm with maximum sustained winds of 100 mph as of the 2 p.m. update.
1:45 p.m. | The main issue for metro Atlanta and north Georgia will be wind, according to 11Alive Chief Meteorologist Chris Holcomb. Expect winds between 30 and 40 mph with gusts up to 50 mph.
11 a.m. | The National Weather Service has issued a Tropical Storm Warning for much of north Georgia.
A Tropical Storm Warning means Tropical Storm-Force winds are expected in the warned area within the next 36 hours. Sustained winds from 35-to-45 mph are expected with wind gusts to 60 mph are from early Thursday morning into mid-Thursday morning.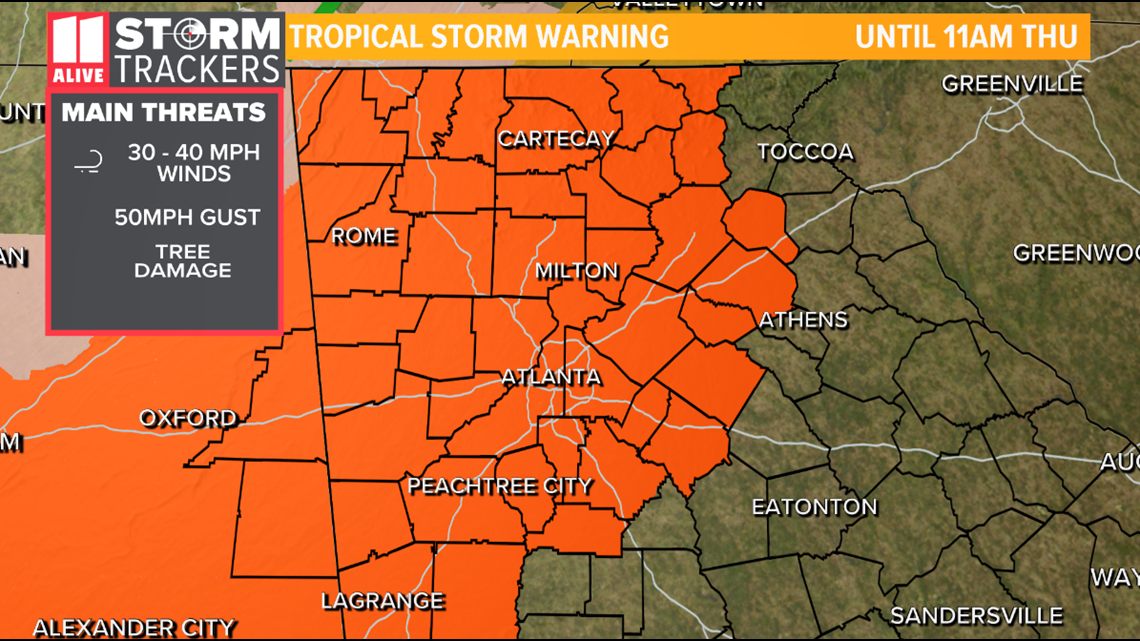 Wind gusts may bring down trees and tree limbs. Downed power lines are possible throughout the region. Unsecured objects may be blown about. Some fences and roadway signs may be blown over.
Rainfall amounts between 1-and-3 inches are possible with locally higher amounts. Flash flooding is possible in the affected areas.
The situation is somewhat favorable for the development of a few spin-up tornadoes.
7:30 a.m. | 11Alive's Chesley McNeil says early morning rain will come to an end, but there's more on the way as Zeta approaches the Gulf Coast.
Stay with the 11Alive StormTrackers all day Wednesday and into Thursday for the latest information on Zeta and its effects on Metro Atlanta and north Georgia.