ATLANTA — Winter weather is set to make a return to metro Atlanta this week, as the possibility of snow and some of the coldest weather in a long time will make its way into north Georgia.
The leading edge of the colder weather is expected to enter north Georgia by Tuesday night or early Wednesday.
Stay with the 11Alive Storm Trackers for the latest forecast, because the details are continuing to change as the days get closer.
One thing is for certain. The weather will be very cold for the middle part of this week.
Sunday & Monday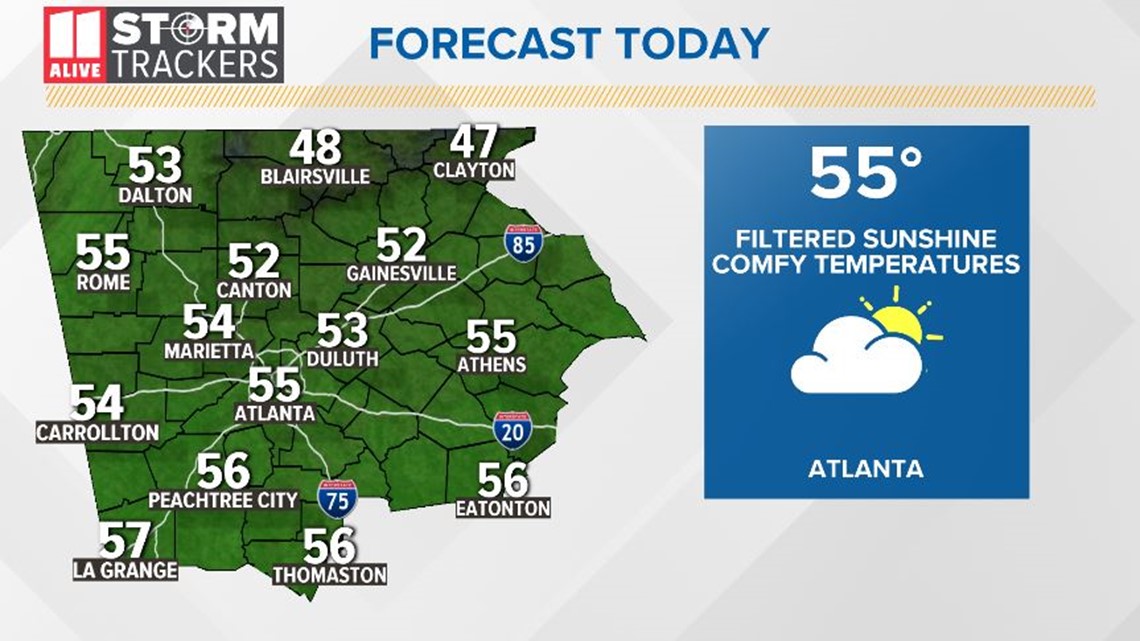 Sunday and Monday will remain seasonable with high temperatures in the 50s. The low on Sunday night will get to the low-to-mid 30s across most of north Georgia.
Tuesday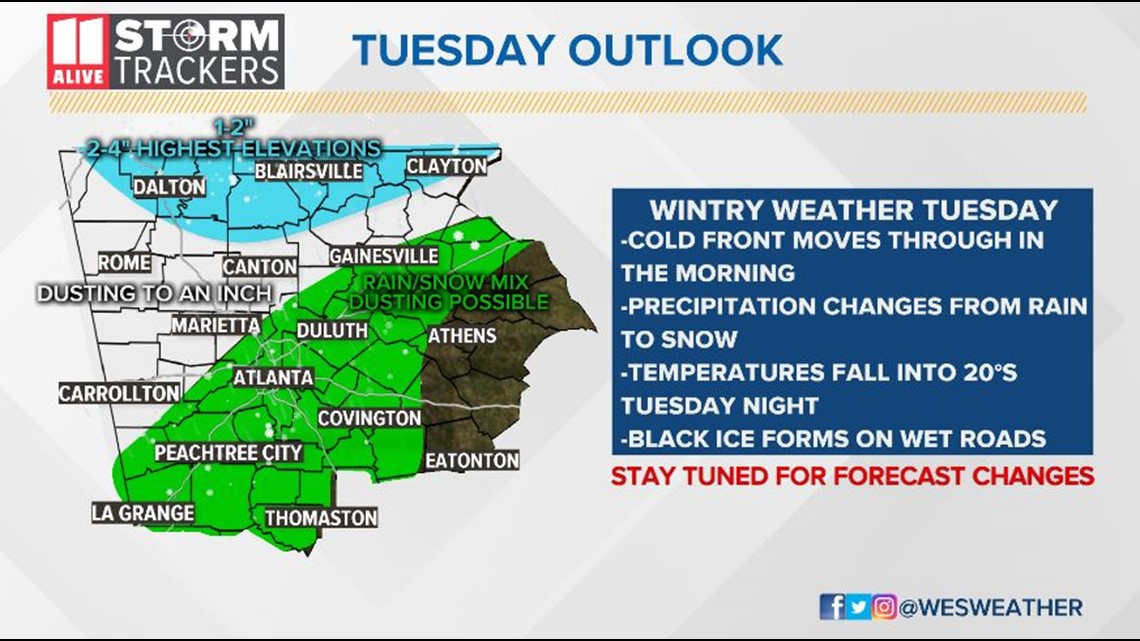 11Alive Meteorologist Wes Peery says that we have been in a pattern of gradual warming followed by a line of precipitation, then a cold front with falling temperatures, which then repeats.
Tuesday features the middle and second half of that pattern. We will hit the high temperature after midnight before temps begin to fall through the morning hours. Rain will also begin to fall.
Once the coming cold front passes, temperatures will fall below freezing. Any rain that has been falling will mix with snow before changing over to all snow.
There is the potential for accumulating snowfall with this storm system. The best chance for this will be in the North Georgia Mountains.
Outside of the mountains, any accumulations will likely be on elevated or grassy surfaces.
Wes says that with the higher temperatures on Sunday and Monday, the ground looks to be too warm to support any snowfall sticking.
Wednesday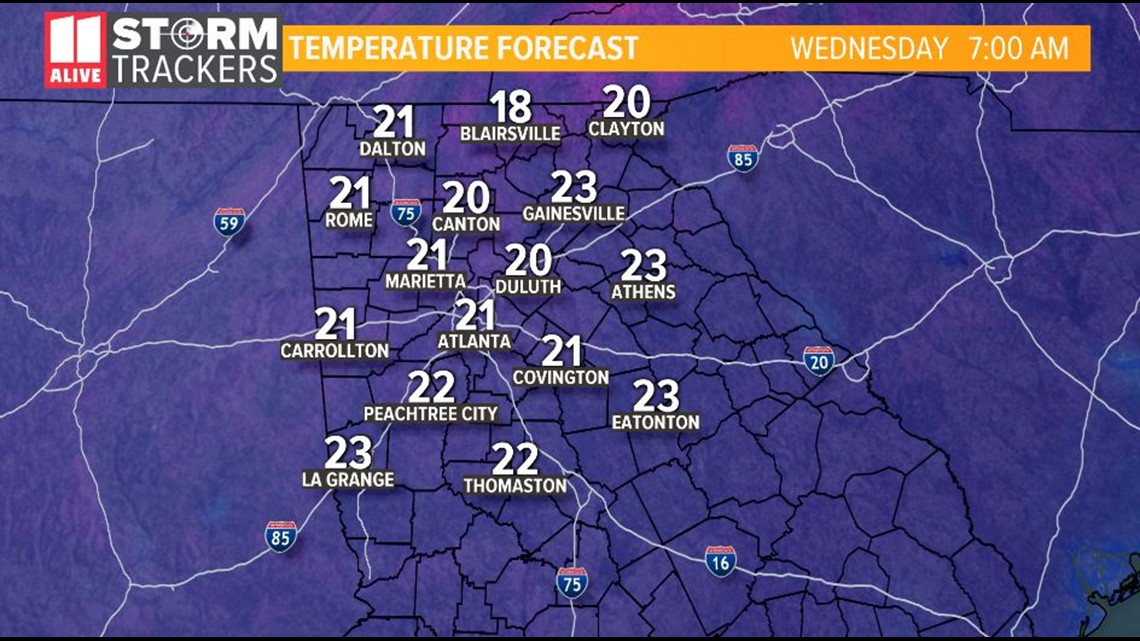 After the snowfall ends on Tuesday evening, extremely cold temperatures and bitterly cold wind chills are expected on Wednesday morning.
Wind chill values may be in the single-digits with air temperatures in the low 20s.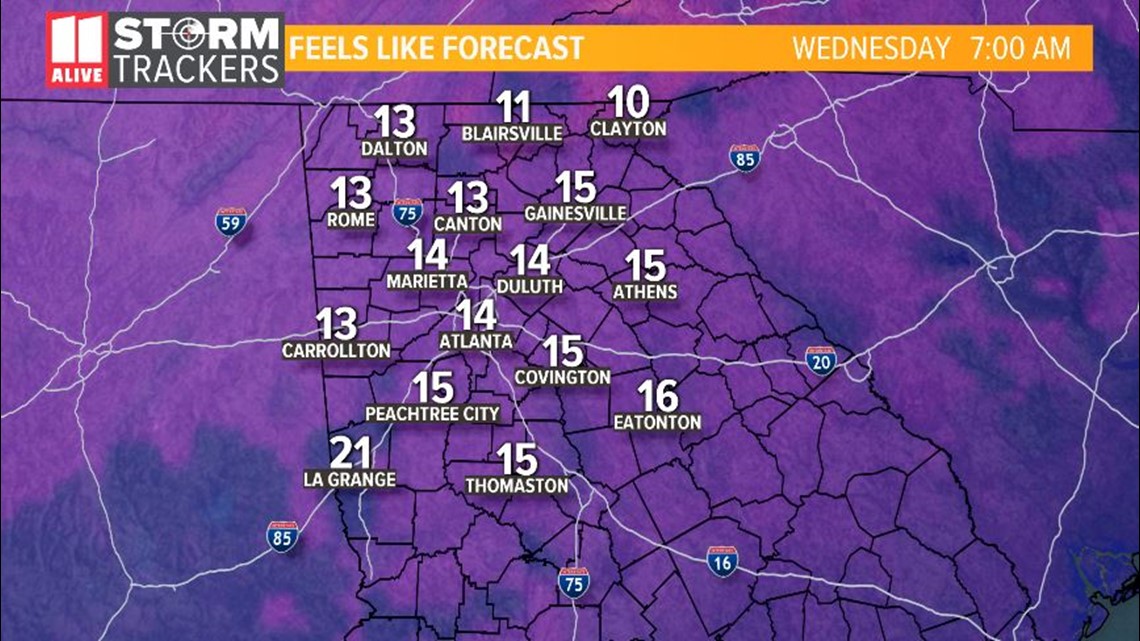 As a result, any moisture on the roadways on Tuesday will freeze on Tuesday night, resulting in areas of black ice across the area Tuesday night and Wednesday morning.
Wes says this cycle will continue with a slow warming period following the cold spell. He says temperatures will get back into the 40s by next weekend with sunshine.
Stay with the 11Alive Storm Trackers for the latest in a changing forecast trend as this cold weather gets closer. In addition, we will have any updates and possible weather advisories or warnings as soon as they become available.