MARIETTA, Ga. — Caught on camera -- a duo of dust devils spun up this weekend at a Cobb County softball tournament. They brought the game to a halt, awing players and fans. It happened Saturday afternoon at Al Bishop Softball Complex in Marietta.
The videos were shared with 11Alive in our StormTrackers Facebook group by Mike Iconis. The first was caught on one of the team's webcasts. You can see the dust devil spin up, and several players have to move out of the way to avoid it.
Then, two innings later, Iconis captured cell phone video of another dust devil that formed on the opposite side of the field.
"It was the first time for most of the kids to see one in person. Much less two of them! My daughter said it was nice to have a little break in the game," Iconis commented.
Dust devils are more common in drier environments like the Plains and southwest, but can happen in Georgia on occasion as well.
The spinning vortices of dust and dirt don't form in the same way as tornadoes. They're actually more closely related to fire whirls or fire tornadoes than those that form from thunderstorm clouds.
Dust devils form on hot, mostly sunny afternoons with generally light winds and usually form in an area with flat, dry terrain like dirt or dust.
The sun heats the surface much more rapidly than the area aloft. That rapidly warmed air rises. A difference in heating can cause this rising air to rotate and form a circulation. The circulation can pick up dust and dirt from the ground. They are sustained by inflowing warm air. When colder air mixes in, they weaken and dissipate.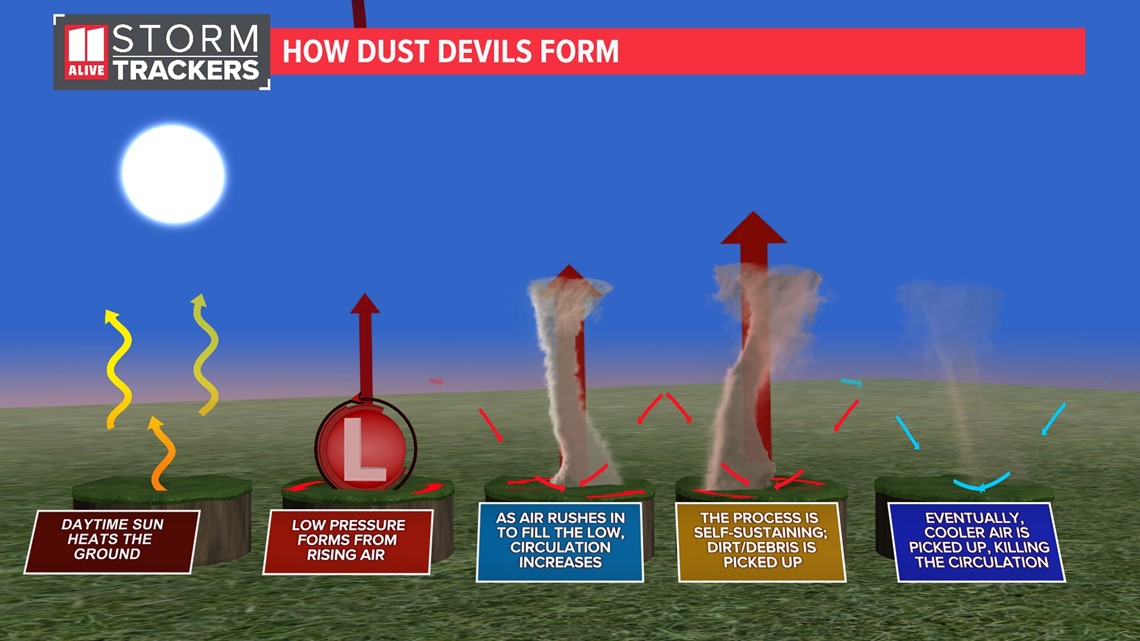 Dust devils usually last for seconds or minutes. They are usually weak and harmless. Occasionally they can become large and stronger, causing damage.
MORE FROM THE 11ALIVE STORMTRACKERS
DOWNLOAD THE 11ALIVE APP:
Set up weather notifications by clicking the Gear icon in the upper right corner of the app. Select Notification -> Notification Settings -> Severe Weather Alerts -> Toggle the Severe Weather Alerts button to the right to turn alerts on.

Send photos and videos through the app by selecting the Near Me feature on the bottom right task bar of the app and entering your information.
TEXT YOUR WEATHER PHOTOS TO US: 404-885-7600
JOIN THE 11ALIVE STORMTRACKERS FACEBOOK GROUP: Nearly 10,000 metro Atlanta and north Georgia weather enthusiasts share their weather photos every day. Click here to join the group!