ATLANTA — The heat and humidity build this weekend, pushing our feels-like temperatures into the triple digits Saturday and Sunday afternoons.
There is a Heat Advisory Saturday from 10 a.m. until 8 p.m. for metro Atlanta and most of north Georgia where the heat index could climb as high as 108°.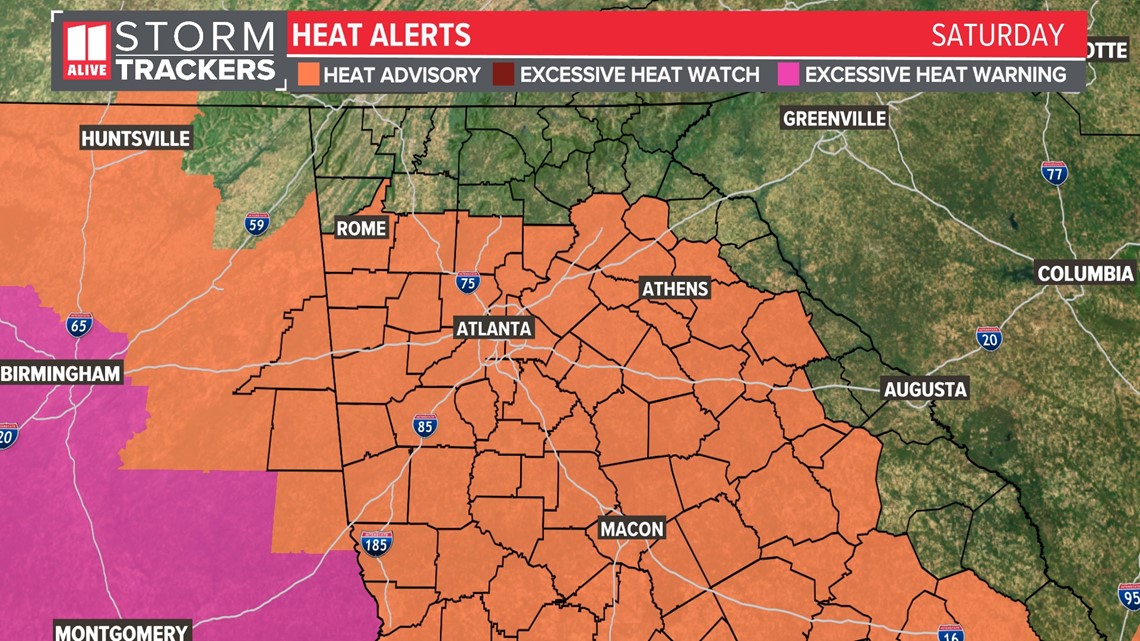 Here's a snapshot of those feels-like temperatures this afternoon across north Georgia: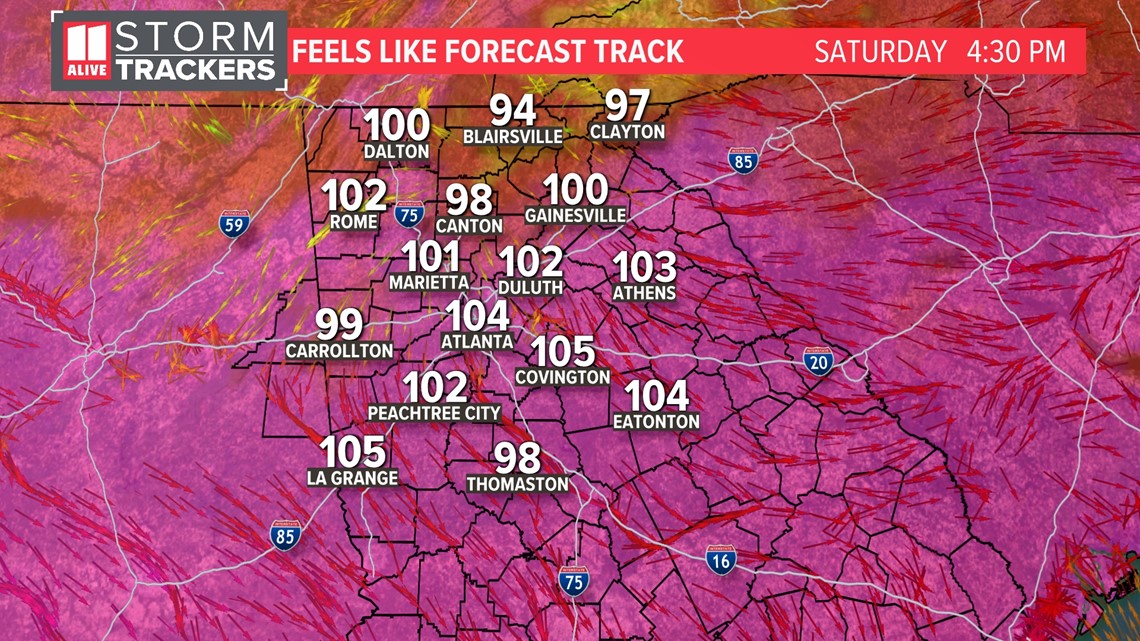 There will be a better chance of some storms by late in the afternoon to cool areas down. But in advance of the storm chance, the triple-digit feels-like temps could last for several hours.
Sunday will be hotter with a lower chance of storms to cool us off. The high will climb to 96° with a heat index in town as high as 106°.
The heat index southeast of the metro could jump as high as 112°. There is an Excessive Heat Watch in effect in those areas. This will likely be upgraded to a warning.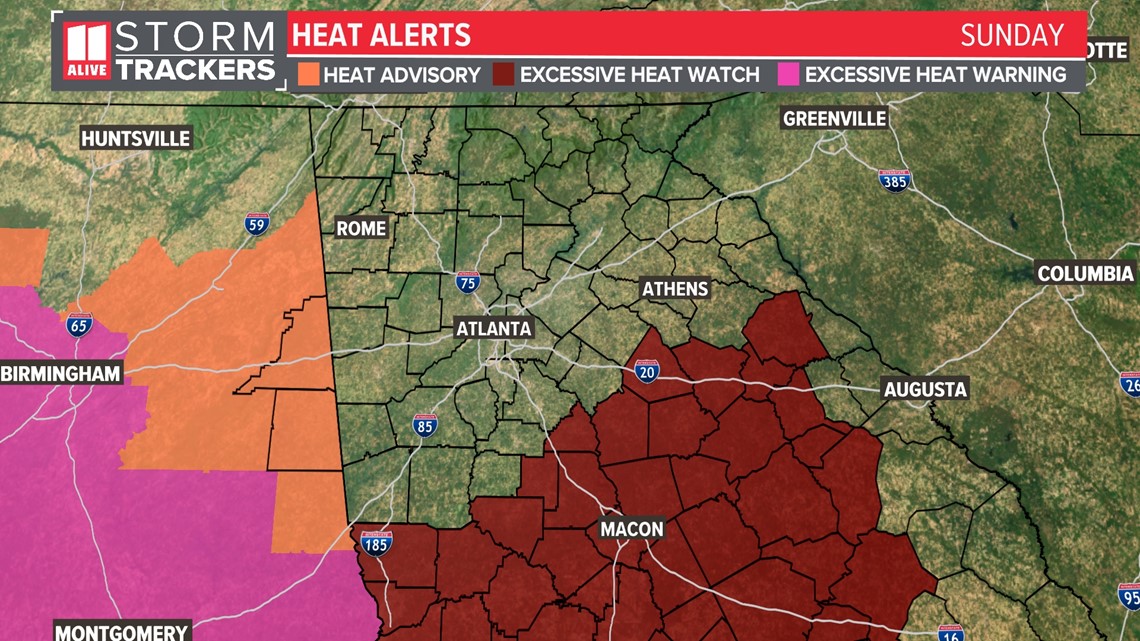 During periods of extreme heat, remember to listen to your body. Stay hydrated. Find areas of shade and step inside air conditioning to take breaks from the heat. Wear light-colored, loose clothing and avoid darker shades that absorb more sun energy.
Heat is one of the top weather-killers in the United States each year. Heat cramps may be the first sign of a heat-related illness. According to the National Weather Service, symptoms include sometimes painful muscle cramps and spasms in the abdomen and legs and excessive sweating. If you suspect a heat illness, give small sips of water. If symptoms worsen, seek medical attention.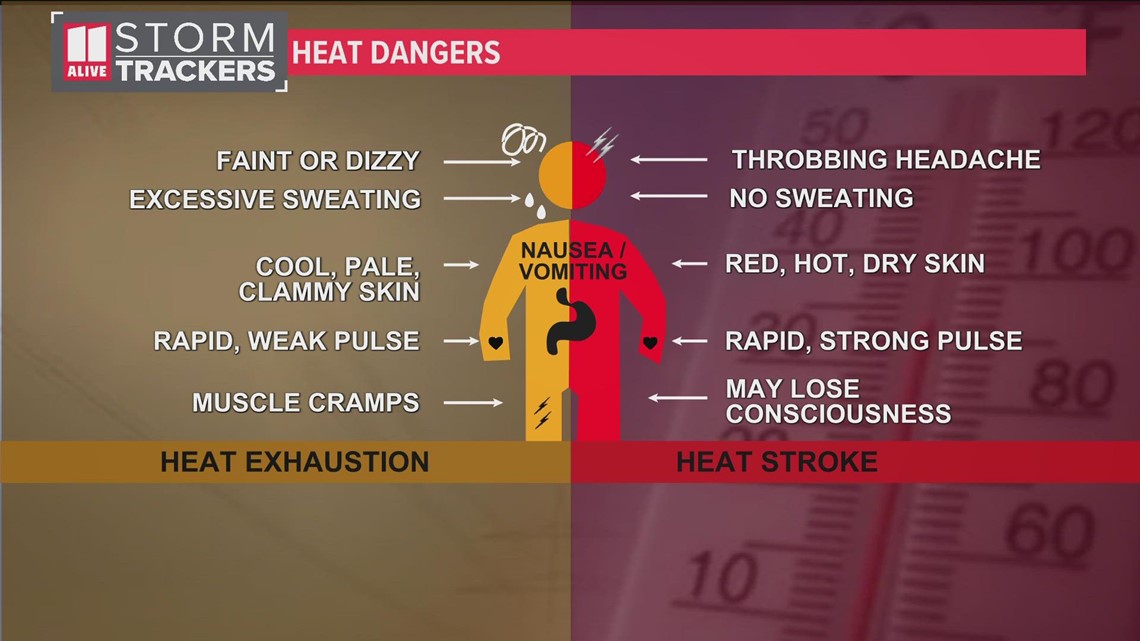 Several Atlanta area counties and cities will be opening cooling centers this weekend. The City of Decatur told 11 Alive they'll be opening their Decatur Recreation Center at 231 Sycamore Street as a cooling center Sunday and Monday from 9 a.m. to 5 p.m. due to the heat.
TEXT YOUR WEATHER PHOTOS TO US: 404-885-7600
JOIN THE 11ALIVE STORMTRACKERS FACEBOOK GROUP: Nearly 10,000 metro Atlanta and north Georgia weather enthusiasts share their weather photos every day. Click here to join the group!