ATLANTA — Atlanta and parts of the metro area are seeing flash flooding and other storm damage as a result of Tuesday's weather. 11Alive StormTrackers and viewers sent in video and photos of some of the impacted areas.
Flooding was reported on roads around Atlanta. A photo shows water covering a portion of Piedmont Road and Miami Circle in the Lindbergh neighborhood.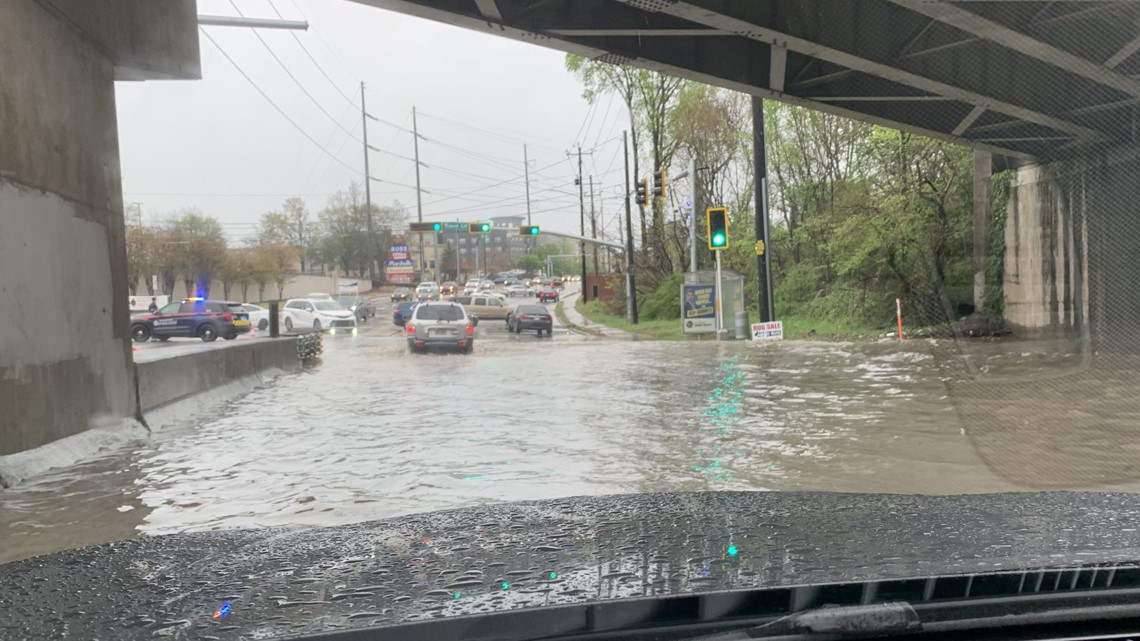 And while some neighborhoods had to deal with the flash flooding, others were left in the dark. Crews believe a power pole was struck by lightning, causing some to be without power in Atlanta's Peachtree Hills neighborhood. 11Alive's Joe Ripley was out on the scene. You also see several trees down in the video below.
In Brookhaven, officials said the Peachtree Creek Greenway is closed until weather conditions improved. In a tweet, they said the park is "off-limits to all except for ducks and geese."
Cherokee County has also seen some storm damage. Cherokee County Fire and Emergency services said the storms caused a couple of lightning strikes that hit two homes. The more serious lightning strike caused an attic fire in one of the homes off Sleepy Hollow Lane. Firefighters were able to get the fire under control, officials said.

There was also flooding in sections of Victory Drive near the creek in Cherokee County. The Cherokee County Sheriff said to avoid the area.

MORE FROM THE 11ALIVE STORMTRACKERS
DOWNLOAD THE 11ALIVE APP:
Set up weather notifications by clicking the Gear icon in the upper right corner of the app. Select Notification -> Notification Settings -> Severe Weather Alerts -> Toggle the Severe Weather Alerts button to the right to turn alerts on.

Send photos and videos through the app by selecting the Near Me feature on the bottom right task bar of the app and entering your information.
TEXT YOUR WEATHER PHOTOS TO US: 404-885-7600
JOIN THE 11ALIVE STORMTRACKERS FACEBOOK GROUP: Nearly 10,000 metro Atlanta and north Georgia weather enthusiasts share their weather photos every day. Click here to join the group!