ATLANTA — The data doesn't lie. Atlanta is getting warmer. The findings were released along with NOAA's report of updated 'climate normals' this week.
At the start of each new decade, a new 30-year data set is created of temperature and precipitation information that gives us a better idea and most accurate picture of the average weather. This updated climate data allows us to compare any specific day, month, and year to what is normal or average for a specific location. For the last 10 years, we were using Atlanta climate data from the years 1981 through 2010. Now, we will be using a data set of the years 1991 through 2020.
The numbers in our newest climate averages speak for themselves. As shown in the graphic below, since the start of the 20th century, as a whole the United States has been warming. The data in the images are annual average temperatures. The image on the right side of the graphic below shows the difference between the previous 30 year average and this latest set. This shows that in North Georgia, as well as most everywhere in the United States, there is a warming trend occurring. The exception to this is the Northern Plains and parts of the upper Midwest, which stayed relatively steady with annual average temperatures.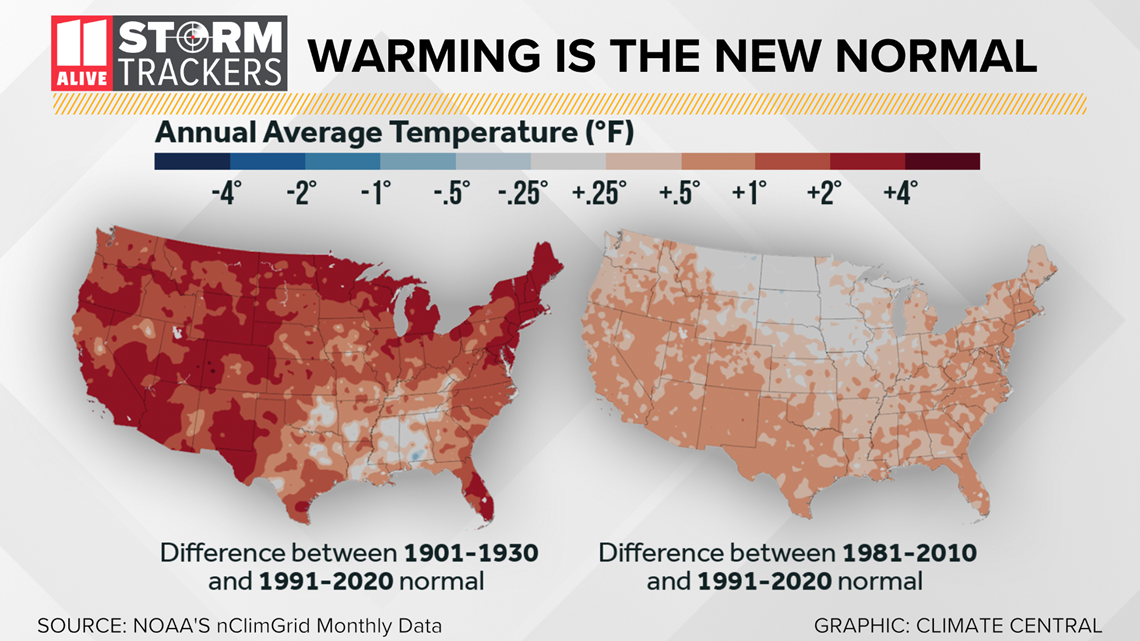 Let's look at Atlanta's numbers a little closer. For our temperatures, Atlanta's annual average has increased 0.8 degrees comparing the new climate norms to the old one. The difference for annual average high temperatures and low temperatures also rose.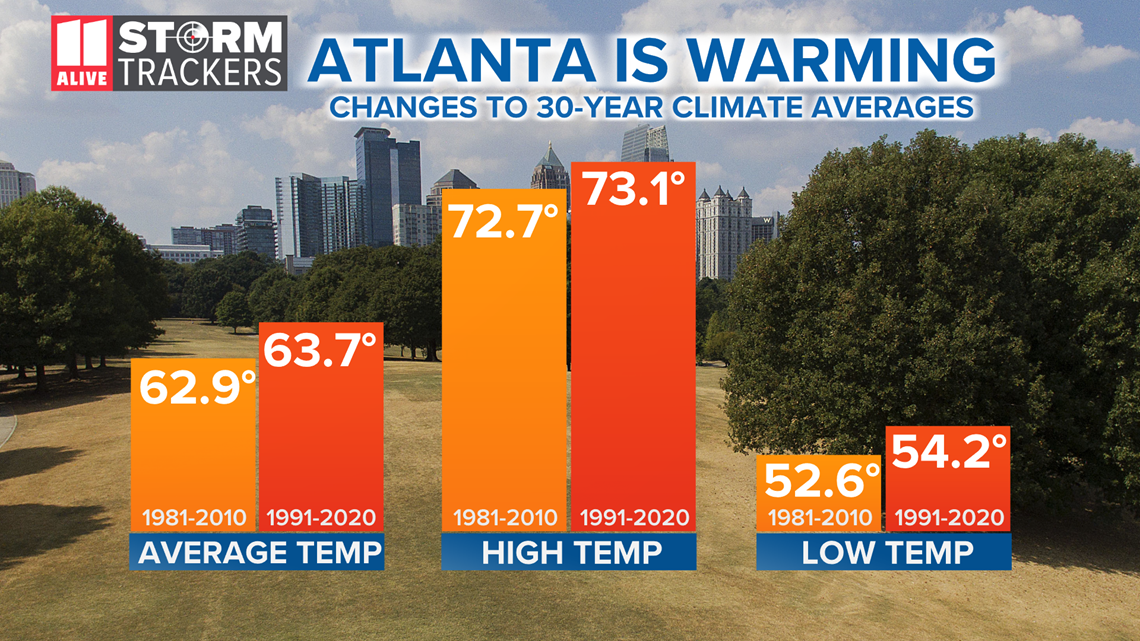 Along with the yearly averages having risen, our monthly averages have also done so. Atlanta's average high temperature for the month of July has now climbed from 89.7 degrees to 90.1 degrees.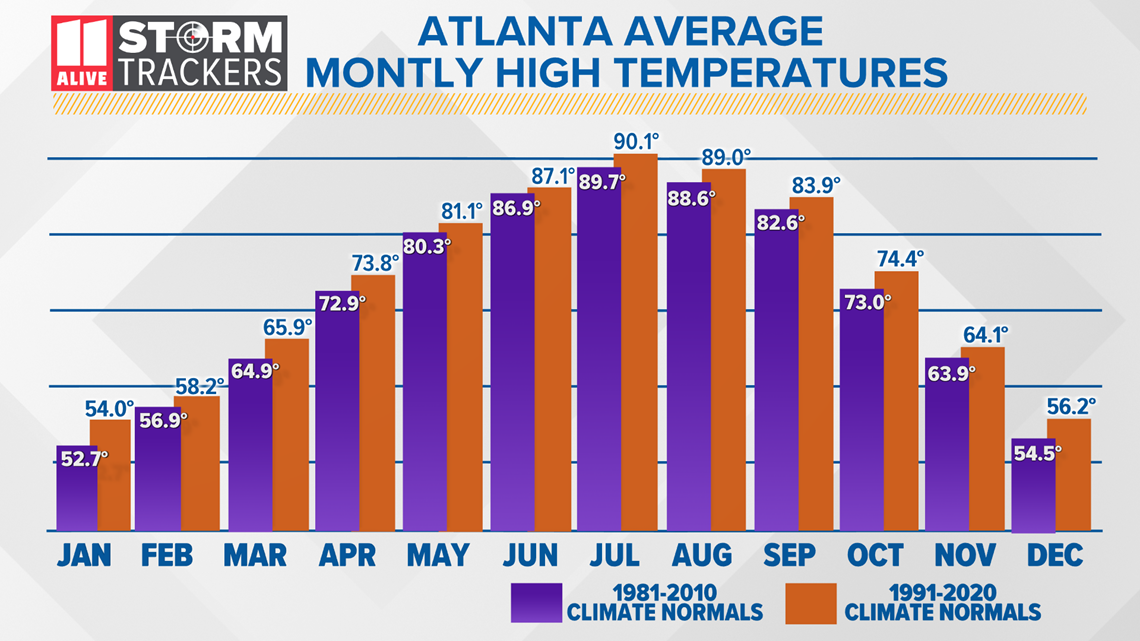 In addition to our average temperatures warming, Atlanta is also getting wetter. This is not a surprising trend, as a warmer atmosphere can hold more water vapor and lead to heavier rain events.
Our yearly average precipitation has risen from 48 and a half inches to now over 50 inches per year. But on the flip side, our average annual snowfall has dropped to 2.2 inches.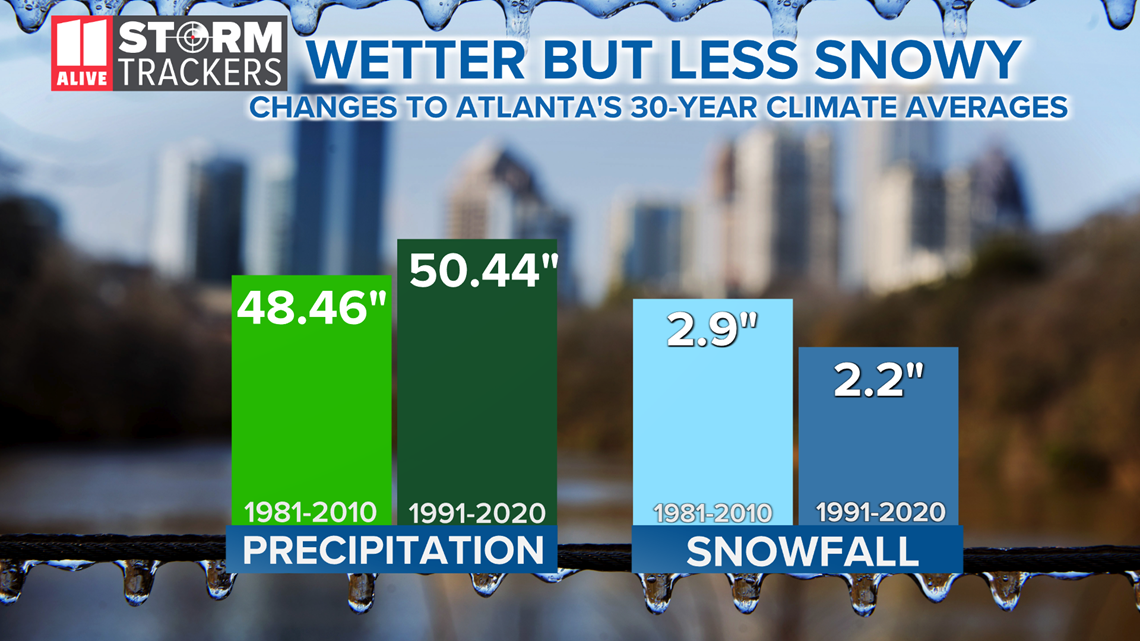 Although these new climate averages show a warmer and wetter trend for Atlanta, the weather goes through patterns. We will always still have heat waves, cold snaps, dry patterns and drought, and periods and years with wetter than normal conditions. The averages do a more accurate job of reflecting what is most typical for our changing climate.