ATLANTA — Another Code Orange Air Quality Alert was issued for the Atlanta area for Friday, June 30. This will be the third Code Orange alert in a row for the metro and parts of north Georgia.
A heat dome has been sitting over the south and is expanding east into Georgia. Underneath the center, there's a lot of sinking motion and a lack of winds. Under this heat dome, we get a build up and recirculation of pollutants each day. This is the haze you see in the sky. When we have sunshine, ground-level ozone is also created in a chemical reaction with particulate matter.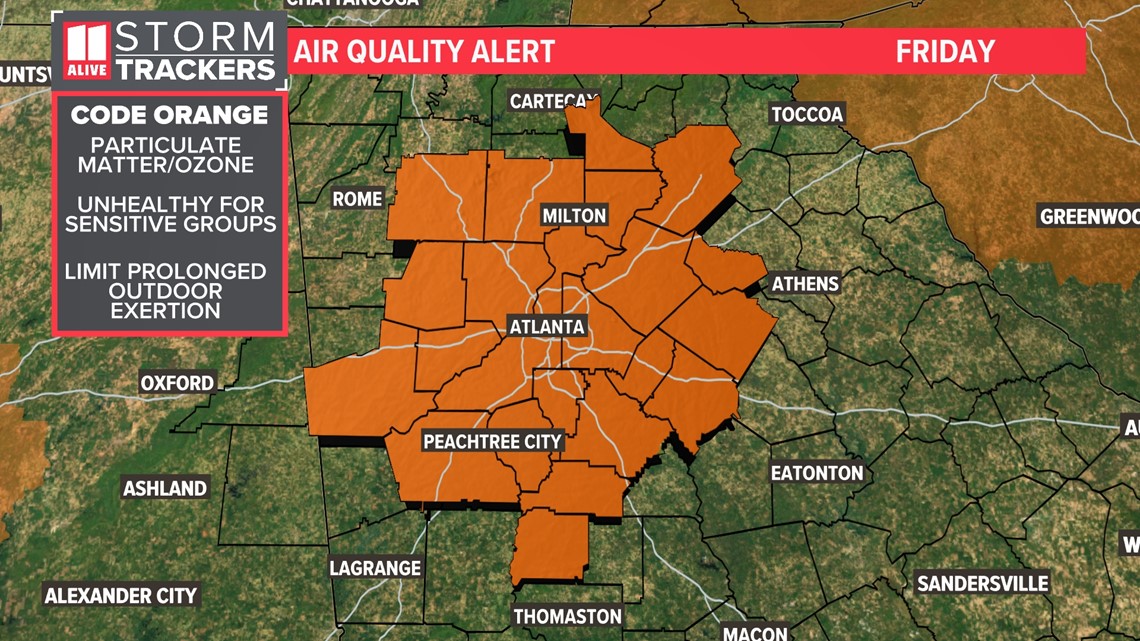 Our skies became particularly hazy Thursday thanks to wildfire smoke from the fires in Canada. Although this is generally higher up in the atmosphere, under our heat dome, some of this has filtered further down.
Georgia's State Climatologist Bill Murphy, who issues each day's Air Quality Forecast, said this smoke event is denser than the one parts of north Georgia experienced earlier in June. The smoke is most dominant up in the north Georgia mountains.
This haze and poorer air quality will stick around in the coming days with the heat wave -- unless we get a few more dominant storm complexes to clear out our atmosphere.
Forecasts are put out daily during the warm months of the year, focused on predicted levels of particulate matter and ground-level ozone.
MORE FROM THE 11ALIVE STORMTRACKERS
DOWNLOAD THE 11ALIVE APP:
Set up weather notifications by clicking the Gear icon in the upper right corner of the app. Select Notification -> Notification Settings -> Severe Weather Alerts -> Toggle the Severe Weather Alerts button to the right to turn alerts on.
Send photos and videos through the app by selecting the Near Me feature on the bottom right taskbar of the app and entering your information.
TEXT YOUR WEATHER PHOTOS TO US: 404-885-7600
JOIN THE 11ALIVE STORMTRACKERS FACEBOOK GROUP: Nearly 10,000 metro Atlanta and north Georgia weather enthusiasts share their weather photos every day. Click here to join the group!