ATLANTA — UPDATE: A severe thunderstorm warning has been issued for Cherokee, Dawson, Forsyth, Fulton and Hall Counties until 1:30 p.m.
Check here for live updates.
The National Weather Service has placed much of the region under a Level 1, or "marginal," risk for severe weather today, in a zone that includes much of eastern Georgia as well.
The 11Alive StormTrackers provide live updates as conditions develop this afternoon:
Friday morning
The morning should really only see some scattered showers, with most of that occurring on the south side, according to 11Alive Meteorologist Chesley McNeil.
There's an overall 40% chance of rain today, meaning much of the metro may not see much, if any, rain. But where it does start to downpour it could develop into a heavier storm.
Friday at noon
According to 11Alive Meteorologist Chris Holcomb, we could begin to see the first real storm activity around noontime.
"Some storms that develop could have damaging winds, some lightning and even possible hail with that pockets of heavy rain - those would be the main threats possible with this system coming in on Friday," Chris said.
The likeliest area for the activity appears as if it will be farther into north Georgia.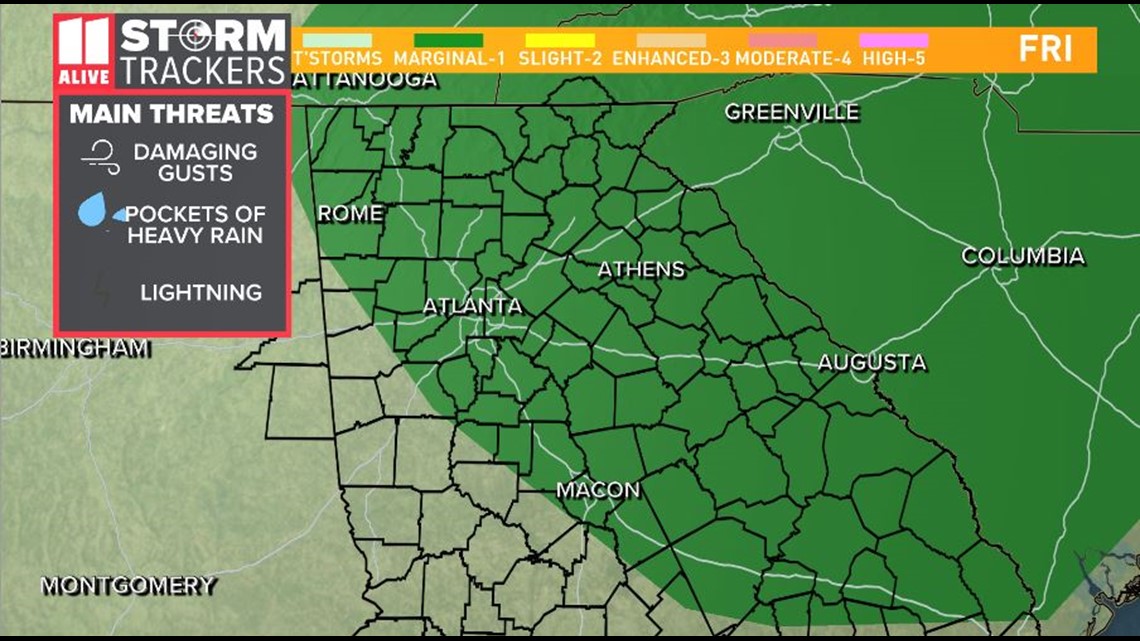 Friday afternoon/early evening
Storm threats could last into the later afternoon hours as the system begins to move into the Carolinas.
There isn't expected to be a widespread coverage of strong storms in the immediate metro Atlanta area, again with most of that kind of activity expected farther into north Georgia.
MORE FROM THE 11ALIVE STORMTRACKERS