ATLANTA — Storms continue weakening as they move in from Alabama.
Three things to know
Rain and some storms through early Friday.
Widespread rain is expected, but only isolated storms are expected to turn strong or severe.
A severe threat for the area is highest closer to the Georgia-Alabama state line.
Severe outlook
The Storm Prediction Center has placed metro Atlanta at a marginal Level 1 risk for severe weather. Far northwest Georgia is included in the slight Level 2 risk.
The line of showers and storms associated with the front will weaken as it approaches, so the more prominent severe weather threat will be to our west in Alabama and Mississippi.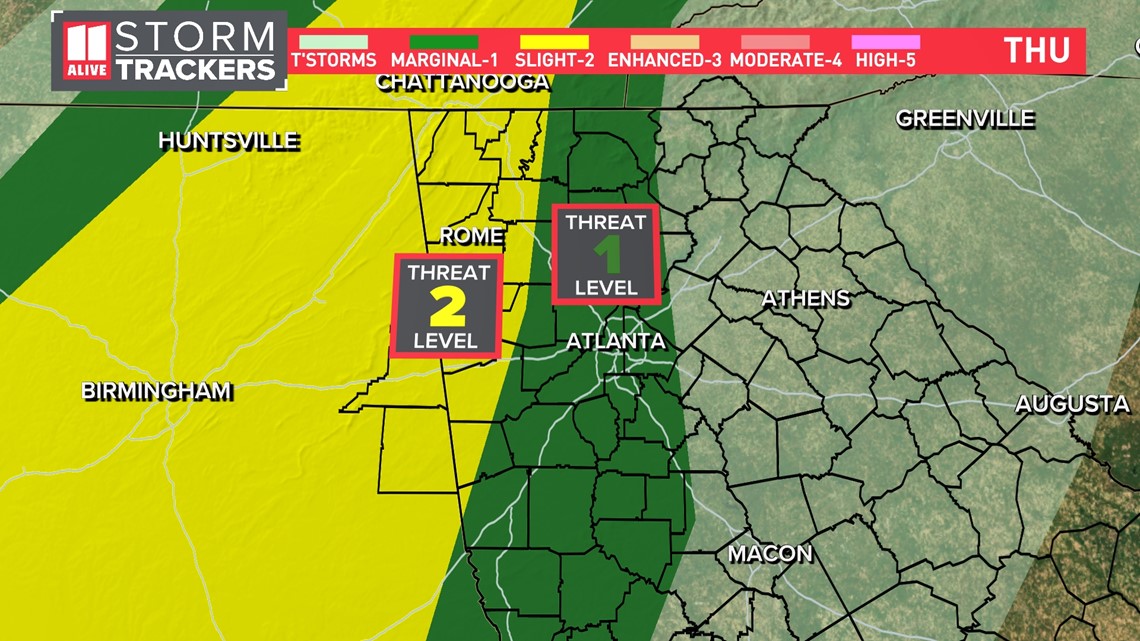 Isolated storms could be capable of producing damaging winds, frequent lightning, and heavy rain. The storms in Alabama are already weakening. The Storm Prediction Center has removed the level 3 risk from Alabama.
Timeline
Overnight
Storms continue to move through throughout the overnight time frame and into early Friday morning. Heavy rain is likely. Some gusty winds with these showers. The high temperature for Friday occurs overnight with temperatures in the 60s.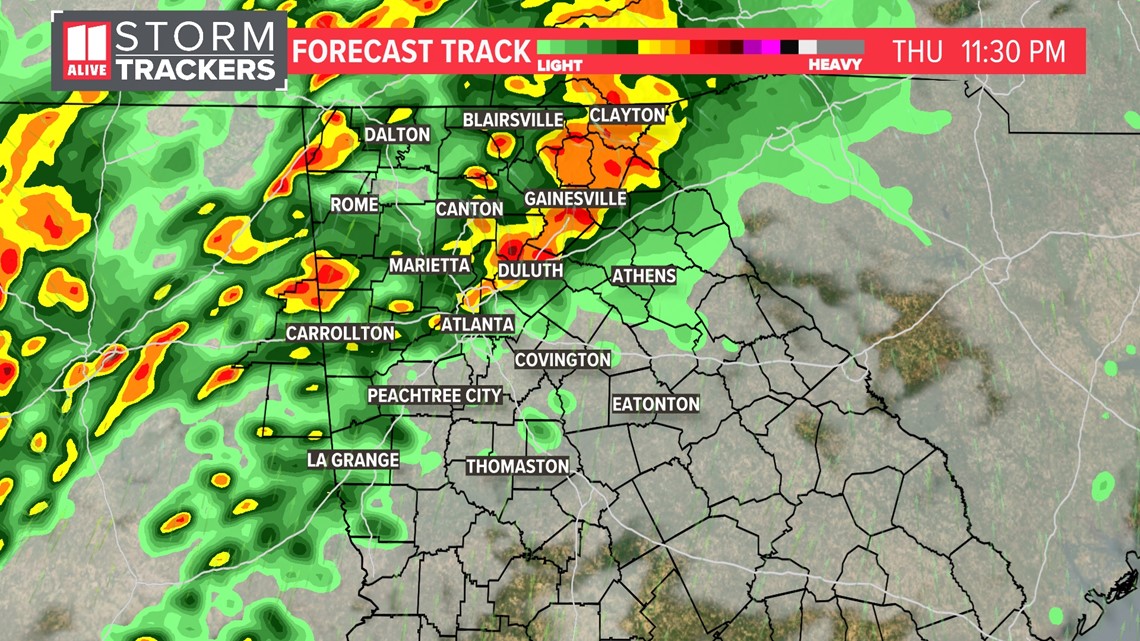 Friday
Showers and storms may still linger behind the cold front early on Friday morning as the morning commute begins.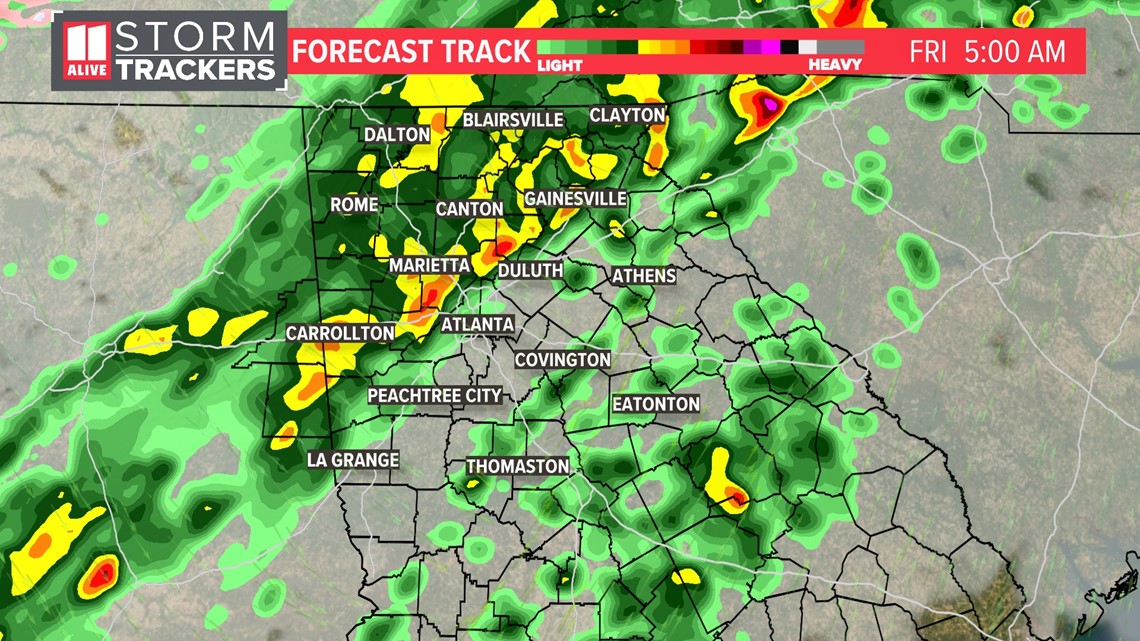 The last of the showers should exit by mid-morning.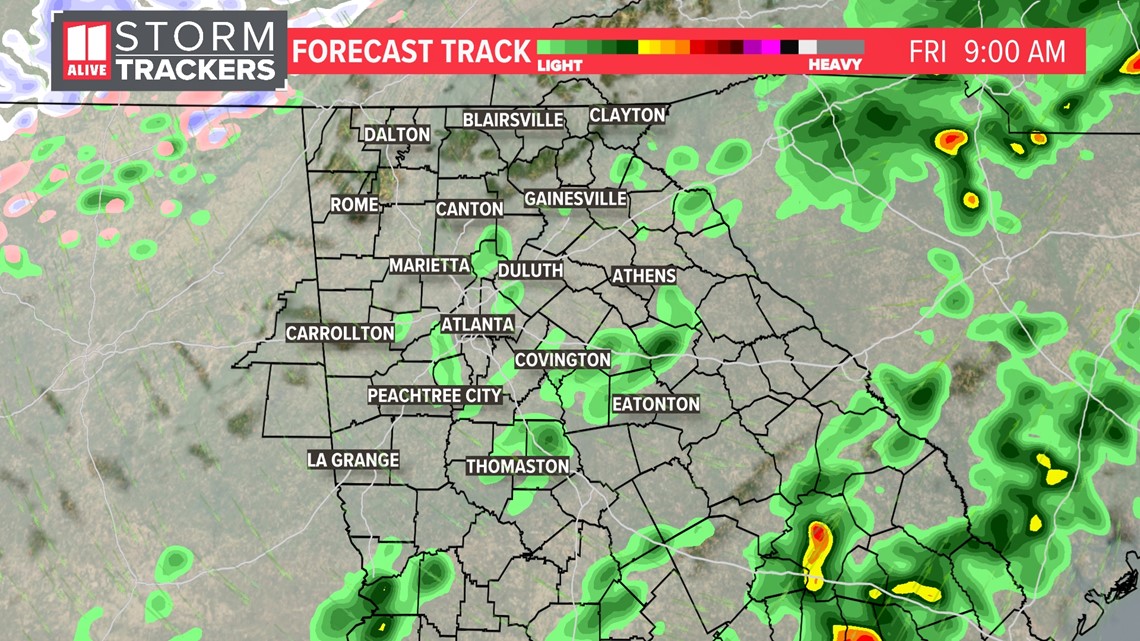 By the afternoon, expect clearing skies. It will be breezy and colder with temperatures falling in the 40s to low 50s.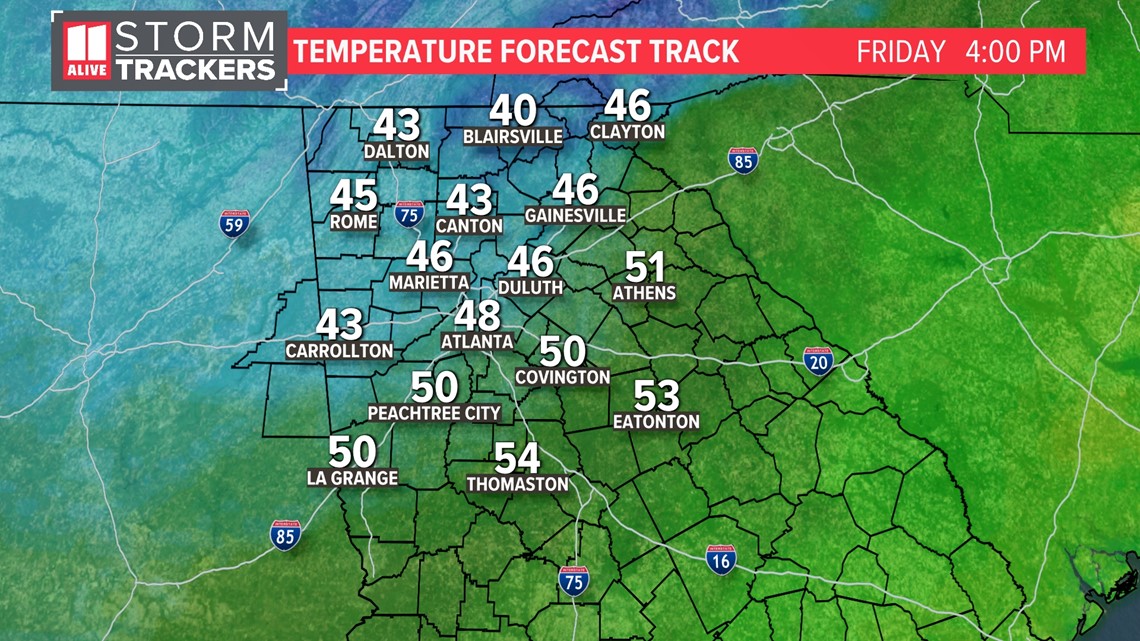 MORE FROM THE 11ALIVE STORMTRACKERS
DOWNLOAD THE 11ALIVE APP:
Set up weather notifications by clicking the Gear icon in the upper right corner of the app. Select Notification -> Notification Settings -> Severe Weather Alerts -> Toggle the Severe Weather Alerts button to the right to turn alerts on.

Send photos and videos through the app by selecting the Near Me feature on the bottom right task bar of the app and entering your information.
TEXT YOUR WEATHER PHOTOS TO US: 404-885-7600
JOIN THE 11ALIVE STORMTRACKERS FACEBOOK GROUP: Nearly 10,000 metro Atlanta and north Georgia weather enthusiasts share their weather photos every day. Click here to join the group!