ATLANTA — The Storm Prediction Center has placed much of metro Atlanta in the Marginal Risk category for severe weather for Tuesday afternoon -- just as the severe weather season starts to ramp up.
11Alive Meteorologist Chesley McNeil says strong winds and heavy rains will be the primary threats to face the area through the mid-afternoon hours, with any severe storms staying well to the south of the metro area.
WXIA
Here's how the timing of Tuesday's heavy weather breaks out for metro Atlanta.
EARLY AFTERNOON
We're tracking a list of showers and storms through northwest Georgia into the metro Atlanta area. This comes shortly after Tuesday morning's foggy and rainy start. A strong cold front will begin to move across the state through the midday hours, beginning in northwest Georgia around noon.
11Alive Chief Meteorologist Chris Holcomb says that after the initial line of strong storms moves through the area, from northwest to southeast, to expect very heavy rains and strong winds, clearing out by about 3 p.m., in metro Atlanta -- possibly a little later for counties to the east.
WXIA
He said that isolated damaging wind gusts or an isolated strong thunderstorm cannot be ruled out during that timeframe.
LATE AFTERNOON AND EVENING
Following the main line of storms, more widespread lighter rain showers can be expected through Tuesday afternoon's rush hour, not unlike Tuesday morning's commute, making for a wet ride home.
High temperatures in metro Atlanta on Tuesday are expected to be in the mid-to-upper 60s.
Skies should clear out overnight, with lows in the mid-30s. Wednesday will be sunny with highs in the 50s.
Severe weather on Feb. 12, 2019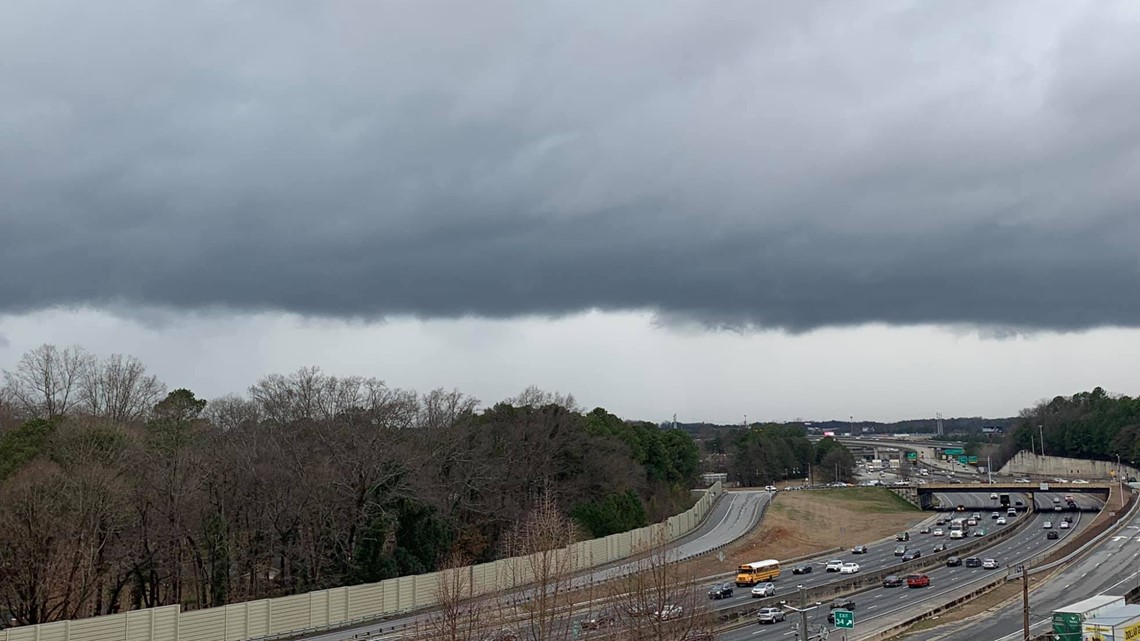 ► RELATED | Understanding Severe Weather: What's Moderate Risk, What's High Risk?
► Check the latest Atlanta Weather Forecast here
► Download the FREE 11Alive News app now in the iTunes store or on Google Play.
► POWER OUTAGES CHECK | Georgia Power customers, check here. Georgia EMC customers check here.