GRIFFIN, Ga. — The tornado that hit Spalding County, including the community of Griffin, Ga., has been rated an EF-3, weather officials announced on Friday.
The details of the tornado's exact wind speed and path are still being determined, but officials have said that they identified two tracks in the county -- one on the northern side of Griffin and the other in the eastern part of the county.
Though the windspeeds for the tornado weren't yet known, tornados rated a three on the Enhanced Fujita scale can have wind speeds between 136-165 mph and can cause "severe" damage, including blowing exterior walls and roofs off homes; collapsing metal buildings and flattening farmland and forests.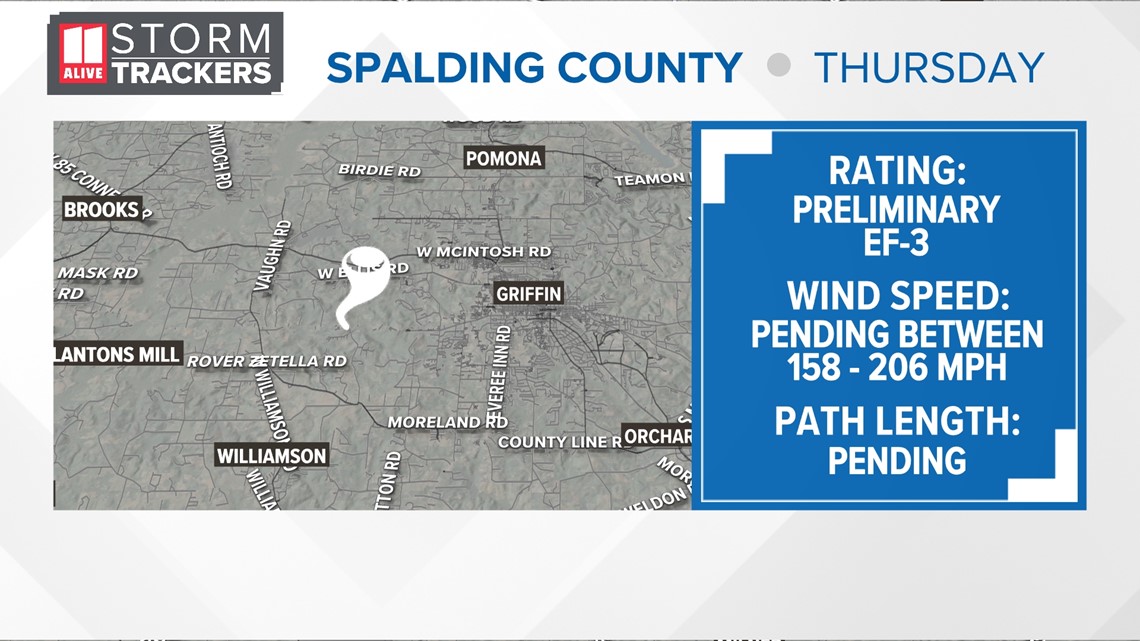 The tornado that hit Griffin was part of a fast-moving system that also spawned other tornados across the state Thursday. So far, at least four twisters, including this one, have been confirmed in the state.
Two people, including a Georgia Department of Transportation worker who was clearing debris and a 5-year-old Butts County boy hit by a fallen tree, were killed.
Weather survey crews were out Friday inspecting the damage in Spalding County, as well as other hard-hit areas, including LaGrange, Georgina in Troup County. Other areas in Cobb, DeKalb, Meriwether, Henry and Butts counties also experienced damage from the storm system. They are expected to release more details from those surveys later Friday, but their work would also extend into the weekend.
Gov. Brian Kemp, who issued a week-long state of emergency for the weather outbreak on Thursday, also toured the damage from a helicopter on Friday.