ATLANTA — Colin became the third named storm of the Atlantic hurricane season Saturday morning when it formed along the coast of South Carolina.
As of Sunday morning, it's now just a remnant low.
For beachgoers, this bring hazards still to the North Carolina beaches. Rough surf and a higher rip current risk will continue. A few showers are possible along the coast.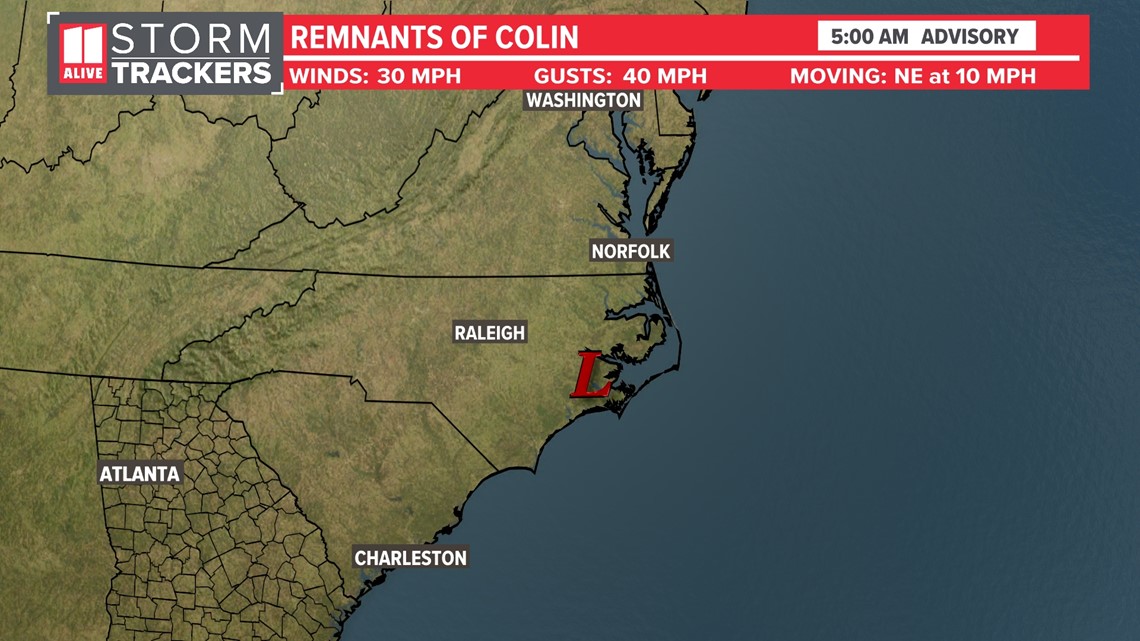 NOAA predicts 2022 to feature above-average storm activity in the Atlantic, with 14 to 21 named storms.
MORE FROM THE 11ALIVE STORMTRACKERS
DOWNLOAD THE 11ALIVE APP:
Set up weather notifications by clicking the Gear icon in the upper right corner of the app. Select Notification -> Notification Settings -> Severe Weather Alerts -> Toggle the Severe Weather Alerts button to the right to turn alerts on.

Send photos and videos through the app by selecting the Near Me feature on the bottom right task bar of the app and entering your information.
TEXT YOUR WEATHER PHOTOS TO US: 404-885-7600
JOIN THE 11ALIVE STORMTRACKERS FACEBOOK GROUP: Nearly 10,000 metro Atlanta and north Georgia weather enthusiasts share their weather photos every day. Click here to join the group!