ATLANTA — Tonight: Cloudy skies. Showers late. Low: 64°
Saturday: Showers and storms early, then clearing. High of 78°.
Sunday: Cool start. Mostly sunny afternoon. High of 71°.
We had a good amount of cloud cover this afternoon with a few showers. Expect rain chances to increase overnight tonight, mainly into tomorrow morning.
We will be watching storms forming west of our area on Friday. The Storm Prediction Center has place a Moderate (level 4) and High (level 5) for severe weather over parts of Arkansas, Mississippi, Tennessee, Missouri, and Kentucky.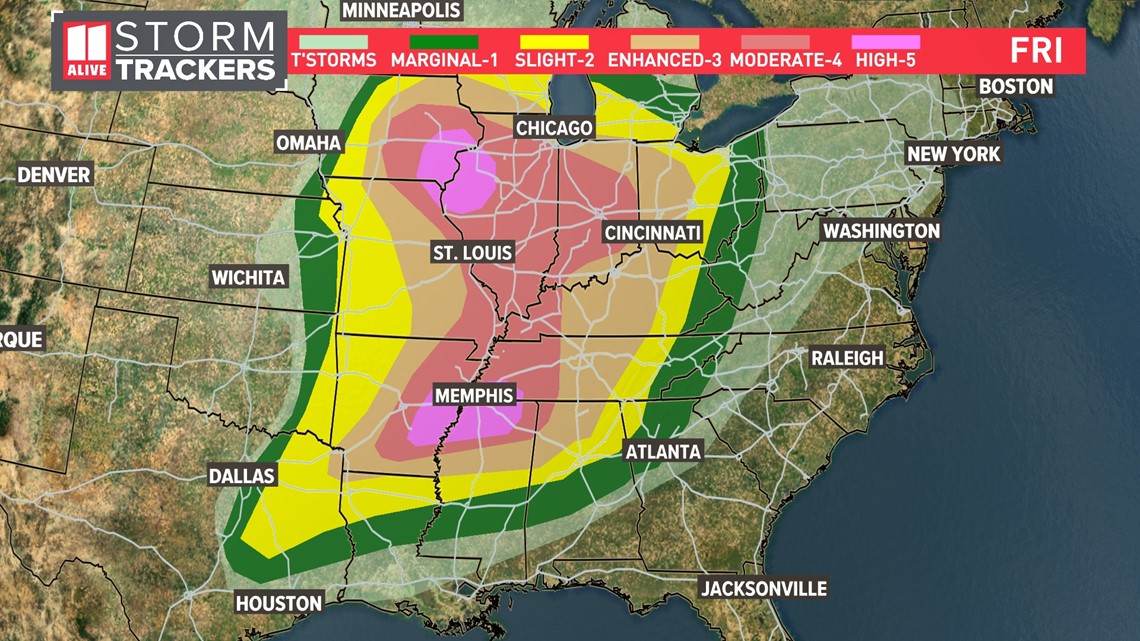 This same system will move in our direction, but is expected to weaken. We will be left with just a marginal (level 1) threat before sunrise Saturday morning for far northwest Georgia.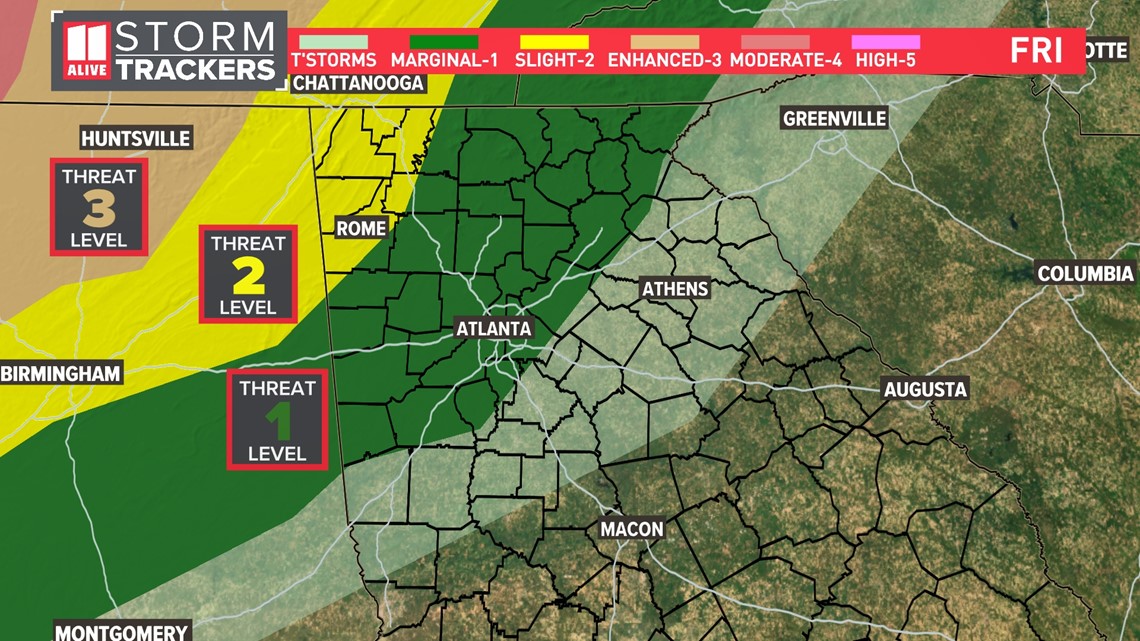 Saturday doesn't look like a washout, but if you have outdoor plans Saturday morning, you'll need to keep an eye on the radar and have a backup plan ready.

Rain clears out by the middle to latter part of Saturday afternoon, and we'll enjoy dry and comfortable conditions on Sunday.

Sunday will bring lows in the 40s and highs in the 70s under plenty of sunshine, making for an 11Alive Day!
Our drier conditions won't last long with a slight chance for rain back in the forecast on Monday and a few isolated showers and storms possible Tuesday through Thursday as lows sit in the 50s to 60s and highs in the 70s to 80s.
Expect half an inch to two and a half inches of rainfall to occur across the region this next week from our rain chances with the higher totals being in far northwest Georgia.

MORE FROM THE 11ALIVE STORMTRACKERS
DOWNLOAD THE 11ALIVE APP:
Set up weather notifications by clicking the Gear icon in the upper right corner of the app. Select Notification -> Notification Settings -> Severe Weather Alerts -> Toggle the Severe Weather Alerts button to the right to turn alerts on.

Send photos and videos through the app by selecting the Near Me feature on the bottom right task bar of the app and entering your information.
TEXT YOUR WEATHER PHOTOS TO US: 404-885-7600
JOIN THE 11ALIVE STORMTRACKERS FACEBOOK GROUP: Nearly 10,000 metro Atlanta and north Georgia weather enthusiasts share their weather photos every day. Click here to join the group!