ATLANTA — With the Cardinals and Braves tied at two games each in the best-of-five series, it will all come down to Game 5 Wednesday at SunTrust Park.
With three of the four games decided in the final inning by one run, the teams will take any advantage they can get.
There are three weather factors that impact baseball games, let's break down the possible impacts for Game 5.
Temperature and humidity
Using the basic principles of science we know two things:
Warm air is less dense than cool air
Moist air is less dense than dry air
With these two in mind, the ball will encounter less resistance during hot, humid games. Less resistance generally means more home runs.
You roughly see the impacts on this based on the number of home runs each team has hit this year:
Braves: 249, 4th in NL
Cardinals: 210, 12th in NL
The Braves have more home runs for the season overall, possibly because they play in a hot humid environment more often than the Cardinals, or the Braves simply have more powerful hitters.
Home runs in the postseason:
While the two teams have an equal number of home runs the difference is where those home runs were hit. Each team hit 3 home runs in their respective home fields.
But since the final game is at SunTrust Park, the numbers would lean toward the Braves.
Homerun advantage: Braves


Sun angle
This was a problem during Games 3 and 4 in St. Louis. With game times in mid-afternoon and home plate at Busch Stadium pointing northeast, there was some shadow influence. Generally, hitters have a more difficult time picking up the ball as it moves from the sun to shadow and vice-versa.
Out of the 30 teams, SunTrust Park ranks 15th most hitter-friendly and Busch Stadium ranks 23rd.
This stat shows up nicely in this series, with a combined 16 runs scored in Atlanta and 13 runs scored in St. Louis.
Wednesday's game is in the afternoon, but since home plate at SunTrust Park points southeast, the pitcher and batter would be impacted briefly by a shadow difference.
A ball hit to left field in the early innings would be the only shadow problem for outfielders for a few innings.
Sun angle advantage: Neither


Wind speed
Wind speeds for both games were relatively light. According to nearby weather stations at each park, there were no wind speeds over 10 mph during game time.
That will again be the case for Game 5 as wind speeds are forecast to remain at less than 10 mph, blowing out of the east.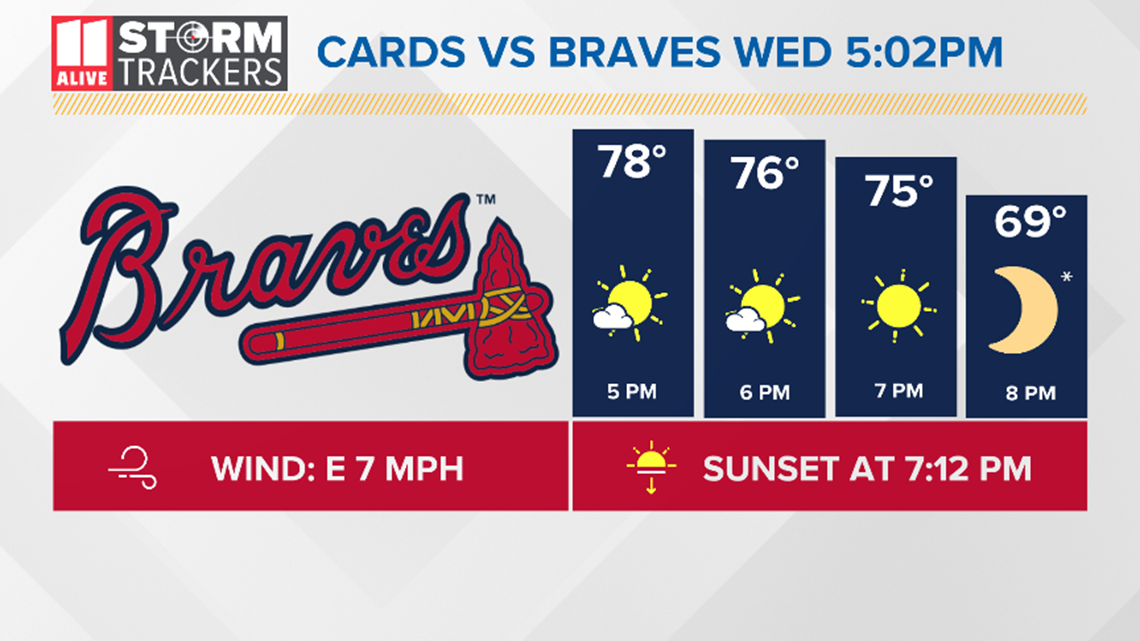 An easterly wind doesn't help either team as it would help the ball travel toward the first base side of the field.
This would, in theory, favor left-handed hitters, taking the ball away from the deepest part of the park of center field.
Both teams each have four left hand or switch hitters.
Wind speed advantage: Neither
Looking at all these factors, the Braves seem to have a slight advantage over the Cardinals.