ATLANTA — When severe weather happens, it's important to think fast and take action. It's easier to do so if you already have a plan established and in place.
Tornadoes can happen at any time and anywhere. Ready.gov has information on its website that can help you with those plans.
Here's what you should do if you find yourself caught in a tornado warning. It's best to seek shelter inside a sturdy building.
Go to a safe room, a basement or a storm cellar
If you are in a building with no basement, then get to a small interior room on the lowest level.
Stay away from windows, doors, and outside walls.
Take additional cover by shielding your head and neck with your arms and putting materials such as furniture and blankets around you.
Listen to EAS, NOAA weather radio, or local alerting systems for current emergency information and instructions.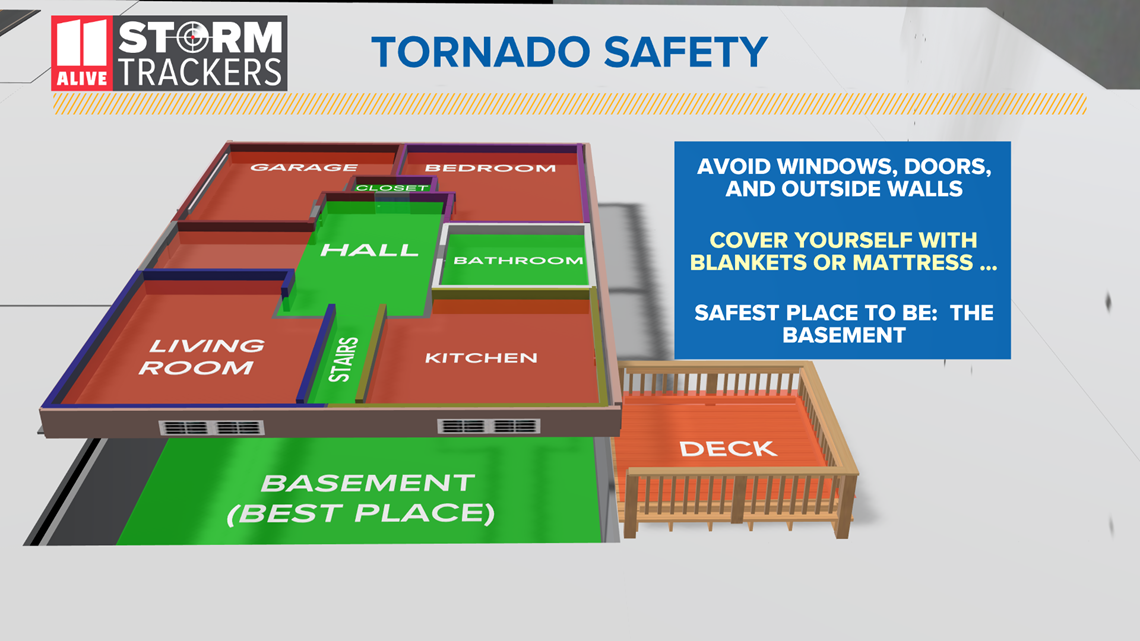 Do not get under an overpass or bridge. You're safer in a low, flat location.
If you are in a car or outdoors and cannot get to a building, cover your head and neck with your arms and cover your body with a coat or blanket, if possible.
Do not try to outrun a tornado in a vehicle.
Watch out for flying debris that can cause injury or death.
Once the warning ends, keep listening to local authorities for updated information. Do not enter damaged buildings until you are told that they are safe. If you are trapped, cover your mouth with a cloth or mask to avoid breathing dust. Try to send a text, bang on a pipe or wall, or use a whistle instead of shouting. Get more tips on the Ready.gov website.