ATLANTA -- Early Wednesday morning many people woke up to their home shaking. There were earthquakes felt deep into the northern portions of Georgia at around 4:15 a.m.
WHERE WAS THE EARTHQUAKE?
There were actually two. They happened in Decatur, Tennessee. That's about 125 miles north of the metro area. It was able to be felt into Georgia because it was so shallow.
The first was a 4.4 magnitude around 4:15 a.m. that had a depth of about 9 kilometers with an epicenter several miles outside of Decatur, Tennessee, the USGS said on its website.
The second earthquake was about 15 minutes later, with an epicenter in the same location. It was a 3.3 magnitude quake and had a depth of about 6.8 kilometers, USGS said. It unclear how far the trembles from that traveled.
And if you're concerned, don't be. An Atmospheric Sciences professor at Georgia Tech told 11Alive's Elwyn Lopez that "this earthquake occurred as part of the earthquakes that we see frequently occurring along the Eastern TN seismic belt. They occur about every five to ten years at this size."
Newman says this earthquake should serve as a reminder to us. "We are not earthquake county like California," he told Lopez, "but we should remember we do have some earthquake potential."
The largest earthquake was a 4.4 magnitude, which is minor.
A minor earthquake is between 2.5 and 4 of the Richter scale. Major earthquakes fall between 7 and 8.
This was the second largest earthquake on record for eastern Tennessee. The other was a 4.7 near Maryville in 1973.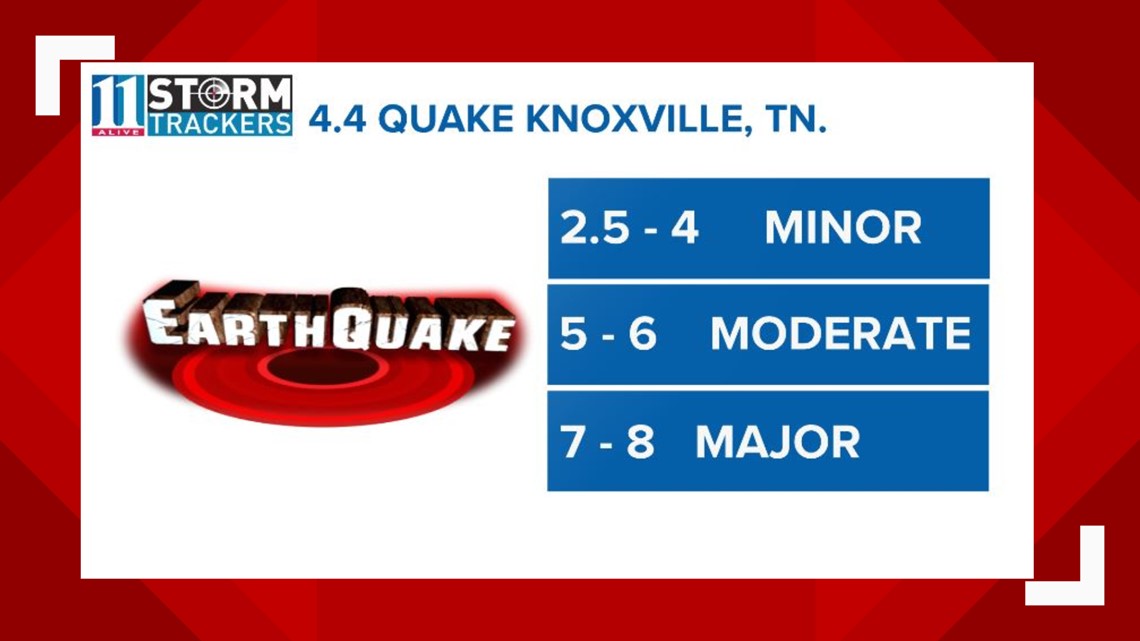 There is a Faultline called the New Madrid Seismic Zone that reaches to the border of Tennessee and Arkansas.
11Alive Meteorologist Chesley McNeil said feeling an earthquake of this magnitude is not normal for our area.
We haven't gotten any videos of the actual earthquake but there is one way to visualize it. The Georgia Tech Institute of Technology School of Earth and Atmospheric Sciences has a seismogram that posts images on their website. It recorded the image below.
The flat yellow line represents typical activity. That spike represents the earthquake.