ATLANTA — Snow in Atlanta is no small deal - it doesn't come around all that often in significant amounts, and when it does, it sort of infamously brings everything to a halt.
So people around the city are understandably buzzing with all of the talk of potential snow - for real snow - coming on Sunday. Fortunately, because it's a Sunday, we should be able to avoid some of the infrastructure mess that has left Atlantans a little embarrassed in the past.
Nonetheless, the occasion draws an obvious look back at the city's history with snow. In recent years, we have to go back a little.
Official snowfall in Atlanta is recorded at the airport, and it's been nearly 1,500 days - about four years - since that happened.
The National Weather Service's Atlanta station noted this week that the last time we saw measurable snowfall was Jan. 18, 2018 - the snowfall drought since then is our second-longest on record.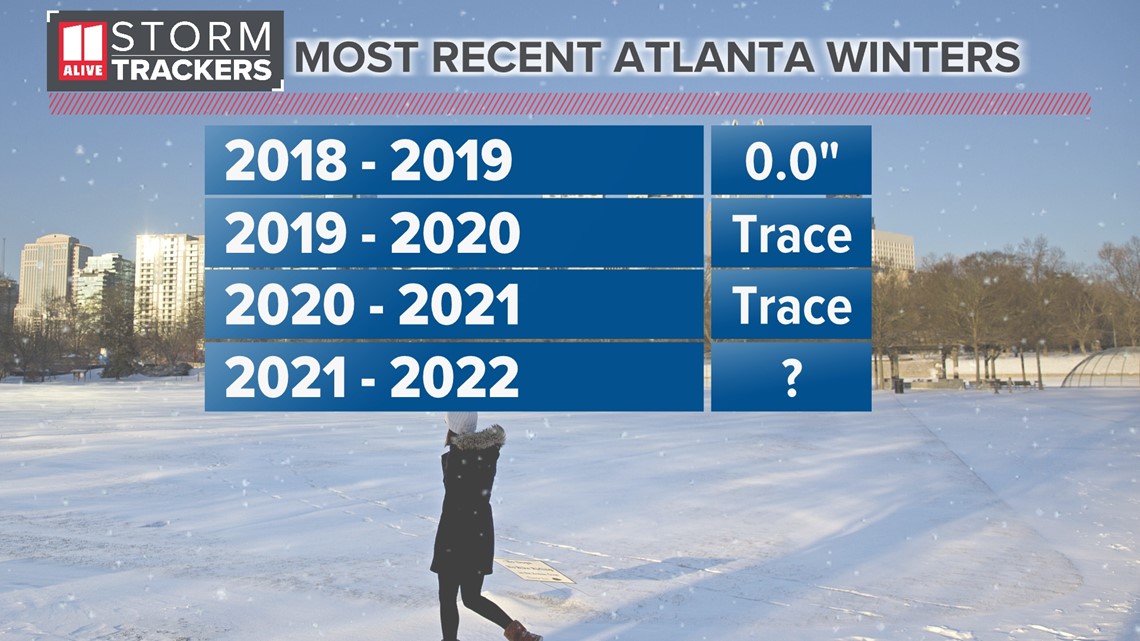 Associated Press photos from that day also show how things were looking. This was Piedmont Park: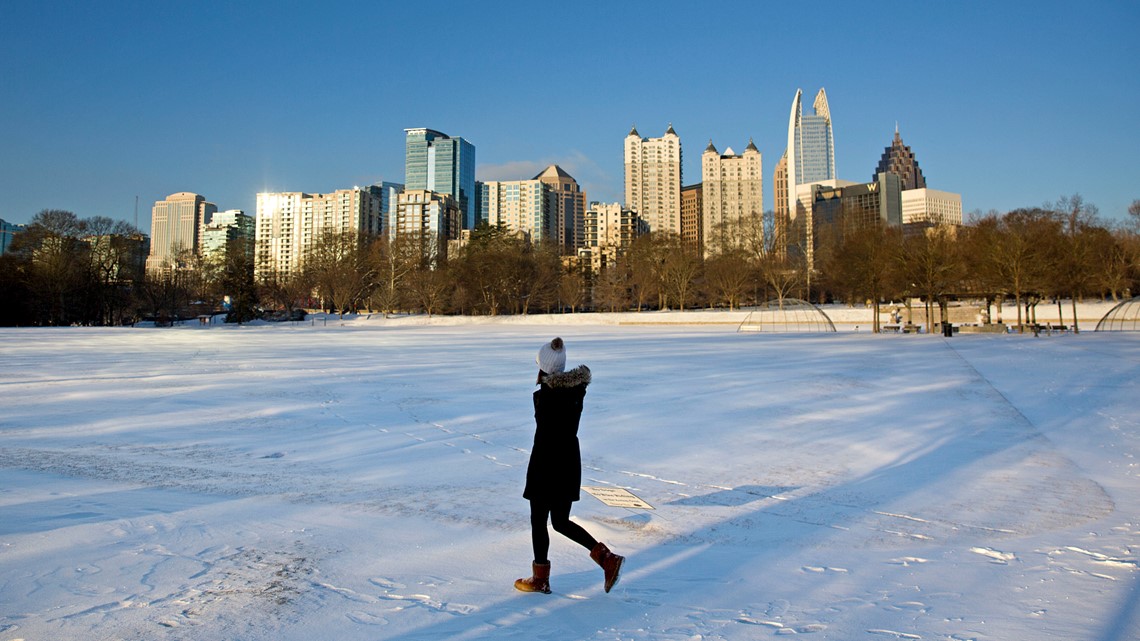 And you don't see Downtown looking like this too often: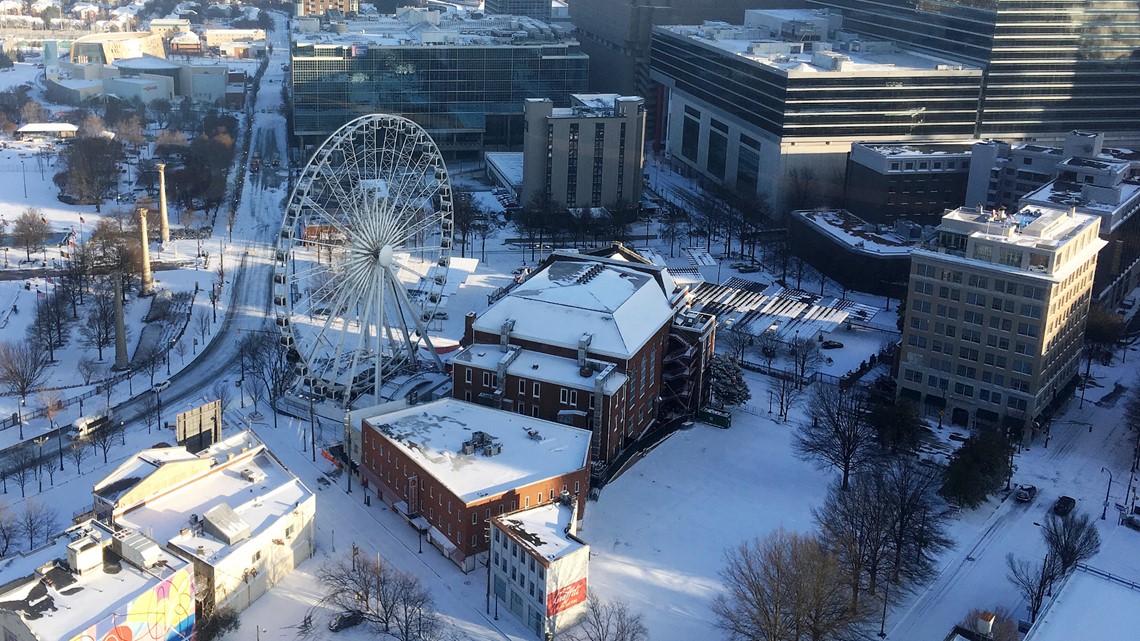 And here's some of 11Alive's coverage from that day:
But if you really want a big Atlanta snow mess, you need to go back to years like 2014 or 1982.
Almost eight years ago now, January 2014 gave us Snowmageddon. On Jan. 28, 2014, a little more than two inches of snow brought the city to its knees, the images of cars trapped on the interstate indelibly fixed in Atlanta's collective memory.
Although the city only received 2.6 inches of snow, cars were stranded on all three highways for up to a day. Over a million people were jammed on the major highways in Atlanta primarily because everyone in the city was attempting to head home out of the snow at the exact same time.
Ninety-nine school buses from Fulton County were stuck in the traffic until midnight while 2,000 students were forced to spend the night at school. Hundreds of people were forced to abandon their cars on the interstate and seek shelter in nearby stores such as Kroger, Home Depot and CVS.
The mess became something of a national joke in northern cities accustomed to dealing with quite a bit more snow, and was even immortalized with a mocking skit on "Saturday Night Live."
Remembering Atlanta Snowmageddon
A lot of Atlanta folks are also recalling Snow Jam '82 - it's sort of the granddaddy of modern Atlanta snow messes.
There is a whole website even dedicated to Snow Jam '82, where you can find memories and pictures. The operator of that site, a man named Tom, notes how the "traffic, travel and tales of the day are etched into the memories of almost all who lived through it."
On I-285, he remembers: "It didn't take long to see what an adventure we were in for. Many, if not most, drivers were having a difficult time maintaining their lane in the stop-and-go traffic. In 1982, most cars were rear-wheel drive and, without chains, didn't have the traction for snowy roads. Cars were sliding into one another. Tractor-trailers were performing slow-motion jackknife maneuvers. It reminded me of bumper cars at Six Flags, except with a lot higher stakes!"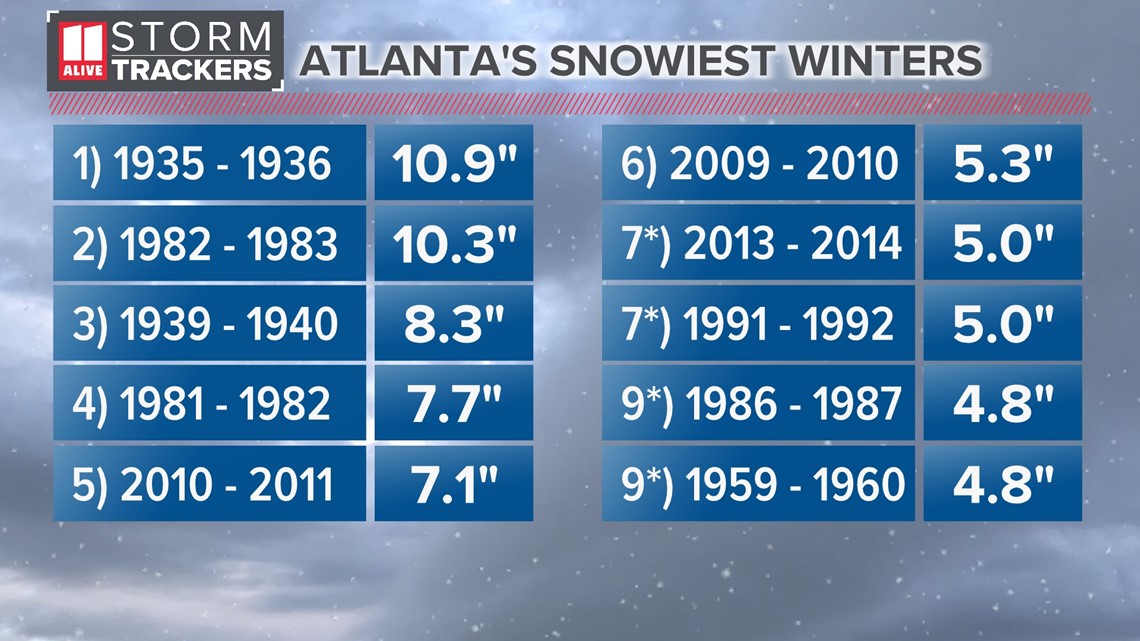 About a decade later, there was the "Storm of the Century" blizzard, which brought a little more than four inches of snow to Atlanta. That was, at the time, the costliest winter storm ever recorded, with $5.5 billion in damage, and left 15 people dead in Georgia. The storm was noteworthy as it didn't just leave Atlanta struggling - it caused damage all around the eastern United States, and resulted in the most weather-related flight cancellations ever from a single event.
There is, so far, not a clear indication that Sunday's weather should rise to the level of these past snow events in Atlanta. As noted, one thing really going for it is the day of the week - past Atlanta winter mess events have primarily been associated with traffic problems, and there's no commute to worry about Sunday or even Monday, with the MLK Day holiday.