Late Wednesday morning, the advisory was expanded westward to include Catoosa, Dade and Walker counties.
It will take effect at 7 p.m. and run through Thursday morning at 7 a.m.
According to 11Alive Meteorologist Chesley McNeil, freezing rain is expected with a tenth of an inch in accumulation possible.
That could result in slippery sidewalks, roads and bridges.
In the state's far northwest counties -- Dade, Walker and Catoosa -- up to 1-inch of sleet and a glaze of ice is possible.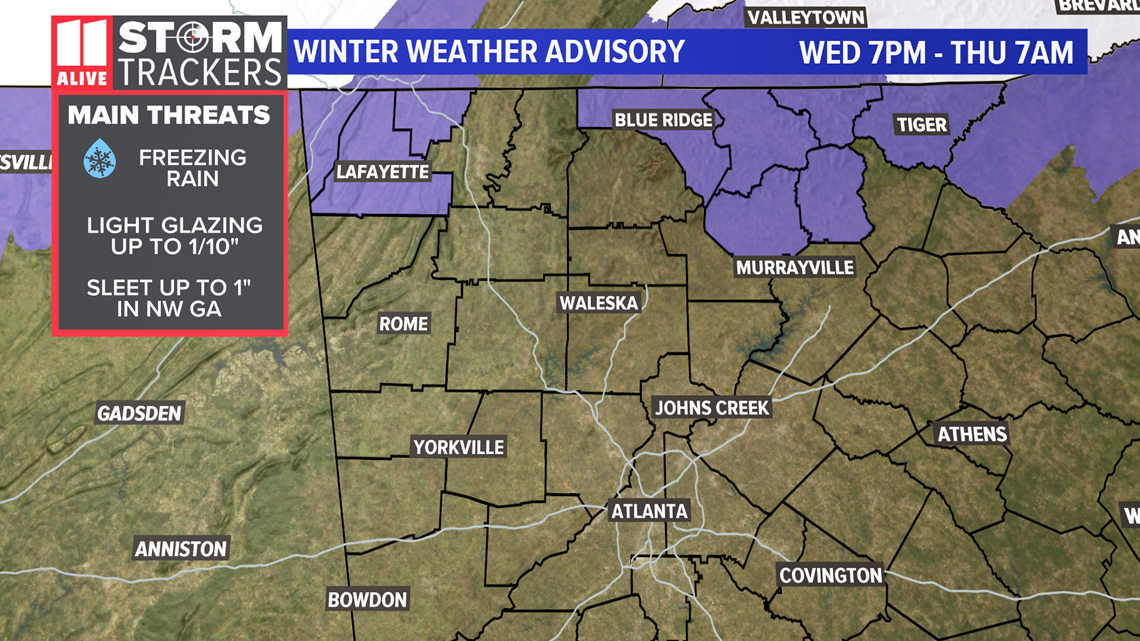 Much closer to metro Atlanta, cold, heavy rain is expected for much of the day on Thursday. According to 11Alive Meteorologist Melissa Nord, between 1 and 1 1/2 inches of rain is expected across most of the region. Some local areas will receive up to 2 inches of rain.
The metro Atlanta area could see ponding on some roadways, while slick spots can be expected to the north where temperatures are colder.
"The hazardous conditions could impact the morning commute," the National Weather Service advises. "Slow down and use caution while traveling. Prepare for possible power outages."
According to the National Weather Service, an advisory means "be aware," of situations. More serious designations include a watch - "be prepared" - and a warning - "take action!"
An advisory general indicates that "light amounts of wintry precipitation or patchy blowing snow will cause slick conditions and could affect travel if precautions are not taken."