HALL COUNTY, Ga. — A man has filed a federal lawsuit alleging excessive force in a 2021 slamming incident at the Hall County Jail.
The man, Dewon Greer, said he still suffers from spotty vision in one eye as well as dental issues stemming from the incident.
"Just to this day, thinking about being pulled over, seeing police cars, seeing other people pulled over, I get nervous, I get anxious, sweat, it brings back the thought of the whole ordeal every time," Greer said in a press conference Tuesday.
The Hall County Sheriff's Office, which operates the county jail, said it "regrettably is unable to comment on the incident" because of the pending litigation. In a statement released Wednesday, the sheriff's office asks the community "to keep in mind there is another side to what the attorneys of Dewon Greer are alleging."
According to a police report, a traffic stop occurred just after 11 p.m. on Sept. 17, 2021. A Georgia State Patrol trooper pulled Greer over for allegedly driving with no taillights on State Route 347 near McEver Road; he also failed to maintain his lane, the report alleges.
When the trooper put Greer's driver's license information into the system, the police report said it came back suspended. Shortly after, he was arrested and taken to the Hall County Jail just after midnight.
According to Greer and his attorneys, his license was suspended for failing to pay child support. But, Greer said, he had paperwork and receipts proving he had in fact paid - only law enforcement wouldn't check his documentation, he said.
The lawsuit claims that at the jail, Greer was "forcefully slammed on his face and head against the concrete jail wall and floor while his hands were handcuffed behind his back, as officers were trying to force Mr. Greer on 'both of his knees' by staff commands, causing him to lose consciousness and sustain serious bodily injury."
The Hall County Sheriff's Office maintains that Greer "was being extremely belligerent," in a statement, also admitting that he was injured during the booking process but that "none of the jailers involved had any ill will or any intent to cause an injury." In the statement, the sheriff disputes Greer's claims that he was forced to his knees, but rather, that he was not complying with law enforcement commands. Jailers were putting him in a position to safely remove his handcuffs, the office said.
"During this process, Mr. Greer fell forward causing a laceration to his left eye," the sheriff's office statement read.
Greer said at Tuesday's press conference he was compliant with commands throughout the interaction, but that he was vocal with his assertion he'd paid the child support.
He said he felt the slamming in the cell "was their way of trying to send a message."
The sheriff's office alleges that Greer was making racial insults to the arresting trooper and that "he also repeatedly told the jailers he hoped they would die and their families would die."
Greer's attorneys provided 14 seconds of bodycam video showing the slam. The sheriff's office said the edited footage from the attorneys doesn't show the whole story. It can be seen here. Note that the entire video contains language some may consider vulgar or offensive.
"I'm facing the wall and my hands are behind my back," Greer can be heard saying in the 14-second clip provided by his attorneys.
A few seconds later, a deputy can be seen grabbing him by his right foot and lifting him, while a second deputy appears to push his upper body into the ground. The attorneys shared a photo they said showed his resulting injuries.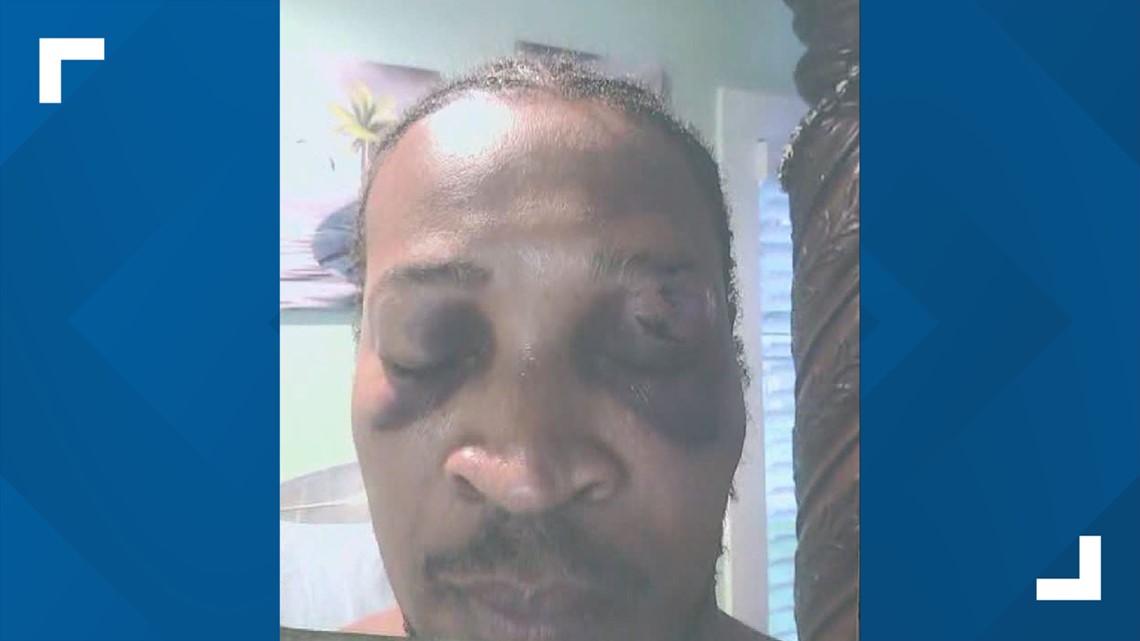 Greer's attorneys said he was then left with open wounds inside a dirty cell.
"It was horrible, I didn't know if I would make it out... I was so scared," Greer said. "I wanted to make it back to my family, that's the only thing I could think about, was I wanted to make it back to my family."
In a statement, the sheriff said it was not "an egregious assault on an inmate" and called the entire interaction an "unintentional incident."
Attorney B'Ivory LaMarr compared the case to that of the beating of Tyre Nichols, saying there were deputies around who could have intervened. He said lawsuits such as these can serve as a "deterrent."
The suit itself seeks unspecified compensation for damages as well as a declaration that Greer's rights were violated. Greer said he would also like to see better de-escalation training and education for officers "instead of trying to muscle your way... just because you have the authority to do those types of things."
Correction: This story originally indicated Greer was pulled over and initially arrested by a Hall County sheriff's deputy. The traffic stop and initial arrest was conducted by a Georgia State Patrol trooper.