Heavy rains and flooding began arriving in metro Atlanta late Sunday morning, as now-Tropical Depression Nate continues moving into the area.
Marietta police reported Church Street between Vann Street and the Church Street extension was closed due to flooding, shortly before 11:30 am, while Hall County activated its emergency operations network.
The National Weather Service also reported downed trees along Sweetwater Church Road, Paul Aiken Road and Pleasant Grove Road in Paulding County.
At 10:31 am, the National Weather Service advised that heavy rains may cause temporary street flooding, especially in poor drainage areas.
11Alive Chief Meteorologist Chris Holcomb is forecasting that Atlanta can still expect heavy rain and strong winds Sunday afternoon, with the highest impacts northwest of Atlanta.
A strong thunderstorm was reported moving into the path of Atlanta, Marietta, Canton, Sandy Springs, Smyrna, East Point, Kennesaw, Woodstock, Acworth, College Park, Holly Springs, Hapeville, Fair Oaks, Midtown, Grant Park-Zoo Atlanta, Kellogg Creek, Vinings,Sweet Auburn, Piedmont Park and Cascade Heights.
At 10 am, the National Weather Service said all coastal warnings related to the storm have been discontinued.
On the forecast track, Nate's center will continue to move inland across the Deep South, Tennessee Valley, and central Appalachian Mountains through Monday.
Winds have decreased to near 35 mph (55 km/h) with higher gusts. Little change in strength is predicted during the next couple of days, but Nate is forecast to become post-tropical on Monday or Tuesday.
At around 1:30 a.m. EST, the storm made landfall near Biloxi Mississippi about 5 hours after first hitting the coast earlier near the mouth of the Mississippi River. Nate then had maximum winds of 85 mph.
Previous updates
The hurricane warning is now in effect from the mouth of the Pearl River to the Alabama/Florida border. A storm surge warning is in effect from the mouth of the Mississippi River to the Okaloosa/Walton County line in Florida.
A tropical storm warning is in effect for metropolitan New Orleans and Lake Pontchartrain, Lake Maurepas, the coastal area from Grand Isle, La., to the mouth of the Pearl River and from east of the Alabama/Florida border to Indian Pass, Fla.
After making landfall on the Gulf Coast of Mississippi, , the center of Nate is expected to pass over portions of Mississippi, Alabama and Tennessee late tonight through Sunday night.
Aircraft reconnaissance data and Doppler radar indicated that the maximum sustained winds have decreased to about 85 mph. Strengthening is not likely before the second landfall over the next few hours. Rapid weakening is expected after landfall, with Nate becoming a tropical depression by Sunday night.
Hurricane-force winds extend outward up to 40 miles (65 km) from the center, and tropical-storm-force winds extend outward up to 125 miles (205 km) mainly to the east of the center.
Hurricane conditions are expected in the hurricane warning area in the next few hours, with tropical storm conditions already spreading onshore. Tropical storm conditions are expected in the tropical storm warning area tonight and Sunday morning. Hurricane conditions are possible in the hurricane watch area tonight.
Weakening is expected after landfall, and the storm is expected to track across Alabama, northern Georgia and eastern Tennessee as a Tropical Storm through Sunday afternoon and Sunday night. Through Monday, Nate is expected to move through the deep South, the Tennessee Valley and central Appalachian Mountains. It should be noted that impacts from heavy rain and potential tornadoes will precede the most significant winds with this system and are possible as early as this evening.
During the height of the storm, winds of 30 to 40 mph will be possible with gusts as high as 50 mph across far northwest Georgia. Storm total rainfall is expected to be on the order of 3 to 6 inches north of a line from Rome, to Dawsonville, to Homer with locally higher amounts possible.
The National Weather Service has issued tropical storm watches for dozens of Georgia counties, as Hurricane Nate approaches landfall.
Nate was upgraded to a hurricane late Friday as it makes its way toward landfall.
A tornado watch was issued for portions of lower Alabama and Mississippi, along with parts of the Florida panhandle shortly after 7 pm CT, as Nate made its first landfall. A number of tornado warnings have been issued in Mississippi, Alabama and Florida, with some stretching as far north as near Birmingham on Saturday evening.
More widespread severe weather and tornado warnings are anticipated across parts of Mississippi, Alabama and Georgia on Sunday as Nate continues to move across those states.
► TIMELINE | The path of Tropical Storm Nate and what it means for Georgia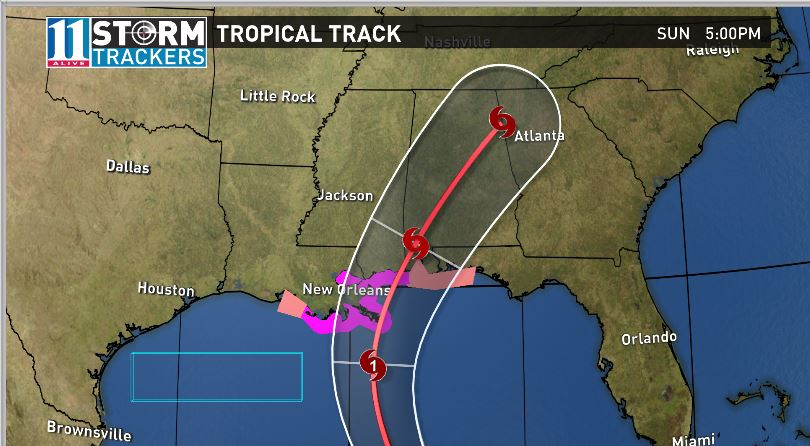 HOW WILL IT IMPACT GEORGIA
The latest forecast track has Nate moving across parts of Alabama and approaching northwest Georgia by Sunday afternoon or evening. Based on the current track, the likelihood of seeing tropical-storm-force winds in excess of 40 mph is possible in or near metro Atlanta from Nate is increasing.
Several hours of these types of winds would likely bring down trees and power lines over portions of the metro area.
Chris says that along with the high winds, heavy rains and severe weather are possible across north Georgia, with anywhere from 2-to-6 inches of rain possible, and isolated rainfall amounts of up to 10 inches. This could bring flash floods in streams and creeks, as well as in areas of poor drainage across the metro area.
Severe weather in tropical storm feeder bands could spawn a few isolated spin-up tornadoes across parts of north Georgia.
Most of northwest Georgia remain under a Tropical Storm Watch as Nate heads toward shore, and a Tropical Storm Warning has been issued for the far northwestern counties of the state.
A hurricane warning means hurricane conditions are possible within the warned area, usually within 36 hours. A Storm Surge Warning is issued for coastal areas when life-threatening inundation from storm surge is possible, generally within 36 hours. In both cases, immediate life-saving precautions are imperative.
A tropical storm warning is issued when tropical storm conditions and tropical storm force winds are possible in the warned area within 36 hours.
Hurricane and storm surge watches are issued when hurricane and life-threatening storm surge conditions are possible in the watch areas within 48 hours. A tropical storm watch is issued when tropical storm conditions are possible in the warned area within 48 hours.
Stay with 11Alive and 11Alive.com for the latest on this developing tropical weather system.
► For the latest weather updates, visit our weather page at 11Alive.com/weather
► Make it easy to keep up-to-date with more stories like this. Download the 11Alive app now.