A 7.1 acre "Urban Food Forest" is taking root in Atlanta - and volunteers hope it will help solve a major problem in the area.
The site along Browns Mill Road in southeast Atlanta will soon become Atlanta's first Community Urban Food Forest - one of the largest of its kind. It will also be a new model for prospective parks in the city.
It will also be an oasis in a form of desert - one that Atlantans are all too familiar with.
"It was created because we have food deserts in the area, and so we wanted to have accessible, healthy food for people in the community that have to travel too far to the stores to get something healthy," volunteer Celeste Lomax said.
Lomax said she joined the project because she loves herbs and saw a need that she could fill.
"When I was brought over here, the herbs were dying because no one was volunteering," she said. "And I was like, OK, I have a love for herbs and I was like, there's no way I can let this stuff just sit here."
She said that in the area where this is coming together, there are no grocery stores in a reasonable walking distance - meaning those without their own cars either have to walk and carry their groceries a long way, or find other ways to get them home.
"People actually have to get on the bus, go to Kroger's or Aldi's, get on the bus, lug their groceries back," Lomax said.
She described the process as going "back and back, clear and clear" with them, clearing existing land and replacing the foliage with food plants and trees - an edible forest in this food desert.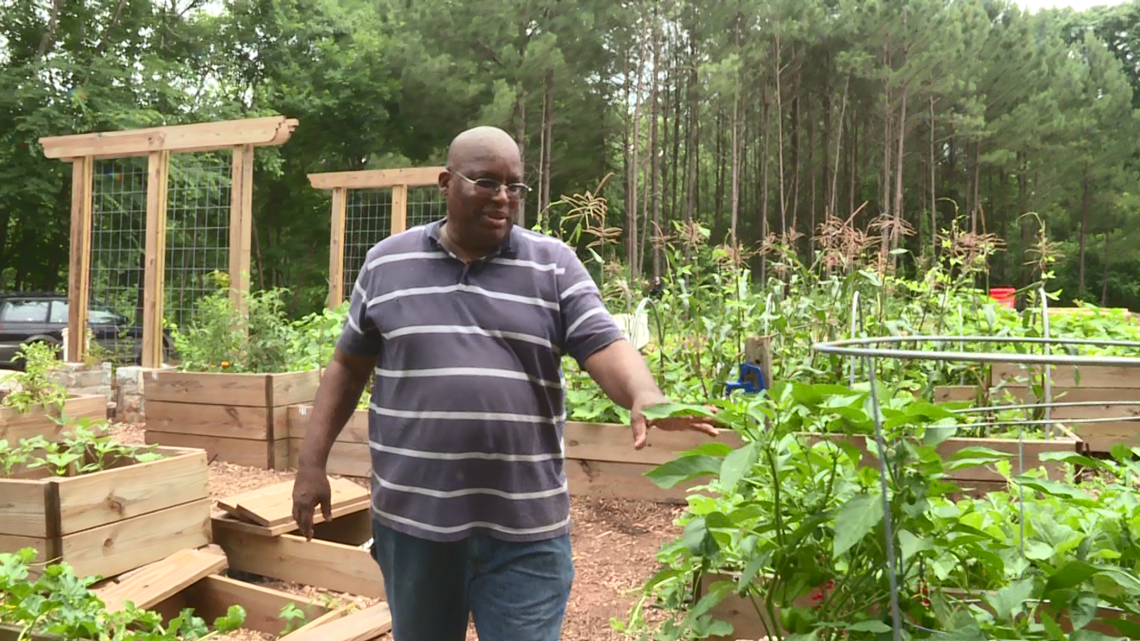 But another volunteer, Douglas Hardeman, said it's still in the very early stages - meaning the community will have to be patient.
"We had a person come yesterday from West End," he said. "Took a bus over here to get fruit and vegetables."
But, he said, the fruit trees are about two to three years away from being viable for that. Most, if not all, of them just went into the ground in late 2018.
"During the winter and earlier this year, we planted over 100 fruit trees," Hardeman said. "And we planted almost 100 berry bushes and vines. So all of this is new all of this has been planted since December."
And those plants and trees will be the start of something much bigger, he said.
"This is just the beginning, but within five years, theoretically, you would be able to come up on this site and pick all the apples, pears, plums, pawpaws," he said.
The latter of those, he said, is native to Georgia - and Atlanta - but are rarely seen on the produce aisle for a reason.
"The shelf life is very low so you don't see them in the grocery stores," he said.
For these volunteers, it's a labor of love and a chance to help their neighborhoods.
"I like growing plants. I like to grow vegetables, and it is my community, so why not," he said.
For Lomax, working with plants and herbs is relaxing
"Everything I do here is volunteer because I love what I do. This is not work for me. This is therapy," she said. "Therapy, definitely therapy."
And its an effort that they hope will eventually mean thousands of pounds of fruits and vegetables in a place where they have previously been hard to find.
Part of AgLanta, the project is grant-funded through the U.S. Forest Service's Community Forest Program. It's also part of the city's efforts to bring healthy food within a half mile to 85 percent of Atlanta residents by 2022.