EDITOR'S NOTE: If you are viewing this in our app, click this link to see full story.
SANDY SPRINGS, Ga. – "Front door open," the home's alarm system notifies the entire house that someone has opened the door.
"I was so excited. Thank you, God," a woman, known formerly as a "Diamond Kitty," recounted.
She could almost taste her freedom.
*****
One of Kenndric Roberts' other Diamond Kitties, a 20-year-old mother who feared for her life, called 911 alleging that the 33-year-old was holding her and seven other women captive inside a lavish, sprawling mansion at 100 Strauss Lane in Sandy Springs, Ga.
"It's a house of full of girls and... if I try to leave, he'll try to kill me," the young woman told the 911 dispatcher on Tuesday, March 7 at 7:31 a.m.
AUDIO | Terrified 20-year-old makes desperate call from million-dollar home
Roberts, known to his gang, Gangster Disciple, as "King Lop," sent a text to all the women inside the house to gather for an emergency meeting, the former Diamond Kitty remembered.
It was around 10:30 a.m., and the Diamond Kitty who had called police was nowhere to be found.
He told the remaining women in the house, 'You know everything here that we're doing is legal, right?'
Moments later, there was a knock on the door.
"Sandy Springs Police, open the door!"
All of the women, ages 19-23, were separated and one opted to leave with the police.
"I was like, 'Oh, I'm so excited this is real,'" she said.
She scooped up everything she had accumulated while living there and bolted with the police.
"[I was] unhappy, lonely. I hated being there. I had to suck it up because I was afraid he would hurt my family," said the 19-year-old woman, who we are not naming because she is considered a victim in the case that's under investigation by the FBI.
RELATED | Inside the alleged human trafficking Sandy Springs mansion
She was 18 when she said she met Roberts, who she called Ken.
Today, inside her suburban Metro Atlanta home, she sits on the couch. Framed photos surround her in the living room of her and her sister as little girls dressed in frilly, lace dresses. She's always wanted to be a model. It's a dream that, she said, Roberts played to—promising her that she could make her dreams come true.
Like many of the women, also known as "Diamond Kitties," who lived inside the Sandy Springs mansion, she too met Roberts online through the dating service SeekingArrangement.com. Her friend at the time was talking to him, but she was only 17, she said. That's when he opted to talk to her since she was 18, offering her exactly what she needed: money to help her family.
He preyed on her financial struggles and her career goals, she said.
"[He offered] a modeling career. I was so interested because that's what I want to do," she remembered. And if she moved in with him, she wouldn't have to pay any bills.
She moved into an apartment with four other girls and Roberts in August, and within a week, she said, she signed a contract that stipulated that she would have to dance to live there.
"I didn't know it was going to get worse," she said.
But it would.
She agreed to audition for the Pink Pony and started working there almost immediately, joining three other women she lived with.
The other women living with Roberts, she said, were sent to work at the Pink Pony, Mardi Gras, Oasis, nearby strip clubs, as dancers. They too were recruited through the dating website, as well as through his company, Live Star Nation's Instagram page and other strip clubs.
MORE | Sisters of Struggle: Being a 'Diamond Kitty'
"It was very different," she said about working in the strip club. "It was crazy. I'd never experienced anything like that in my life."
But, she continued, she got used to it. It was the norm. Everyone in the house danced.
Her life became one routine after another.
She was up at 8 a.m., to clean the house.
Her dancing shift was 7:30 p.m. to 3:30 a.m.
Eight hours.
Dancing in heels.
No food.
No breaks.
She thought about reaching out for help, but thought better of it because she said she feared his retaliation.
"I told them I was in a bad situation I was scared and I was with a guy who was taking all my money at the end of the night, then the house mom started asking me questions and I said never mind; I'm fine."
"He'd have people in the club watching us," she recalled. And Roberts would frequent the club, himself, about once a week, she said, to check up on them, watch them and then critique them for what he said they were doing wrong.
At the end of her shift, before leaving the club, she would have to text him "L" for leaving and then "H" when she was home, and to bed by 4 a.m.; however, some nights he would require them to stay up all night, she said.
She never saw any of the money she earned. Every dime, she said, went to him—nearly $1,000 a night, from six to seven nights a week.
"I think I put almost $100,000 in that man's pocket."
That money, she alleged, was used to deal heroin, cocaine, among other drugs.
From the apartment, they moved into a Doubletree Hotel in Tucker, Ga., for the next two months, after two hooded men, robbed her and the other women at gunpoint.
"I didn't want to die."
Roberts told her that they were rival gang members looking for him. And they soon moved.
They found and rented a house through Airbnb, until they moved into the lush Sandy Springs, million-dollar mansion in December.
But even though she lived just minutes from her mom, she was only able to see her mom four times while she lived with Roberts. And the money he promised her, $80,000 in her contract, to help her family, never reached her bank account.
PHOTOS: Human trafficking suspect arrested for holding women hostage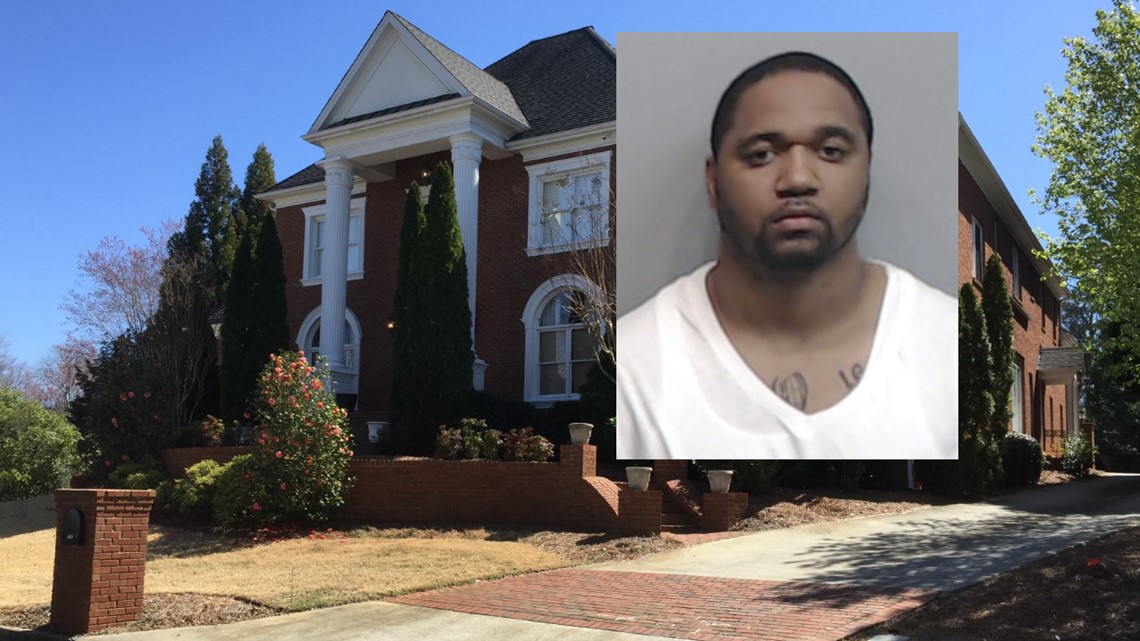 Branded with loyalty
To show solidarity, she and the other women in his home received matching tattoos on their wrists—also pledging allegiance and homage to the gang that Roberts is affiliated with, the Gangster Disciples.
"He made us get tattoos," she said, not wanting to get the ink.
The tattoos included the letters, "LOP," which stood for "Loyalty Over Pride," at the top of their wrist, with the numbers "12 15 16 14" below, matching the tattoo on his chest, "12 L 15 O 16 P 14."
"He wanted us to put our pride aside and be loyal to him," she said.
Other women in the house had a second tattoo on their other wrist with the letters, "SOS," referring to the gang affiliation again and the abbreviation for "Sisters of Struggle." They knew more about Roberts, she said. They were on the "inside."
Identical tattoos weren't the only thing the women shared.
"He wanted us to be like sister-wives," she said of the other women, all of whom had sex with Roberts. She said she was forced to.
And the eight women living in the house were seemingly interchangeable.
"I felt like a robot living in that house," she said. "I was just a little puppet."
He dressed them alike. He chose their underwear. He chose their makeup. He chose their hair products and how they did their hair.
"That was my life, wearing the same things, the same purses the same glasses, hair everything was the same, even the bras and panties were the same."
He randomly took their phones, searching for anything and everything that he didn't approve of.
"I couldn't have a social life. I couldn't have any friends."
She was only allowed to leave the house for the club, grocery shopping or to get her nails done; and kept cameras rolling inside and outside the house to keep a close eye on everything that happened.
"He wasn't physical, just mentally screwed our heads up," she said.
Alleged victim's mother: He said, 'I will find you and kill you' like you
She remembered, he used to tear the women down, saying, "You're not good enough; you're not smart enough." And telling them they could leave, but then, in a swift 180, making threats on their lives and their families' lives.
"He said, 'You can leave if you want… [but] I'll screw your life up,'" she said of his threats that he would hurt her family, plant drugs on her, reminding her that he knew where her mom lived.
"We couldn't leave," she said.

A future that belongs to her
With long, red manicured nails, she talks with her hands and with confidence. She's been home for about a week and is already making plans for her future.
Situated on the couch, swipes her long hair out of her face, she said she wants to get into real estate with her family and flip houses. Although she isn't giving up on her modeling dreams either.
Inside her mom's cozy home, the fire is going and illuminates her left wrist and her tattoo—which the FBI told her that they would pay for her to get her tattoo removed because it's gang-affiliated. But it won't erase the pain or fear she carries with her.
"I'm still scared to this day, that he has someone out there ready to strike on my family," she said, further admitting that his threats are still fresh in her mind.
"He mentally missed me up," she said. "I think about it daily I wish it could leave my head."
Now, back in her mom's home, living with her teenage sister, she feels like she's free.
"I finally have my life back."
"I feel like I'm living in a dream…" and she doesn't want to return to her nightmare.
She hopes he's the one who feels like a robot—being told what to eat, when to eat, what to wear and when to sleep.
"Even though he didn't sell us for sex, he was still a pimp," she said of him taking advantage of women to make money for himself.
She wants any girl who might get caught up in dollar signs and promises to remember one thing.
"If it seems too good to be true, it is too good to be true… go with your gut feeling."
For her, going to the grocery store and buying anything she wants to eat is freedom.
"I can pick my own ice cream. I feel free," she said. "It's so great."
Closing up shop
When police arrived at the home they found eight women--at least six being held against their will. With the assistance of the FBI, Roberts was arrested.
Sandy Springs Police Department charged Roberts with six counts of false imprisonment, six counts of trafficking person for labor or servitude and two counts of possession of a firearm in the commission of a felony.
An AK47 pistol and a Glock .45 cal. handgun were recovered during the investigation. And a total of eight adult females were assisted with leaving the residence.
After the initial 911 call, five additional victims came forward, bringing the total number of alleged victims, named in the case, to six.
"We believe that he'd been making promises to some of these ladies for modeling careers, financial assistance," Sandy Springs Police Sgt. Sam Worsham said.
Roberts is being held at the Fulton County Jail and waived his first appearance hearings on both Thursday for original charges and Friday for new charges.
There was no bond and he is being represented by the Public Defender's Office. His next court date is scheduled for March 24.
The FBI believes that there may be more victims.
As the investigation continues, any other victims or persons with additional information can contact the Sandy Springs Police Department or the FBI at (404) 679-9000.