Their story made news around the world: a teen taken into state custody. His mother and stepfather arrested. All because he smoked pot to treat his debilitating seizures. In Georgia, patients with nearly a dozen different conditions can get a medical card to take an oil derived from cannabis, but David Ray Brill says none of his doctors would approve it.
The 15-year-old was taken from his parents in April, when they were arrested and charged with misdemeanor reckless conduct.
After the court released the teen back to his parents, we caught up with them at a lake near Macon. It's a place his parents feared he would never again be able to go.
They say a year ago, David was so heavily medicated that he didn't want to swim. Add to that the fear he could drown during a seizure, and no one even had a desire to try.
But the day we sat down to talk with the family, David was energetic and quick to make a splash. His mom watched pleased, and relieved.
For most of David's life, no one understood his behavior. Doctors blamed ADHD or autism. Some thought he might just be a brat with a terrible temper.
"I've thrown desks and books at teachers and chased people with broken scissors," David told 11Alive investigator Rebecca Lindstrom as they sat on a pier at the lake.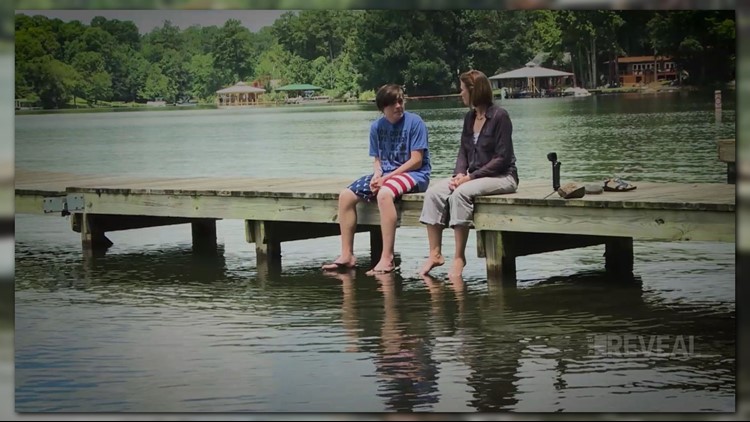 During one of his calmer, but still odd fits, his biological father took him to Children's Healthcare of Atlanta.
"They hooked him up to an EKG machine and 'tada' – he's in the middle of a seizure," remembers his mother, Suzeanna Brill.
She says he was finally diagnosed with left temporal lobe focal seizures. While the diagnosis provided an explanation for the unusually sudden and drastic shifts in his behavior, it did not provide relief. The new medications came with serious side effects. For the first time he was actually having the physically violent spasms most people identify with a seizure.
"We went through two and a half months of in and out of hospitals, emergency rooms," said his mother.

That's when his mother and stepfather say they turned to marijuana. They first tried the CBD oil, accessible to anyone. It wasn't enough to stop his seizures and manic episodes. So, they tried to get a medical card to access something stronger.
"We couldn't find nobody. Everybody was like, he's a minor. We can't."
So, frustrated and desperate to help their son, Brill says they bought what they could. Pot. And they say it worked. David went 71 days without a seizure, before one of his doctors alerted DFCS. They immediately made him stop. Shortly after, his mother says David was back in the hospital.
While in the hospital, the Twiggs County Sheriff's Office arrested Suzeanna and Matthew Brill for reckless conduct.

While the terms of David's return home require that he not smoke marijuana, David says he remembers vividly the first day he tried it.
"That's the one night I slept throughout the whole night without seizures," says David.
The fact he remembers, is an accomplishment within itself. When David's outbursts end, he usually remembers nothing. He only knows about his actions through the stories he's told after the fact, except for the time he chased a fellow student with a pair of broken scissors. That was caught on video.
A doctor who heard his story on the news helped him get a medical card. David is now being treated with THC oil and has slowly weaned off the other seizure medications.
"The best thing is he is seizure-free. He's swimming, jumping in the lake. You can't do that on those medications." says Doctor Rasean Hodge.

His mother says she called dozens of companies trying to order more medicine before he ran out, but no one would ship into the state.
Not knowing what else to do, they packed their belongings and shortly after our interview, moved to Colorado.