BUFORD, Ga. - A woman and a man police say was her secret boyfriend were arrested Monday, accused of murdering her husband.
George Young, 43, was coming home from one of his two jobs Thursday night, November 16, 2017, when he was shot and killed on his front porch.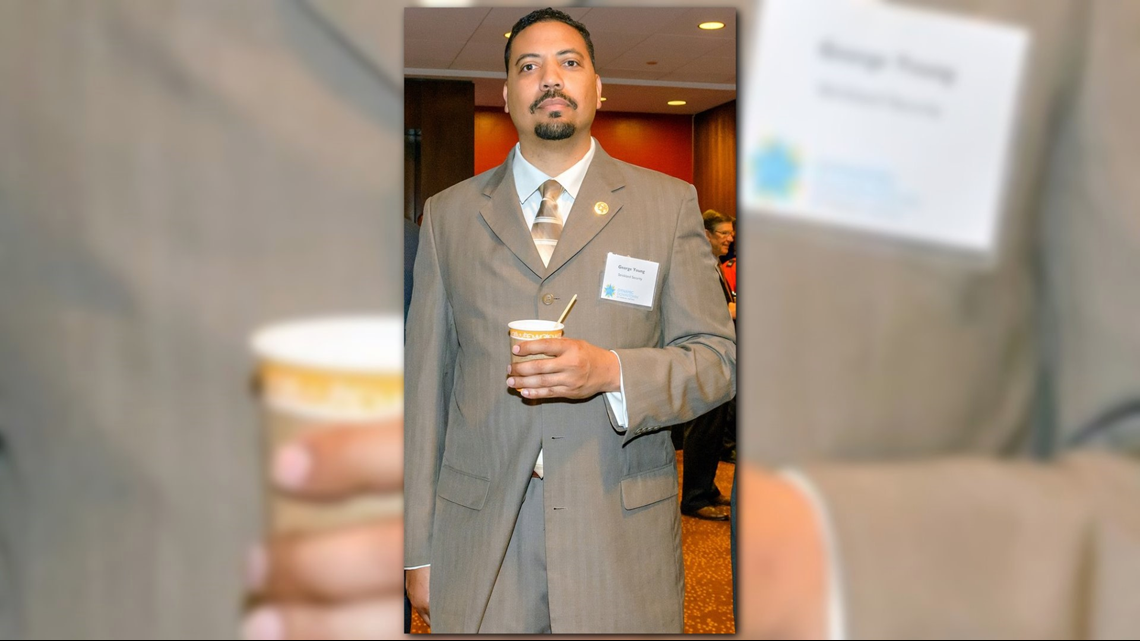 Now, Gwinnett County police are charging Tia Young, George's wife of 22 years, and Harvey Timothy Lee--a family friend who police say was having an affair with Tia--with aggravated assault, malice murder and felony murder.
According to Detective David Smith with Gwinnett County Police Department's Homicide Unit, George had allowed Tim Lee to move into their home in February, 2016, after moving to the Atlanta area in 2015. Lee was out of work and had no place to live.
Lee had been a long-time friend of both Tia and George Young, police said.
Police said George even offered Lee a job at his security firm where he was a sub-contractor.
Det. Smith said that Tia Young and Tim Lee had been in a secret, adulterous relationship since May 2017, possibly before that.
Det. Smith said he suspected right away that Tia and Tim might have murdered George.
"Their initial stories began to not add up, which I found suspicious for people who both just experienced the same incident," Det. Smith said.
The biggest discrepancies in both of the suspects' stories was the timeframe, each telling different accounts of when they heard the two shots from outside the home, and what happened in the several minutes after the gunshots and when they called 911.
PHOTOS | Wife and family friend charged with husband's murder
Police said Tia and Tim had financial motivations to kill George. According to Det. Smith, George's life insurance policy would have a payout of $1 million for beneficiaries.
Although Tia Young was distraught in preliminary interviews with both 11Alive and police, Det. Smith said, "During the time of the incident, we understand as homicide detectives that everyone experiences that differently. When we first met her, she was upset and she was distraught...later in subsequent interviews, emotion did play a part in that, or lack thereof for me."
PHOTOS | Father of 3 shot and killed after coming home form work
Det. Smith said as Tia was showing less and less emotion in subsequent interviews with detectives, and as her story kept changing, and as inconsistencies with Tim's versions grew, there was more reason to believe they might have been responsible.
Police didn't disclose what evidence they have in this case, whether they've found the gun used in the shooting, and which suspect shot George Young. That information will be revealed in court hearings, according to the detective.
When Tia spoke with 11Alive in November, she was pleading for the person responsible to come forward after the reward increased to $5,000. They had even set up a GoFundMe account where people could donate money to the family after losing the only breadwinner. That campaign was later shut down, the company confirmed, because it "violated GoFundMe's terms of service." Anyone who did donate money can request a refund by visiting www.gofundme.com/guarantee.
At Tia's and Tim's first appearance in Gwinnett County Magistrate Court, the judge told them he does not have authority to set bond in a murder case. The judge appointed both suspects attorneys, and scheduled preliminary hearing for April 18.
THE NIGHT OF THE SHOOTING
The night George was killed, both Tia and Tim were there when police arrived. According to the original incident report, Tim was performing CPR on George. After the shooting, Tia Young says she told dispatch "she could not bring herself to do it [perform CPR]."
That night, Young originally she heard gunshots outside of the home. Watch her explain what happened in the video below.
George was described as being "a really good guy."
In that same interview, Tia Young bragged on her husband saying, "Everybody loved George."