LAWRENCEVILLE, Ga. — Bobby Lee wasn't personally known to Lawrenceville Police two years ago, but they recognized the older man who walked the streets during the day on one crutch.
When Detective Dena Walker Pauly found him two years ago, she knew he needed help.
"I was always curious about him but for some reason, I never approached him," she said.
One day, Bobby Lee flagged Pauly down while she was on the streets, but he was not able to easily communicate with her.
A stroke had left him unable to speak, so she asked him to write down what he needed. But he was unable to write.
Bobby Lee had no known family, and he had been homeless for most of his life.
A call to a local pawn shop changed the trajectory of Detective Pauly and Bobby Lee's relationship.
The workers in the shop called the police department in order to help Bobby Lee but they could not understand what he wanted, and Detective Pauly was sent to help.
"He couldn't tell me what he needed, so I put him in my car and drove him home and when he opened the door, it changed everything."
Detective Pauly found squalid living conditions. She helped him clean the trash from his floor and made sure he had even the basic necessities, like food to eat.
And she continued to check on him.
"After seeing the conditions he lived in, I realized he needed somebody," Pauly said. "No human being should have to live that way."
Bobby Lee and Detective Pauly became close friends.
"If that were my grandfather, I would want someone to take care of him," she said.
Eventually, Detective Pauly received Power of Attorney over Bobby Lee to help him manage his health decisions.
In May, Bobby Lee was hospitalized. On July 15, Dena spoke with Bobby and they made the decision to put Bobby Lee in hospice care. Bobby Lee died on July 17.
A photo of the two holding hands over his hospital bed posted on Facebook by friend Shannon Volkodav has since gone viral with more than 18,000 likes.
After hearing their story, Tom M Wages Funeral Services has offered to cover Bobby Lee's funeral.
Dena and Bobby have said goodbye, but because she went beyond the call of duty two years ago, they shared a rich friendship and a better life for each of them.
Lawrenceville officer makes friend on duty that last a lifetime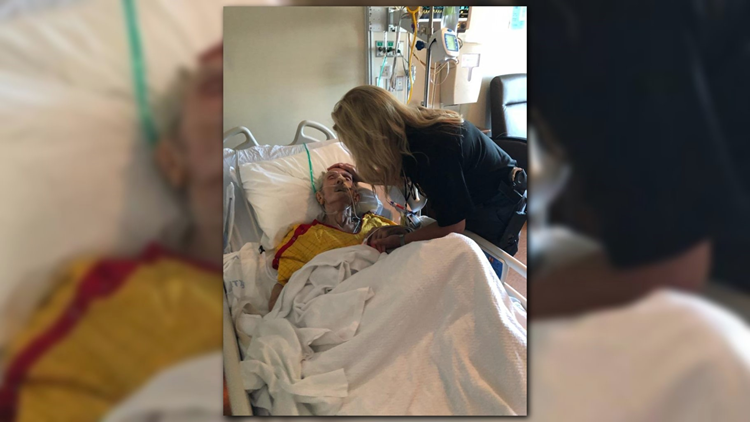 Want more Lawrenceville news? Like us on Facebook.