Chip's Nation | Leading a legacy of love
There once was a boy, a wild child of the woods. He was rough and tumble, sweet and strong, a blur of arms and legs racing to the next adventure. Hunting. Sports. Life with two brothers. Their home was a place of happy, semi-controlled chaos.
What Chip Madren's family didn't know was that a sinister thief was silently creeping into their lives, determined to take all of that away.
Medulloblastoma. The monster had a name. It was ugly and aggressive. It took Chip's voice, his hair, his vitality, his very ability to nod his head. This is when I met him, when this 13 year old boy was trapped in the belly of the medulloblastoma beast. They told me Chip was 'in there.' His mother showed me how he could blink his eyes and almost nod his head. These were huge things. They told me they were going to get him back, that they were going to beat this.
I didn't tell them about the families I had met who had told me the same thing. They didn't need me to tell them. They knew they were fighting a darkness so powerful it was erasing children from their family's lives, bright little souls whose laughter would live only in their agonized parents' memories.
The Madrens let us in. All the way. I went home at the end of that first day and tucked my five and three year old children into their beds. My husband and I barely spoke. What is there to say when you have won the lottery with your healthy-so-far kids and just miles away a family is bargaining and fighting just to make it to the next day?
Chip Madren through the years
I didn't know how to do justice to what they were living, how I could communicate the horror and hope living in each and every breath.
The only thing I could do is share Chip's story.
When I found out Chip loved the Outdoor Channel and that David Blanton, a hunter and one of the stars of Realtree Outdoors lived in Georgia, I called him and told him about Chip. We arranged for him to show up on the Madren's doorstep unannounced and in those moments he spent with Chip, he made a commitment most would not. He promised to take Chip hunting when he got better. Long after our cameras were gone, Blanton returned. Again and again. A grown man and a mute 13 year old boy, side by side in bed, watching hunting shows.
I thought Chip's story was about a boy fighting cancer. In truth, it's really a love story.
Love is 300 people in your front yard with balloons waiting to welcome you home from the hospital.
Love is a community that calls itself Chip's Nation, caring for you -- cooking every meal and mowing your lawn and running your other boys to their sports and holding fundraisers -- all so you can try to save your son.
Love is Chip regaining his voice so he could share his near death experience -- "I saw the gates of Heaven and I wasn't allowed to go in because I knew that God was protecting me the whole time."
Love is a companion dog named Vera from Canine Assistants. "She's my best friend. She's really special."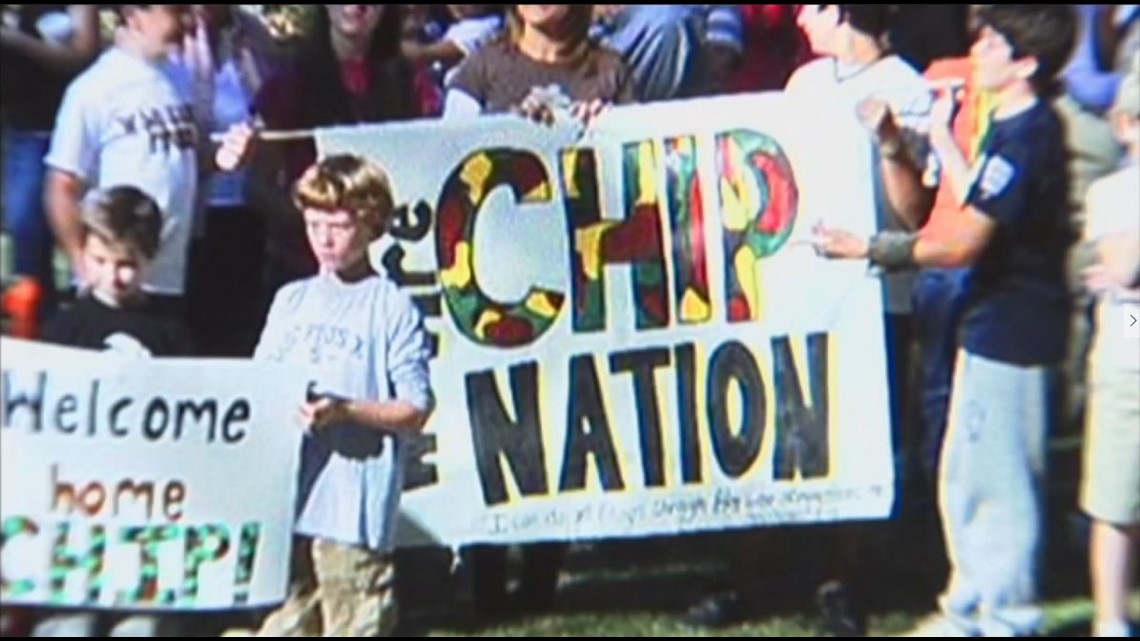 Love is parents who refused to let cancer cancel out joy and laughter and raucous boys racing through the house.
Love is all your friends leaving for college and you don't. Instead you go to Canine Assistants and hand them a check for $20,000.
Love is walking the final few steps up the Oconee County High School stadium to reach one million.
Love is watching your dad's childhood friend, Lendmark CEO Bobby Aiken, hand a check for $280,000 to CURE Childhood Cancer to help kids just like you.
Love is David Blanton showing up at your therapy and giving you that long ago promised hunting trip to Montana.
Love is sitting in a blind with your dad for days until you get your buck. Love is your dad weeping when you do it, his tears for so much more than your victory.
The cancer wreaked havoc on Chip's body before it was chased out. No longer can he run with abandon through his beloved woods. There are real physical losses, but the cracks that spread through his life also allowed in a light so beautiful that it changed many, many lives. And hearts.
Behind his sharp mind and quick wit is a deep soul that journeyed to the edge of heaven and came back to tell us about it.
It takes something far stronger than cancer to stand in your truth, and then to share that truth with an often skeptical world.
It takes something stronger than cancer to give it all away -- all your heart, all your love, all the money raised.
The nation named for a boy, is now being led by him.