There is a dazzling golden reflection on the water at Lake Lanier as the sun comes up. It is a reminder of the promise that comes with a new day; the beauty and experiences just there for the taking.
It is a choice whether to grab them.
There is a happy bustling along the beach that contrasts the stillness of the water. There are tents, a crowd of people forming and an autograph table with a line of young swimmers still pinching themselves that today is the day they get to meet a gold medal Olympian. Missy Franklin has traveled from California to Georgia to help support Swim Across America and raise money to find a cure for pediatric cancer.
As she signs t-shirts and swim caps, a little girl notices something written on Franklin's arm. "I swim for Grace."
Grace Bunke is walking towards the water with her swim partner and cancer survivor Dr. Julie Granger. They have been training together for the race. Dr. Granger is a cancer survivor.
"It's a perfect day." Grace smiled. "It looks really fun."
Grace is 14 and has made a decision that is more grown-up than any person should have to make. She has made a choice to embrace every little bit of every day she has, even if her cancer is fighting to control how many days that will be.
"I actually feel great today." She said. "I feel better than I have in a while."
About a week ago she'd been in the hospital, hardly able to get out of bed.
Grace's cancer is back for a third time in three years. It was first diagnosed in her leg. Doctors amputated part of her leg then reattach the knee at the hip. Later the cancer showed up again in her lungs. Again, Grace fought back and for a time it seemed osteosarcoma had been put in its place.
But, this July came the news that it was back. This time in her spine. Surgery was no longer an option.
"I feel strong when I'm in the water." Grace explained. "It helps me forget that cancer is trying to steal the air from my lungs."
Grace refused to let her relapse steal her opportunity to take in all the beauty and experiences of race day. She came because water is her joyful place.
"I woke up at 4 a.m. and I couldn't go back to sleep because I couldn't wait to be here." Grace's enormous smile seems to reflect off the water she can't wait to dive into.
All that excitement is there even before she starts talking to us about one of her personal heroes; Para-Olympic medalist Hannah Aspden.
"She means a lot to me because she helped me and she is really good…."
Grace talks about Hannah as Hannah is walking up behind her on the sand. She'd road-tripped with her mom from Raleigh North Carolina to Atlanta for this surprise.
Hannah is standing squarely behind Grace then leans in to whisper "Hi!" in Grace's ear.
"It is just a magical moment for Grace to see someone she admires so much." Grace's Mom Vicki said. "It's hard to find the right words."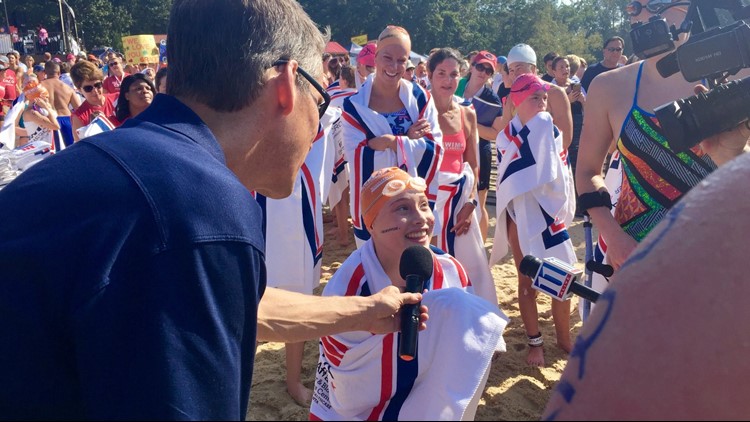 Hannah explains to Grace that she drove seven hours to be there. She was supposed to be getting ready for the World Championships in Mexico City. They have been postponed because of the earthquake.
Hannah said, "I knew I had to be here and it's amazing I can be. She's learned this week that Grace chose to stop the chemotherapy that cannot stop her cancer.
Vicki Bunke said, "The treatment was making her so sick that she wasn't even herself."
The teenager who thrives on being active was stuck on the couch and in terrible pain. The contrast this day overwhelms her. "This is her happy place, this is where she finds joy and if she were continuing to do treatment she couldn't be here."
She says the bottom line for Grace: chemotherapy and her joyful place are incompatible destinations.
An announcer lets the swimmers know it is getting close to race time. "We need all the one mile swimmers to the start line."
Grace giggles, "I am excited and nervous at the same time."
Team Amazing Grace is ready and other kids she's inspiring are too. They are holding colorful poster boards at the start line that read, "Just keep swimming" and "We love you." One young girl shared how she felt on her sign. "Grace is my hero. You are cool and special."
Grace makes her way into the water. Her mom is memorizing every motion and emotion as she does.
"I don't think anyone thought it was possible she'd be out here swimming in open water in September when on July 18 and we got the news that her cancer had spread to her spine and two millimeters from her spinal cord.
Her team of swimmers, her angles, surround Grace for their mile swim together. Hannah is right beside her. "It is amazing that someone with a disability like me is here, I'm not alone in the water." Grace said.
Photos | Brave Conquers Fear Grace Bunke
Hannah swims with only a right leg. Her left is amputated at the hip. Yet, she looks to Grace as the one with the true strength. "She is my inspiration." Hannah said. "She is so strong and motivated and has such deep faith."
For Grace Bunke, this is living.
From the finish line we can see her orange swim cap is peaking out of the water. The golden sun is still reflecting off the ripples. Her strokes are strong to the finish.
Grace gives Dr. Granger a high five as she stands up in the shallow water and makes her way, triumphantly to the shore. She has crossed the finish line and hardly looks winded.
This moment is a bear hug to the beauty and experiences that a new day brings.
The crowd starts cheering her name. Grace laughs, "It feels really, really great, because I didn't really know if I could do it, but I did!"
"This is confirmation that she made the best decision of her life." Her mom said. "She is living her life fully today."
Grace is wrapped in a towel, tired yet energized. She is joyful. Her mom wraps her arms around her daughter.
"We get to see her happy place and seeing someone else in her happy place makes you want to find your happy place of your own."
Grace can't stop smiling. "I did it, all the hard work really did pay off!" She adds, "This has been the perfect day."
Swim Across America in Atlanta raised $500,000 dollars to fund research for childhood cancer.