It was Thanksgiving break for Braden Stevenson and Lucas McWilliams.
The two 12-year-old boys were at Stevenson's grandmother's house off Kirkland Road in Covington Monday afternoon when a driver lost control of his car and slammed into the closed garage, where the two children were looking for a hamster.
Later, Stevenson died. McWilliams was critically injured.
His father, Cory Stevenson, told 11Alive's Elwyn Lopez his son
was just "vibrant, full of life." Stevenson and his wife, Kesha, say he loved a popular, viral dance known as "the floss."
"It doesn't matter if it was at a wedding - he could do the floss better than anybody," Stevenson explained. "He could do it in the grocery store."
The hamster was an early Christmas present from his grandmother. The two boys had just brought the hamster home from the pet store, but it managed to escape.
Stevenson was on the phone with his son with the crash happened.
"We were talking about the box, and we were talking about the hamster, and I guess him and Lucas were out there in the garage, and then it just sounded like a car crash," he said. "Two kids in a garage looking for a hamster out of innocence, out of love... and out of nowhere a vehicle comes crashing into your garage. No one can imagine that. I couldn't imagine it," he added.
Stevenson, a youth pastor, also said he was thankful to God for that Monday morning - seeing his son, who wished him a great day at work.
Stevenson's stepmom, Kesha, said despite the heartache, there's still so much to be thankful for.
"In the midst of tragedy like this, you can look and you can see, and you can ask, 'How God could allow this to happen?' but we say, 'Thank you, God, for giving us him to us for as long as you did," she said.
Photos: Braden Stevenson and Lucas McWilliams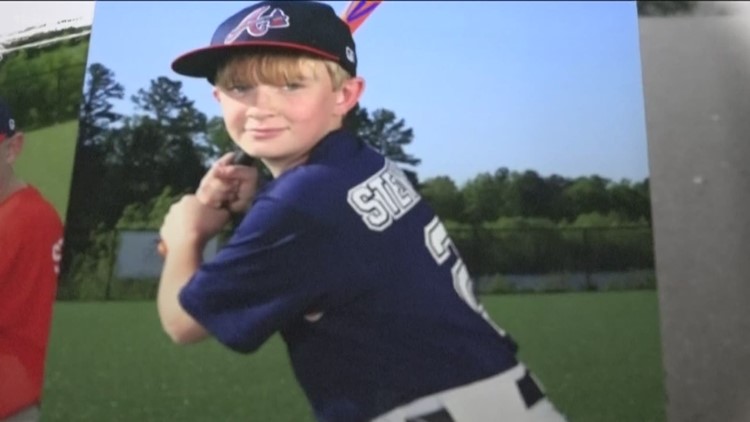 As for the driver of that car that killed the 12-year-old boy and critically injured his friend, charges are still pending.
But, Stevenson wants the man behind that wheel to know that "forgiveness is available" to him.
"Even though there might be times where I go through anger and bitterness and frustration, at the end of the day, I believe grace will prevail," he explained.
The little boy already had named his hamster, Ted E. Stevenson. He was found after the horrific incident. The Stevenson family said they plan to take good care of him, and he will live in Braden's room.