From this point forward, you can't write the story of Major League Soccer ... without devoting a page or two to Josef Martinez.
On Friday, the great and powerful Martinez established a new single-season scoring record for the MLS, notching his 28th goal of the year–and in typically stellar fashion.
For good measure, Martinez's goal (74th minute) ended up as the game-winner; but for one night at least, this accomplishment will likely take a backseat to history being made.
With Atlanta United and Orlando City SC embroiled in a 1-all tie, Martinez fielded a pass in the scoring area, seemingly surrounded by four Orlando defenders.
However, this alignment wouldn't deter him in any way. In fact, if anything, it stepped up the degree of difficulty for this life-changing goal ... which, in hindsight, looked incredibly easy for Martinez.
For the record-breaker, the Venezuelan native initially faked hard to the left, thus suckering in the Orlando defense, before switching to the right side.
At that point, the goalkeeper foolishly went on the offensive, trying in vein to steal Martinez's self-pass–but it was a clean miss ... leading to a clean score for United's superstar.
The previous MLS record-holders (along with Martinez): Roy Lassiter (Tampa Bay Mutiny in 1996), Chris Wondolowski (San Jose Earthquakes in 2012) and Bradley Wright-Phillips (N.Y. Red Bulls in 2014) for the league's single-season scoring record–at 27 goals.
At the 21st minute, Leandro Gonzalez Pirez converted a free-kick rebound (off the Orlando goalkeeper) into Atlanta's inaugural goal.
Eighteen minutes later, Orlando's Scott Sutton knotted the score at 1, giving the Florida fans momentary hope of a draw or clean upset.
Atlanta United: Josef Martinez breaks MLS scoring record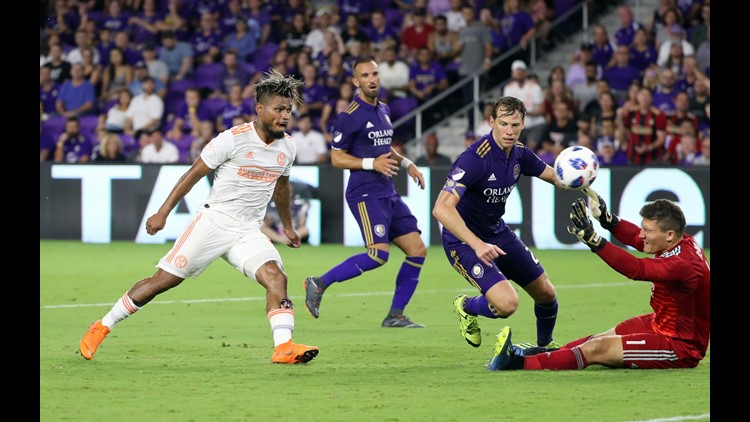 Orlando represented the first leg of a four-game road swing. Up next, Atlanta travels to Washington D.C. for a Sept. 2 clash against D.C. United. After that, the club goes West for matches with Colorado and San Jose.
Around this time, Atlanta United may be in prime pouncing position, regarding the MLS playoffs' No. 1 conference seed.