GWINNETT COUNTY, Ga. — All lanes of Interstate 85 southbound were closed early Sunday morning near Jimmy Carter Boulevard, due to a truck wreck and fire that left two drivers with minor injuries, according to fire officials.
According to Gwinnett Fire Captain Tommy Rutledge, it happened at around 4:45 a.m. when a caller to 911 reported that a tractor-trailer and what may have been a box-type truck collided just south of the Jimmy Carter exit in the southbound lanes.
The caller told 911 dispatchers that the trucks were both catching fire.
When fire crews arrived at about 4:50 a.m., they found heavy flames coming from the wreckage. Both drivers had been able to exit their vehicles, however.
Rutledge said one driver was transported to a hospital for treatment of minor injuries, while the second driver was treated at the scene for minor injury complaints.
Two truck wreck on I-85 closes interstate for hours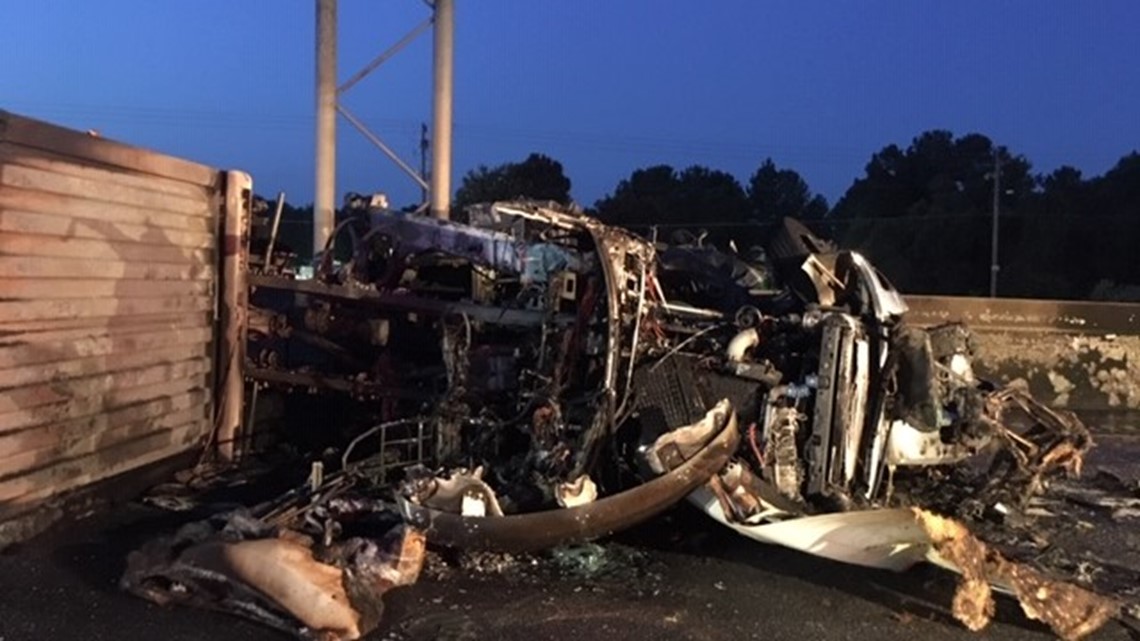 No other vehicles were involved in the wreck, and no other injuries were reported in connection with the incident.
The southbound lanes of the interstate were closed between Jimmy Carter Boulevard and Pleasantdale Road were closed due to the wreck and debris in the roadway.
Heavy wreckers were summoned to help clear the highway. Along with DOT/HERO units, Gwinnett Police, Gwinnett Fire and Georgia Department of Transportation crews responded to the scene.
The roadway was reopened by 8 a.m.