COVINGTON, Ga. — It's a salacious element in the trial of a murder of a two-week-old that's been shared around and speculated on over social media channels, particularly our YouTube feed of the trial.
This aims to put it in a more sober context.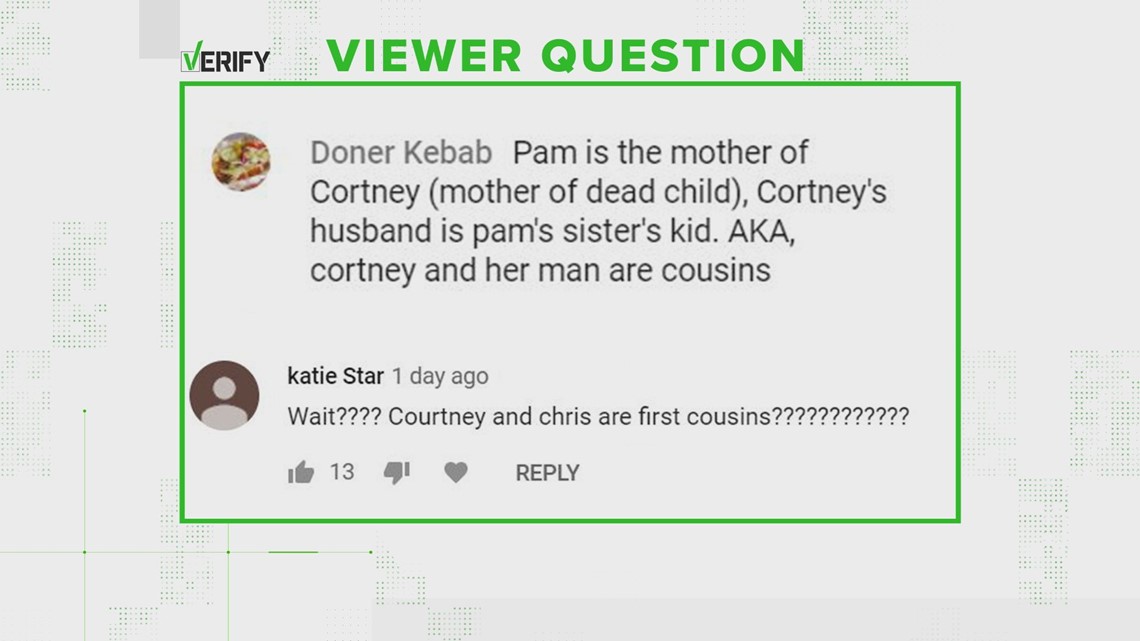 Are Christopher McNabb and Cortney Bell, the parents on trial for the murder of 15-day-old Caliyah McNabb in Oct. 2017, first cousins?
Pamela Hamby's court testimony
The short answer is: They are. But it's important to understand there's more to it than that.
In a Dec. 2017 police interview played for the jury Friday, McNabb himself touched on the matter. Here is what he had to say:
"We didn't never meet until 2013. When we met it was like we knew who we were to each other, but we never knew each other (before). You can't stop what you feel from the get-go.
"The very first time I ever met her, I knew I loved her ... I never felt about a girl the way I felt about Corntey, and she felt the same way. And it got started like that.
"It was wrong, but I don't apologize for it, because I love her. I can't help how my heart feels
"But yeah Pam is my dad's sister and that makes Cortney my cousin and we know that and we both were aware of that.
"But at least we both we didn't grow up together. We were never kids together. We were both grown (when we met), both been through a lot of stuff."
The original story continues below:
Pamela Hamby, Bell's mother, testified in court on Wednesday that she is also the sister of Michael McNabb, Christopher McNabb's father.
That sequence went as follows:
Prosecution: "Is Cortney Bell one of (your children)?"
Prosecution: "Are you related to Chris McNabb?"
Prosecution: "How are you related to him?"
Prosecution: "So is his father Michael McNabb your brother?"
Prosecution: "Did you raise Cortney?"
Prosecution: "Who raised her?"
Hamby: "Her grandparents and her dad."
So, yes, by Hamby's testimony, she is both the mother of Cortney Bell and aunt of Christopher McNabb – making them cousins.
But, as she also noted, she did not raise her daughter. Bell's father, Tim Bell, testified this week as well that Hamby was not around throughout Bell's childhood.
He put the total number of times Hamby interacted at all with Bell until she was a teenager at about 20.
"Pam never bought her a piece of bubble gum," Tim Bell said Tuesday.
Tim Bell said he "didn't know Chris and Cortney were related until after they were together." It's not apparent they did, either.
Tim Bell also implied McNabb at least at one point went by a different last name, Black, which added to the confusion.
McNabb and Bell are first cousins, but there is much more to the story than just that fact.
MORE STORIES FROM THE TRIAL