ATLANTA — How do you maintain community without communion?
That's the question that just about every public institution has faced in some form or another, this week in the metro Atlanta area as everything from restaurants dining rooms, gyms, bars, even places of worship have been banned from gatherings of no more than ten people.
Saints Peter & Paul Catholic Church is no exception.
Serving the Eastside of Atlanta since the early sixties, this community fixture has had to adapt like every other place of worship has had to do within the past week. Offering Livestream services for their parishioners in lieu of standard Sunday services.
In addition to that, just behind the church sits their community food pantry. A modest yet efficient set-up named Gregg's Pantry. Atlanta Community Food Bank provides the lion's share of the food for the pantry which continues to be operational during the citywide shutdowns.
"A lot of it is just, we take each other for granted, and especially I think for communities of faith, there's the fact that you have that proximity and you're always kind of around and you can't take that for granted anymore," laments Saints Peter & Paul Catholic Church pastor, Fr. Bryan Small.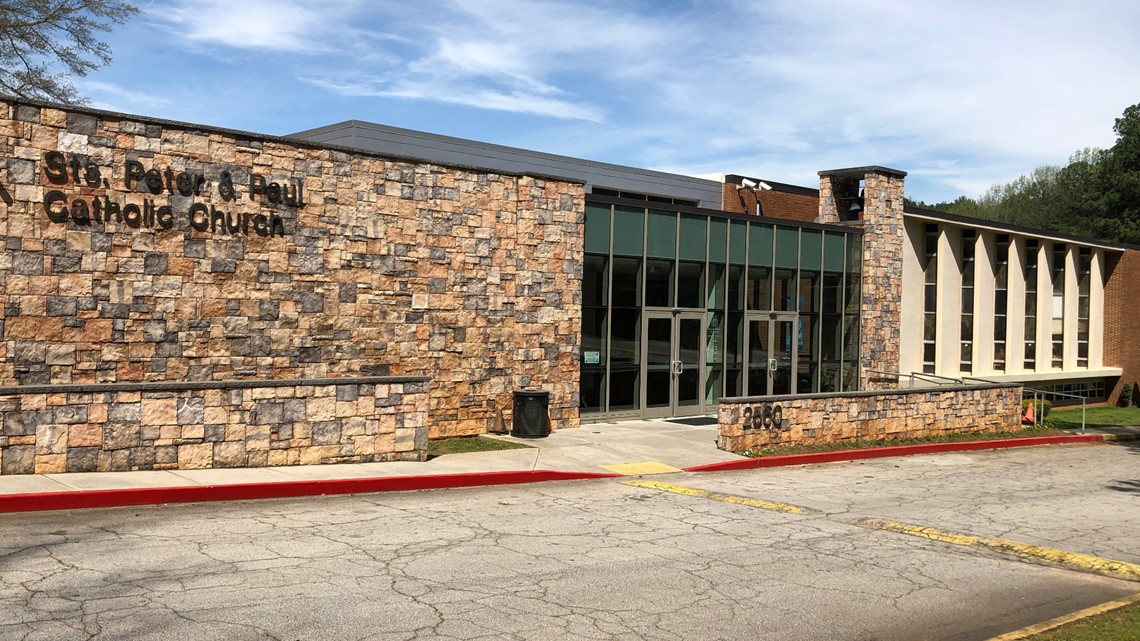 In fact, on Saturday 14, 2020, less than 48 hours after the coronavirus was officially declared a worldwide pandemic, this modest food pantry was the only pantry in Dekalb county open to hand out provisions to the public.
On Saturday alone, the pantry serviced and provided meals to roughly 69 families.
Much like any good team, the folks at Saints Peter & Paul could not have done it alone. In addition to the pantry's routine package of food, Cobb County-based organic beauty care company, Tropic Isle Living donated hygiene products to local places of worship as a way to offer assistance outside of food to those impacted the most by the Coronavirus shutdowns.
"People don't realize that food, yes, is sustenance but taking care of your body is a truly important thing to do," states Lois Hines, owner, and co-founder of Tropic Isle Living.
"This is a new normal. So, you just have to focus on what is really important. Helping each other out in this crisis."
This hygiene initiative was started Hines in collaboration with a group of fellow female business-owners of color, to give back to the community and those community members who may be struggling during the crisis.
"I didn't ask them, I just presumed that we would be shutting down the pantry and our folks showed up and said no we're, we're not going anywhere," says Fr. Bryan of the volunteer staff who have been working tirelessly since last Friday to ensure that the pantry is good-to-go for their next Saturday giveaway.
If you'd like to donate provisions to the church, you can visit the pantry located behind Saints Peter & Paul Catholic Church at 2560 Tilson Road.
To learn more about the church or donate funds, click here or to find out more about Tropic Isle Living, click here.
Want more East Atlanta news? Like us on Facebook.