ATLANTA — It's summer and Simon Bus is sitting in a school classroom. He's not behind or in trouble, instead he's learning to drive -- with a video game.
"It's pretty cool it's on your Xbox and you can play it whenever you want at your house," said the 13-year-old.
The upcoming 8th grader is two years away from getting his learner's permit to drive. Two young to get behind the actual wheel of a car, his parents found a driver's ed alternative, called Driving Essentials.
"I think it's a great way for him to be exposed to the rules of the road and he's familiar with the controls, so I think it's good preparation for him," said mom, Josie.
Driving Essentials typically sells large driving simulators to schools. Shaped like a driver's seat, the simulators place teenagers in the 'drivers' seat to learn how to handle the road without a physical car. But, the machines are expensive, costing schools anywhere from $8,400 to $11,000.
"A lot of kids don't have drivers ed in their school around the country," said Van Burns, Vice President of Sales for Driving Essentials.
To make the software accessible to more students, the company created a driving simulator video game, available for download on Xbox and PlayStation 4 systems.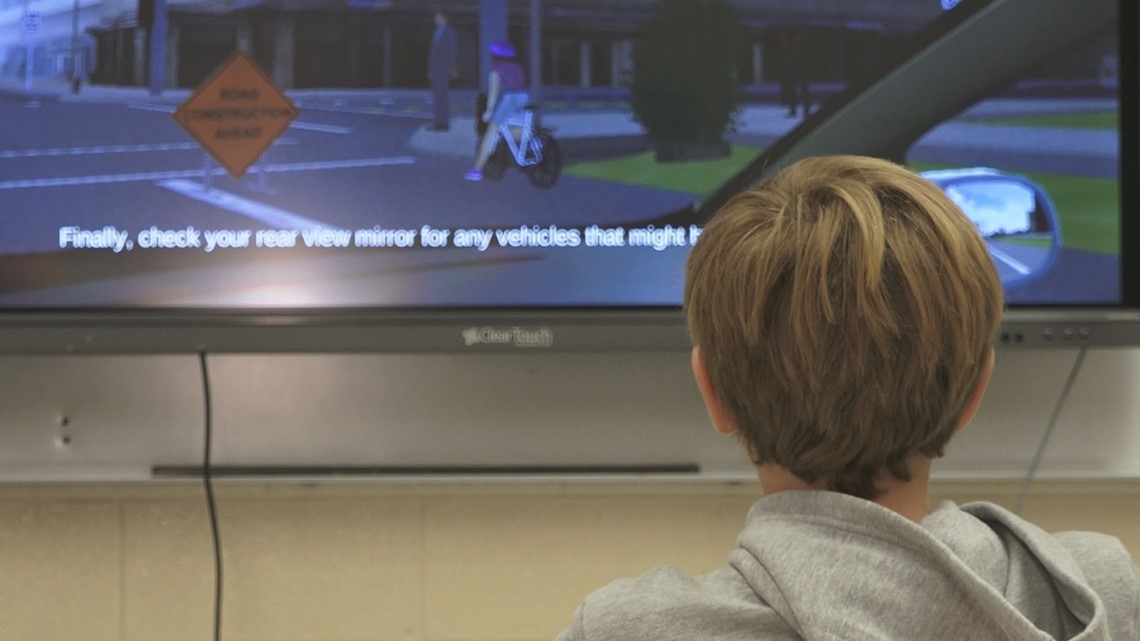 "It's the way kids learn today," said Burns. "The idea of coming up with an Xbox based program or Play Station 4 is that kids are already using gaming at home and they use it for kind of the wrong learning skills. If you're playing Grand Theft Auto that's not going to teach you proper driving techniques, but this program can."
The $39 download from Microsoft Stores comes with 10 lessons mirroring courses taught in traditional driver's ed. Unlike traditional driver's ed, the game simulates life-like dangerous situations.
Burns explained, "They're not going to have skids or have a pedestrian walk out in front of you in driving school, but we can do that here."
And those life-like situations were unexpected for Simon.
"How dangerous it can be, because you can hit people and get in pretty bad accidents so that was pretty shocking," he said.
Shock factor aside, he admits he enjoyed the lesson, especially the level on distracted driving.
"It helps because whenever I do drive, I'm not going to have my phone out texting and all that."
According to the CDC, teenage drivers have the highest proportion of distraction-related fatal crashes. And the summer can be deadly for them as well, with AAA calling the time between Memorial Day and Labor Day the 100 deadliest days for teenage drivers.
"We have 2 million new teen drivers every year and we turn them loose on the roads of Atlanta, it's very dangerous," said Burns.
Simon and his mom think the game is making him well-prepared for his future driver's ed courses. And Simon enjoys telling his friends, how he's on the way to being a master of the road.
"I've learned all the rules and what all the road signs mean and how to keep a constant speed and how to not crash. I'm definitely glad I played this game."