ATLANTA — Storms quickly moved through metro Atlanta Thursday afternoon flooding roadways and leaving muddy conditions, making travel difficult.
The Atlanta Police Department warned of flash flooding and that it was responding to water rescues due to cars getting stuck in high waters.
Though the storms have moved out, people are still dealing with a messy aftermath.
11Alive is tracking the latest weather updates below.
Atlanta weather updates
8:21 p.m. | Atlanta Mayor Andre Dickens issued the following statement Thursday evening after the flash flooding moved through:
The Administration has deployed the full resources of the City to address the flash flooding incidents after heavy rain across the metro area. Our Department of Watershed Management has reported that intense storm fronts and hail moved through several communities. Preliminary rain gauges have shown three hours' worth of rain in just 15 minutes in some areas of downtown. While some are still struggling with flooding issues, most flooding areas are receding.
I've also called AUC Presidents, as well as Georgia Tech and Georgia State University, to check on students, faculty and staff to offer our full support.
Thank you to our first responders, the Atlanta Fire Rescue Department, Atlanta Police Department, our E-911 personnel, Department of Watershed Management, Department of Public Works and everyone in our community pitching in to make sure we protect, care for and love on the people of Atlanta in emergency situations that occur every day.
7 p.m. | 11Alive's Karys Belger was at Clark Atlanta University after heavy flooding in the area.
6:15 p.m. | A spokesperson for Clark Atlanta issued the following statement to 11Alive in regards to the flooding:
A severe thunderstorm watch was issued earlier today around 2:06 p.m. within Metropolitan Atlanta. The area experienced heavy rains causing some streets near Clark Atlanta University's (CAU) campus to flood and some of the University's residence halls to experience flooding.
CAU Public Safety, Student Affairs, and Facilities Management quickly responded to the incidents to support students during the inclement weather. Additionally, remediation companies are currently on campus removing water and making repair assessments. All students living in the residential areas affected by flooding are in the process of being relocated to new housing. We will continue to assess the impact of the severe inclement weather.
6 p.m. | Here's a look earlier at the flooding on Marietta Boulevard.
5:50 p.m. | There's also a tree down on a house along Milledge Avenue.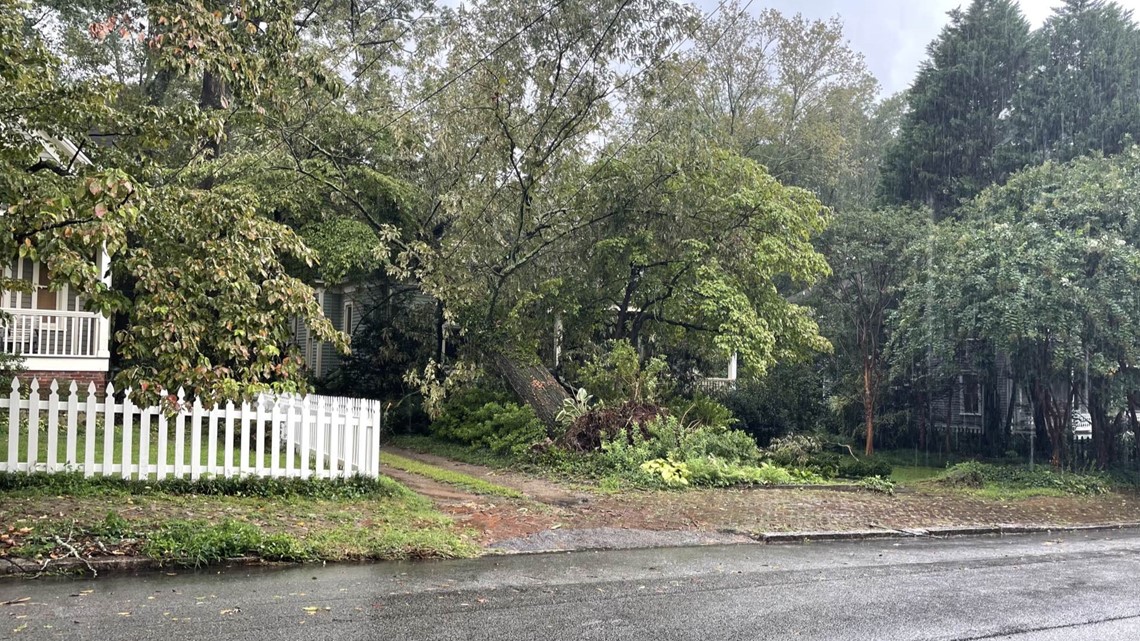 5:34 p.m. | 11Alive crews also saw a tree down at Grant Park near a pre-school.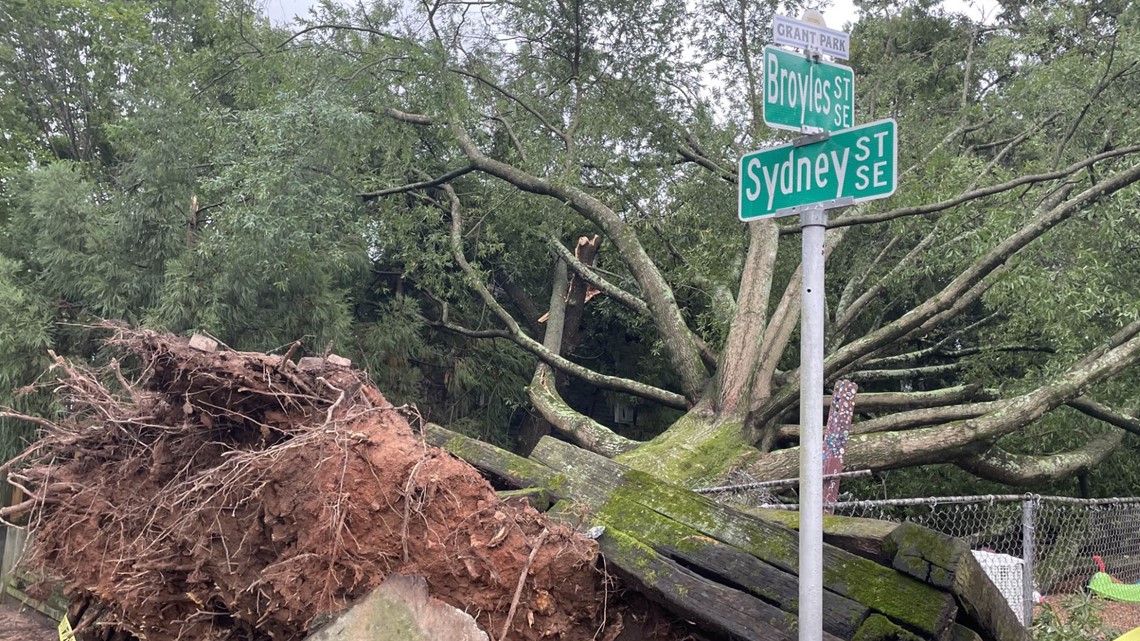 5:17 p.m. | 11Alive has a crew at Central United Methodist Church along MLK Jr. Dr. near Mercedes-Benz Stadium in Atlanta where a car was seen stuck in water in the parking lot.
5 p.m. | Photos show flooding in parts of Atlanta after rain moved into the area during the afternoon hours.
Photos | Flooding, trees down across Atlanta
4:42 p.m. | World of Coca-Cola evacuated guests and staff for about 15 minutes due to a brief power outage out of an abundance of safety, according to a spokesperson. The Bottle Cap Café' closed for the afternoon but the attraction has returned to normal operations.
4:32 p.m. | Video from social media shows several cars were submerged in water at Clark Atlanta University.
A student also posted water rushing into a dorm.
3:51 p.m. | The Georgia Aquarium public relations department said they had crews cleaning up after thunderstorms in the area caused water to flow into the building. Guests who were in the building were given comp tickets to return at a later date. The Aquarium is now closed for the remainder of the day.
Live radar
MORE FROM THE 11ALIVE STORMTRACKERS
DOWNLOAD THE 11ALIVE APP:
Set up weather notifications by clicking the Gear icon in the upper right corner of the app. Select Notification -> Notification Settings -> Severe Weather Alerts -> Toggle the Severe Weather Alerts button to the right to turn alerts on.

Send photos and videos through the app by selecting the Near Me feature on the bottom right task bar of the app and entering your information.
TEXT YOUR WEATHER PHOTOS TO US: 404-885-7600
JOIN THE 11ALIVE STORMTRACKERS FACEBOOK GROUP: Nearly 10,000 metro Atlanta and north Georgia weather enthusiasts share their weather photos every day. Click here to join the group!