ATLANTA — If you've lived in Atlanta or north Georgia for any number of years, you know that although we're hundreds of miles away from the coast, we still get impacted by tropical systems more years than not.
Last year, North Georgia was impacted by the remnants of Claudette, Fred, and Ida. Claudette arrived Father's Day weekend with a soaking rain and some minor flooding. Fred's impacts were the most notable, spawning six tornadoes to the region. Ida caused heavy rain and the threat of severe weather in Georgia, but impacts were much lower than of the terrors near landfall in Louisiana and the deadly extreme flooding in the northeast.
During the previous record hurricane season of 2020, the Peach State was impacted by the remnants of Sally, Delta, and Zeta. The impacts from Hurricane Zeta were the most significant of the three, with widespread power outages that lasted for days in many parts of the metro.
Analyzing the data, since 1950 there have been 29 named storms whose paths came within 100 miles of Atlanta. But tropical storms and hurricanes are much larger than just 100 miles across. So in north Georgia, it's important to remember to always be hurricane ready each summer and fall.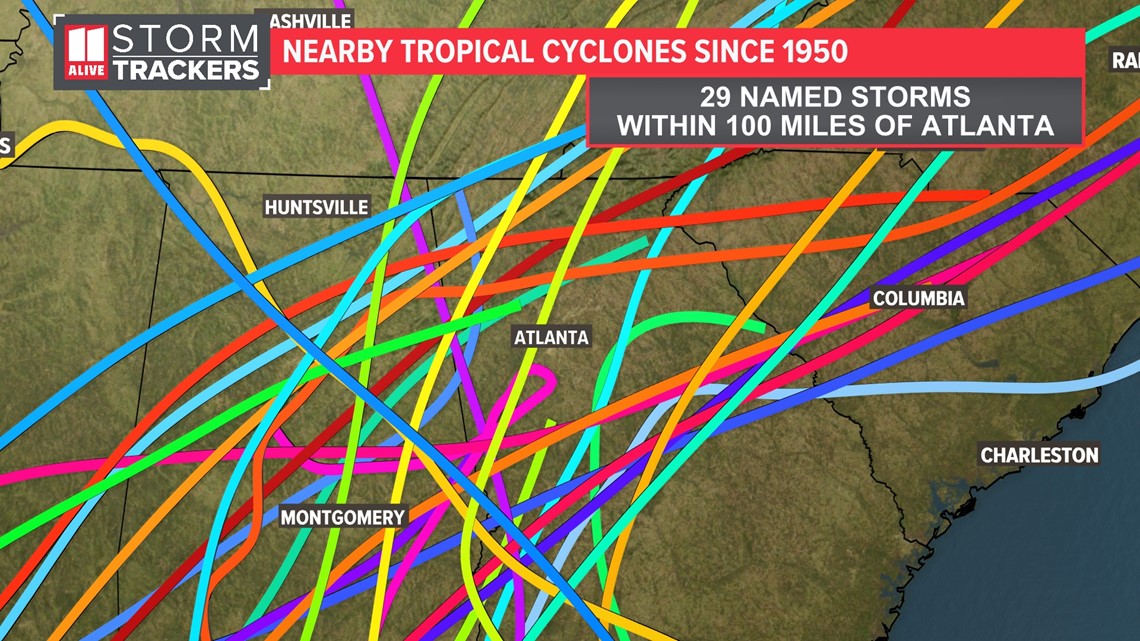 Impacts from landfalling tropical systems can stretch for hundreds of miles inland. In north Georgia and metro Atlanta, residents experience three main threats from landfalling tropical systems: damaging winds, flooding rains, and tornadoes.
Damaging wind threat

As a hurricane moves inland, it looses its available energy from the warm waters of the ocean or gulf and gradually weakens. So although in Atlanta we may not see hurricane force sustained winds, the city can get tropical storm conditions with some landfalling systems.
There have been many storms through the years that down trees and power lines, like Opal in 1995. But a much more recent example of this impact from tropical systems is Zeta from October of 2020.
Power outages around the metro were widespread and it took several days for the power to be restored. At the peak, more than 1 million outages were reported across the area.
Heavy rain and flood threat

Tropical systems bring deep, tropical moisture with them and can produce impressive rainfall rates that last for hours.
In some cases, rain totals could exceed double-digit totals in parts of North Georgia, like in 1994 from Tropical Storm Alberto. Although not a hurricane, Alberto slowly trudged through southern Alabama to west Georgia, then looped back westward.
Over this multi-day journey, it brought immense rain amounts to western Georgia. The maximum rainfall was over 27 inches in Americus, Georgia. But half a foot rain totals were found on the southwest side of the Atlanta metro as well. Many roads and bridges were closed and damaged. Up until Michael in 2018, Alberto was the costliest tropical system for the state of Georgia.
North Georgia's tornado threat from tropical systems usually happens when storms make landfall along the Gulf of Mexico and track north or northeastward somewhere near or just northwest of our area.
The tornadoes usually happen in the outer rain bands of the storm, often in the right front quadrant of the storm, where the most wind shear and instability is present. These are usually brief and weak, but still can cause damage.
Many past storms have produced numerous tornadoes in the area. In 2021, the remnants of Fred spawned 7 tornadoes across the area.
Some past storms have produced even more. Katrina in 2005 was responsible for 18 tornadoes across North Georgia.
Usually tornadoes from tropical systems are weaker, EF-0 or EF-1's. During Katrina, 3 of the 18 tornadoes that touched down in Georgia were rated F2s.
When is Hurricane Season?
Atlantic Hurricane Season runs from June 1st through November 30th each year. But when we look at the frequency of tropical systems, we see a large spike between August and October with the 'peak' of hurricane season hitting September 10th.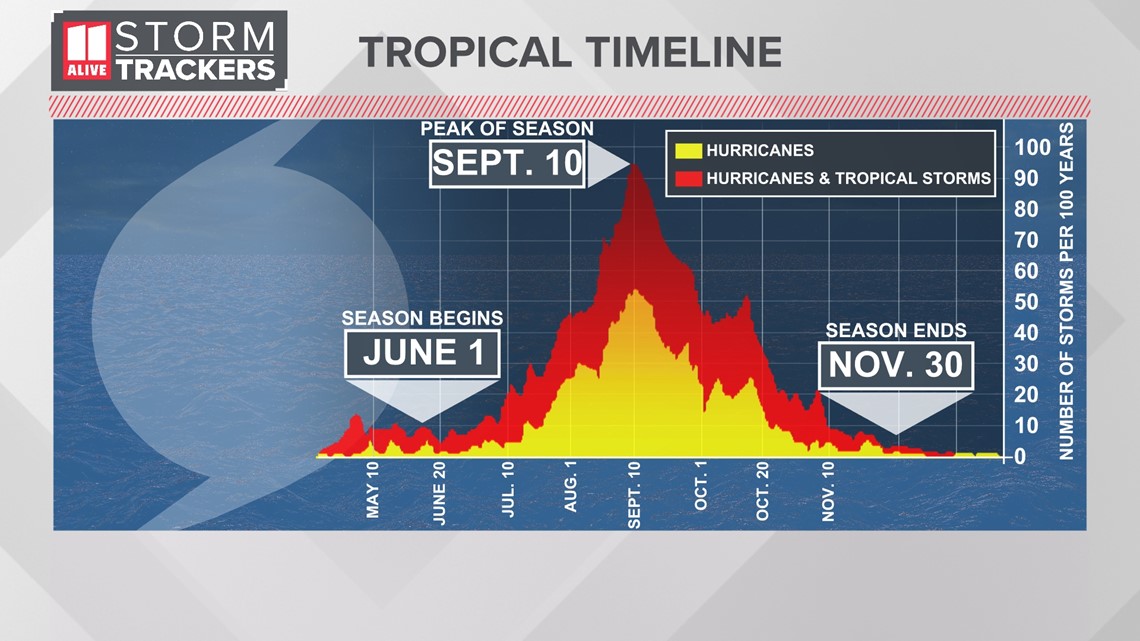 What to expect this year?
Although several university research departments and private companies have already released their outlooks, NOAA's official Atlantic hurricane outlook will be released Tuesday, May 24th.
With an ongoing La Niña forecast to continue through the peak of hurricane season, we anticipate their forecast to reflect an above-average season.